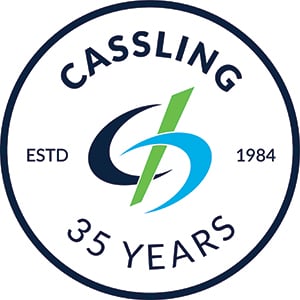 Thirty-five years.
Even as I write those words, it's hard to believe it's been that long since Cassling Diagnostic Imaging, or CDI, which later became Cassling, was formed.
This July, we celebrate our 35th anniversary as a company, and I'm honored that I get do so surrounded by the many people who make our organization great. We strive for a people-first culture here, one that supports its team members through thick and thin, understanding that by giving them the tools and the encouragement to do their absolute best work, they're going to ultimately make a difference in the lives of our customers.
A lot of things have changed over the course of three and a half decades, but that commitment is something that will never waver. When we do right by our employees and they support our customers, it's ultimately patients who benefit. Our mission is to "Strengthen Community Healthcare," and we can only do that by being the best partners we can to healthcare facilities of all sizes across the United States.
I think it's a testament to our team members' dedication that some of the hospitals who were with us 35 years ago remain our clients to this day. Despite all the changes in the imaging space during this time, we've come a long way, and I'm thrilled and humbled that so many of our partners have stuck with us through key milestones:
1984: My dad, Bob Cassling, founded CDI after leaving a large manufacturer to take a more proactive approach to customer service.
1999: We entered into an agreement with Siemens to sell the company's women's health, mobile X-ray and C-arm equipment.
2001: CDI expanded the Siemens agreement to sell the company's full line of imaging equipment.
2008: We were renamed Cassling to better reflect the full scope of products and services we can offer our clients.
2014: Again, we entered into another agreement with Siemens to act as a trusted sales agent in the Southern and Western United States, as well as an exclusive sales agent for surgery and urology systems in 11 states.
2018: Cassling expanded its surgery territory into the St. Louis region, expanded ultrasound service within the Midwest and added project management in North Dakota.
These are just the big ones, and there are certainly many more. There's quite a few new faces around here, with up-and-coming team members bringing bold new ideas to position us well in the future. In 2017, I was thrilled to be able to pass the reins of president to the immensely accomplished Kyle Salem, PhD (he hates when I toss the PhD in after his name), while I remained as Cassling CEO and transitioned into the role of Chairman and CEO of CQuence Health Group, the parent company formed in 2011 in support of Cassling and the variety of organizations we've partnered with to consistently innovate within the healthcare space.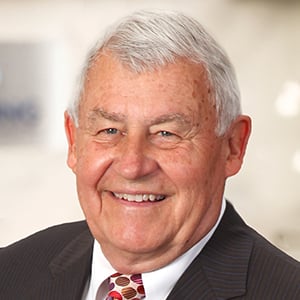 Another Milestone
Looking back on 35 years, there's another milestone I want to speak to: the passing of my father, Bob Cassling, in July 2014.
Dad founded this company, and his death at the age of 84 shook us all. People who have been here long enough will tell you how his presence in the hallways always brought a welcome smile to their faces right up until the end. Even after I took over as President, Bob could still be counted on to provide expert guidance to anyone who needed it, particularly in the sales and business processes he perfected over the course of decades.
When I think of some of my favorite stories about my father from the team members who knew him well, I always go back to one from Eldon Gruber, one of our first Field Service Engineers who joined us shortly after the company's inception.
Eldon and Bob had been out paying a visit to a customer, who was upset about something, the details of which no one seems to recall. But while the customer was giving the two of them some, let's say "choice words," Bob reached up to the man's tie. "Let me fix your tie. It's crooked," he said. And in the act of fixing the man's off-centered tie, the customer was put at ease. They were able to take a timeout, calm down a bit, and work together to figure out a solution that would make both parties happy.
That was Bob in a nutshell. An impeccable sense for business, sure, but a genuine, abiding love for the people he did business with.
Our company would not be what it is today without Bob Cassling. It was he who emphasized a commitment to customer service above all else, who established a culture that allowed team members to do their absolute best work. He taught us all a lot, and when faced with tough dilemmas, I still think about what my father would do in the same situation. I'm sure I'm not the only one who thinks that.
I still miss him, even to this day. But his legacy lives on.
A Celebration
We're doing something special on this anniversary. Team members from across the company will gather at our Omaha headquarters for a BBQ, live music and a get-together that celebrates my father's legacy as well as three and a half decades of imaging excellence and the memories we've all made along the way.
I'll be there, grilling and smoking up meat and dishing it out to everyone who drops by. I think that's important, acting as a reminder that we're all in this to serve others. I know it's a little thing, me serving BBQ to our team members, but if nothing else, I hope it's an acknowledgement that what they do matters. I wish I could express my thanks every single day to what everyone contributes to make this such a special place to work.
Bob Cassling would be proud of what we've accomplished together, for each other and for healthcare professionals around the country.
I know I am.