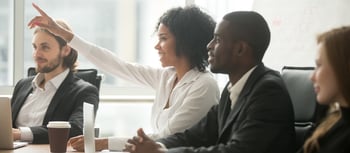 2023 marks the five-year anniversary of the Cassling Leadership Institute.

It's shocking to think about how much has changed in healthcare in that relatively short amount of time. Staffing challenges have only grown fiercer even as managers and directors have to figure out ways to do more with less (less time, less team, less budget). Meanwhile, technology continues to progress at a breakneck pace, and patients and providers alike place more of a premium on experience than ever before.

And, of course, we all endured a generation-defining pandemic that transformed the entire world in ways no one could have imagined.

Five years into the Cassling Leadership Institute, our incredible speakers continue to find new topics to mine, and those topics are more relevant than ever. The subjects you'll encounter during the 2023 CLI series cover fertile ground for managers, directors and executives. The wide-ranging sessions will have you rethinking the standard way of doing business and re-evaluating the standard skillset necessary to guide teams within modern healthcare organizations.

And, as always, all sessions are worth 1.0 CE credit from the American Society of Radiologic Technologists.

As with previous iterations of the Cassling Leadership Institute, we continue to benefit from the expertise of Bellevue University, whose speakers continue to provide exceptional insights within dynamic presentations that appeal to healthcare leaders no matter where they are in their careers.

Below, you'll find details about the 2023 CLI sessions. Whether you're a current or aspiring healthcare leader or an aspiring leader, you'll come away with a better understanding of how to navigate the challenges you'll face today and in the future.

Our first session is the week of March 27-31, so sign up now, and we'll see you at the Cassling Leadership Institute!

Unlocking the Power of Generational Diversity
Presented by Angie Longe, MBA, SHRM-SCP

March 29 and March 30

Is it possible to be authentic, appreciate differences in the workplace and utilize generational diversity as an organizational strength? In this workshop, we will define generational diversity and acknowledge the differences and similarities between generations. Participants will learn to leverage the similarities and differences for increased productivity and an improved work environment.

Learning Objectives:
Identify similarities in goals and desires between all team members
Discuss biases and stereotypes that exist in relation to generational diversity
Use techniques for communicating more effectively with team members of different generations
Ready...Set...Grow! Positioning Yourself for the Next Step in Your Career
Presented by Nicole Winkler, Executive Coach
June 20 and June 21

Are you ready to move from an individual contributor to a team leader? Or advance from being a manager taking direction to the person leading the direction?

Most people focus only on their current position, but knowing how to plan the next step in your career can help you find an enjoyable long-term position. This session will give tips and strategies on deciding your next step and establishing a promising career path.

Learning Objectives:
Define three steps for evaluating your next career move
Describe 11 strategies for planning the next step in your career
Provide four tips for taking the immediate next step in your career
Three Golden Rules for the Art of Delegating
Presented by Angie Longe, MBA, SHRM-SCP

September 20 and September 21

Who's got time for that?!

Take ownership of your time while improving the quality and quantity of the work you do. Delegation of tasks is one of the keys to productivity and reducing stress while completing projects.

Join this session to learn tips on distributing tasks and projects responsively to team members. You will walk away with simple delegation skills you can implement immediately while feeling more confident in making the shift from doing to leading.

Learning Objectives:
Identify the three golden rules of delegation
Implement five key principles of delegation
Define five levels of delegation and learn the expectations that coincide with them
Social Media: What Does Your Professional Presence Say About You
Presented by Emily Redinbaugh, M.A.

December 6 and December 7

Facebook, Twitter, LinkedIn, Google and Pinterest—what do these platforms have in common?

This workshop is for those who may have tested the waters of social media or are landlocked and overwhelmed wondering what to make of it all and how to survive these platforms today. This session will dive into the professionalism of social media, help you discover which platforms will benefit you personally and professionally, and share how to best utilize them.

Learning Objectives:
Identify the social media giants, learn how they have evolved and see use-cases for each platform
Identify which social media platforms are best suited for interpersonal communication, professional communications and/or product marketing campaign strategies
Define the positive and negative influences social media can have on individuals, businesses and society as a whole
Join us for any and all of these CLI sessions this year, and don't forget about our other Investing In You continuing education webinars happening all throughout the year. We remain dedicated to helping you tackle today's healthcare challenges, and I can't wait to see you in 2023 and beyond!