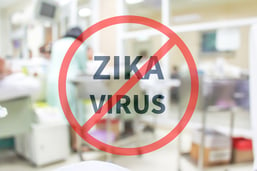 The Zika virus is rapidly spreading across the globe—and with no vaccine, patients and healthcare providers have cause for concern. The number of Zika cases in the U.S. surpassed 3,100 cases in mid-September 2016, according to a CDC report. As researchers work to understand the virus, imaging may play a key role in the development of a vaccine.
The Zika virus is spread mostly by the bite of an infected mosquito and can be passed from a pregnant woman to her fetus causing birth defects. To better understand how the Zika virus is transmitted from pregnant women to their fetuses, researchers used an MRI scan to view how the virus spreads.
Ultrasound is also being used to help doctors recognize the virus—as it can visualize the changes that Zika infection can cause in fetuses.
"Imaging exams are not only helping researchers create a vaccine for the Zika virus—they are also helping doctors better understand how to talk to their patients about this health concern," said Mike Cassling, president and CEO of Cassling. "Anything that can be done to help understand the virus and how to cure it is extremely valuable."
Recently, Siemens Healthineers also announced plans to release a genetic test designed to diagnose the virus. According to Siemens Healthineers, a genetic test is an early indicator of infection.
To learn more about the Zika virus, check out these five facts you need to know. To learn more about Siemens imaging solutions, visit our products page.