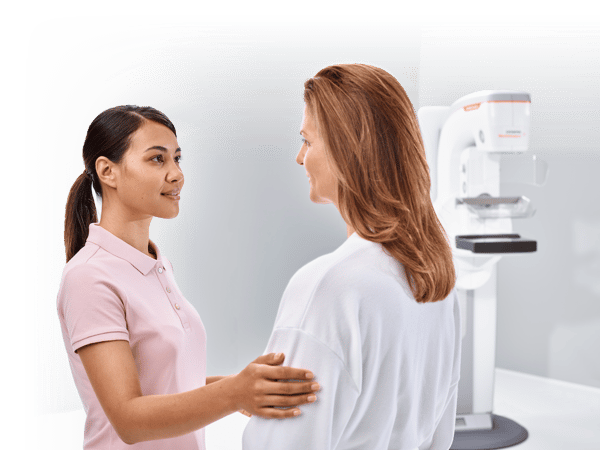 Clinical solutions for women's health are more varied than they've ever been.
Recommendations for breast screenings still emphasize the importance of an annual or a biannual mammogram, yet patients who put off the procedure or only come in for regular screenings probably don't realize the wide array of technologies and methods available for properly assessing breast health.
In fact, the technology has evolved so greatly in recent years that even clinical experts may have trouble keeping up!
With that in mind, now is as good a time as ever to review the myriad forms of mammography and other technologies available to diagnose breast health issues. A lot has changed since the dawn of the mammogram, so let's review those changes together to figure out if your clinic is set up to provide a premium level of diagnostic service to patients.
2D Digital Mammography
The most common form of breast assessment available (although that position will soon be overtaken by another; more on that in a minute), 2D Digital Mammography has long remained the standard when it comes to women's health screenings.
We won't go into 2D mammography at any great length since, if you're in the imaging field, you no doubt have experience with this technology. As a screening tool for breast health, 2D mammography provides a relatively straight-forward image of the breast, enabling physicians to quickly and successfully detect the presence of lesions and other abnormalities.
For non-complex patient profiles, a 2D mammogram may be sufficient. But increasingly, physicians, radiologists and radiologic technologists have found that traditional 2D mammography doesn't necessarily provide the image acquisition profile necessary for more complex cases. When results come back unclear, other modalities must come into play.
3D Mammography
The need for a more thorough image that provides an accurate representation from all angles is what led to the development of 3D Mammography, which is quickly overtaking 2D mammography as the gold standard for detection.
3D mammograms have been a game-changer for women's health. For the first time ever, it's possible to achieve a detailed image of the breast that provides a high degree of diagnostic accuracy. That's because, rather than trying to make an evaluation on a 2D plane, a radiologist can rely on images taken at slightly different angles, all stacked together to create a 3D image. By displaying the breast in slices, physicians are able to scroll through the slices, separate the tissue layers, and see a comprehensive overview that wouldn't otherwise be possible, allowing for the detection of tumors, lesions and more. 3D systems typically have an option to add a Breast Biopsy tool for quick, in-the-moment evaluation of such abnormalities.
Also important to recognize: a newer system doing a 2D + 3D exam has a roughly equivalent dose as an older 2D system, which should address concerns you may have about dose!
3D Mammography, also known as Wide-Angle Breast Tomosynthesis, also has another secret weapon going for it: breast density assessment.
Breast density is the elephant in the room when it comes to breast health. While more and more women have become familiar with density and its correlation with higher risks for cancer, it's only recently that the nationwide legislative framework has been in place to ensure a heightened level of awareness.
As a clinical expert, it's imperative to review the regulations in your area to ensure your facility's compliance with notification laws. The most important thing you can do for your patients is to have the tools in place to assess breast density and subsequently react when the examination reveals dense breasts.
3D Breast Ultrasound (ABVS)
And that brings us to the next form of mammography available, one that's growing increasingly popular now that the larger medical community and patient population understand the importance of accurately assessing breast density.
3D Breast Ultrasound, also known as Automated Breast Volume Scanning (ABVS), creates full-field high-resolution views of the entire breast. This coronal view is able to demonstrate global anatomy and symmetry and potentially detect abnormalities between layers of dense tissue. Without such an exam, it's possible for the dense tissue to obscure the presence of these abnormalities. ABVS therefore has the potential to increase early detection rates in dense-breast patients, whereas other tests might not be able to find any issues.
ABVS is designed to be used as a supplemental test to a 3D digital mammogram, and a typical system will come in two parts: the 3D coronal view generator and a subsequent 2D handheld transducer used for follow-up imaging when a lesion is detected and further examination is necessary. This transducer provides the sonographer with the variety of exams they're used to in their typical workflow: Color Doppler, Shear Wave, Elasticity, etc.
The one-two punch of 3D Mammography and 3D Breast Ultrasound make them the preferred choice of many hospitals and clinics. ABVS may not come into play for all patients, but with density's importance better understood than ever before, forward-thinking clinics appreciate the ability to offer dense-breast patients this follow-up exam without having to refer them elsewhere. And patients prefer that too.
Breast MRI
For certain difficult cases where any or all of the aforementioned techniques simply don't provide the resolution needed to make an accurate diagnosis, or complex cases requiring maximum precision, an MRI exam can be ordered to provide a detailed image of the breast. This can be used with or without contrast depending on the needs of the ordering physician.
Breast MRI underwent some coding/reimbursement changes in 2019. If you're interested in knowing more (as well as the proper coding procedures for some of the other methods we've discussed), you can read all about those at the link above.
Modern Mammo
Women's health can take many forms in 2020. The great news is we have more tools in the fight against breast cancer than we've ever had in history.
Make sure to educate your patients (and referring providers, while you're at it) about the many options they have when it comes to screenings, diagnosis and therapy. They'll no doubt be thrilled to hear about the advances that leading technology providers have made to reduce pain and improve diagnostic accuracy, comfort and overall experience.
Stay updated on the latest news relating to mammograms by subscribing to our blog.