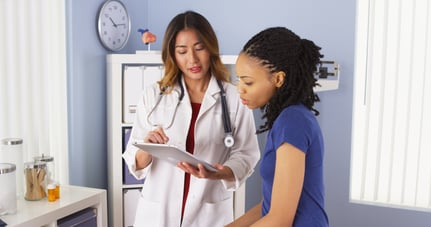 For many women, undergoing any procedure can leave fear and uncertainty. Especially when it comes to a procedure that your patients may not know much about it.



Uterine Fibroid Embolization (UFE) certainly fits the bill. UFE is a minimally invasive surgery that targets fibroids in the uterus, but it still has relatively low adoption among providers, and even fewer patients know about this operation and how it can improve quality of life.


To fully understand what UFE is, its history, the symptoms to watch out for and the procedure itself, let's take a comprehensive look into it.

The History of UFE

The UFE procedure was first performed in Paris, France in 1974. However, clinical trials did not take place until many years later in 1995.

The first procedure in the United States was not performed until two years after those trials, in 1997. During the trials, researchers saw a 75% success rate, a number that has increased up to 85% today.

What is UFE?

UFE is a minimally invasive procedure performed by Interventional Radiologists. It targets fibroids located in the uterus by cutting off their blood supply, causing them to shrink and ultimately die. Patients who elect this procedure may be able to avoid a hysterectomy.

What are the symptoms?

Symptoms may vary from person to person depending on the severity of the fibroids and location. Most of your patients will experience one or more of the following symptoms:

· Low blood count

· Heavy bleeding, sometimes enough to cause anemia

· Pain or fullness in the abdomen

· Back and pelvic pain

· Pain in the legs from pressure on the nerves

· Enlarged abdomen

· Pain during sexual intercourse

· Infertility

· Bladder pressure

· Pressure on the bowel which may cause constipation and bloating


Who is at risk?

Fibroids affect the majority of women, including around 80% of black women and 70% of white women.

What can you expect during the procedure?

During the procedure, the interventional radiologist will use a surgical C-arm, catheter, embolic agents and a monitor to help identify where the fibroids are. The surgical c-arm machines help providers display pictures and video to identify and guide the procedure.

The procedure can be performed in a Cath Lab or a hospital operating room and takes about 90 minutes. Your patient will be placed under a sedative and may remain conscious during the procedure. A small incision is made in the groin area for the thin flexible tube to be inserted into the femoral artery, where the contrast is injected.

Once the arteries are found, the radiologist will inject particles of polyvinyl alcohol into the catheter to cut off the blood supply. Once they have successfully identified all fibroids, the radiologist will remove the tube and place a bandage over the incision. Stitches are not required following the procedure. As an outpatient procedure, patients are generally released the same day and a hospital stay is not required.

What are the benefits of this procedure?

Patients who undergo uterine fibroid embolization should notice decreased bleeding, pelvic pain and pressure, and overall improvement in physical and emotional well-being. With the minimally invasive procedure, your patient is able to return to normal activities faster than they would with other options. Other procedures like hysterectomy or myomectomy can cause severe blood loss, whereas UFE is designed to prevent that.




Is UFE Right For Your Practice?

There isn't one size that fits all when it comes to women's health. It's important to take time to determine if this procedure is right for you and your practice.

The services you offer at your practice can set you apart from others in your area, expand your patient load and enhance the experience you provide. When it comes to adding the UFE procedure to the mix, there are many things to factor in, including:
· The cost of equipment
· Demographics
· Patient population
· Skills to perform the procedure
· Training needs
Expanding your services has the potential to pay dividends for you practice in the future; however, the upfront cost with equipment, training and surgical supplies has to make sense for your organization.

What Equipment is Needed for UFE?

The right mobile c-arms will assist you by identifying where the uterine fibroids are during the surgery. Cios Flow and Cios Alpha surgical C-arms, for example, are designed to help your team make any procedure more straightforward and efficient. The tablet-like touch gestures will also allow you to collimate, rotate and flip images with just one finger.

C-arm features:
· Retina Imaging Chain with CMOS technology
· SpotAdapt and touch gestures
· High-brightness green lasers
· Lightweight system design
· Wireless footswitch
It's important to take time to determine if adding this procedure is right for you. You may find Uterine Fibroid Embolization to be the perfect solution to add to your practice to help expand your patient clientele, service your community and provide excellent care.
We'd love to help you explore your options when it comes to UFE. Reach out to discover if this procedure is right for your practice, as well as what it will take to get there.