By: David Pacitti, President of Siemens Medical Solutions USA, Inc. and Head of Siemens Healthcare's North America Regional Organization
It's not enough to simply innovate and challenge industry standards in today's health IT space – the real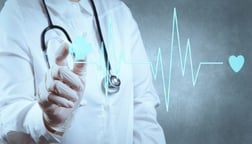 results and meaningful outcomes for patients are increasingly linked to those organizations that stop traditional patterns of healthcare information in their tracks. Over the course of the past decade, companies have responded to the outdated notion that doctors and medical professionals should be rewarded for the amount of services they provide rather than by the value of those services in treating patients.
This year at the HIMSS 2016 Annual Conference and Exhibition in Las Vegas, the medical community is at the forefront of designing a system of new value networks in healthcare that disrupt old business models.
Specific issues that present both challenges and opportunities for technology and services that disrupt health IT include interoperability, patient engagement and IoT (Internet of Things). Here are some thoughts on the opportunities and challenges they each present:
Interoperability

Opportunity: Interoperability has become invaluable to medical technology because of the growing need for data exchange between healthcare networks handling diverse devices and a flurry of channels processing electronic health records.
Challenge: The margin for error is great. According to the FDA's Guidance on Improving Medical Device Interoperability, "interoperable devices should be designed with specific error scenarios in mind, including malfunctions caused by problems with connected devices, invalid commands and the receipt of erroneous data."
Patient engagement

Opportunity: Patients' ability to track and manage their health is easier than ever thanks to mobile apps, wearable data trackers and increased exposure to medical resources. These types of solutions allow the patient and the doctor to stay mutually informed about their personal health data.
Challenge: Generating and maintaining patient and professional interest and implementation. Hospitals and healthcare providers must continue to invest in consumer mobile technology that clearly and easily presents medical data and information to the patient.
Internet of Things

Opportunity: Hospitals can use IoT to better supervise the storage of medical records and information as well as the location of personnel and patients, particularly as patients move through a hospital system. IoT also enables providers to administer treatment through remote monitoring and communication.
Challenge: Information overload. Doctors and healthcare professionals run the risk of becoming burdened with too much data, making it more difficult to effectively care for their patients.
As we navigate the great technological advances popping up across the healthcare industry, these disruptive developments will continue to shape everything from traditional practices and organizational structures to regulatory policies and workflow processes. To stay up to date with the latest thoughts from Siemens Healthcare, visit the company's Healthcare Insights site.