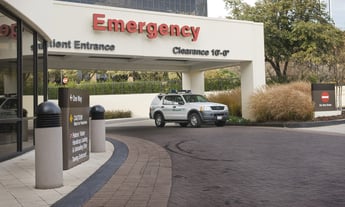 According to a new study by the Center for Healthcare Quality and Payment Reform (CHQPR), over 40% of rural U.S. hospitals are at risk of closing in the near future.
For many small communities, rural hospitals are the lone provider of all healthcare services in their areas. If these hospitals shutter, millions of Americans face the loss of their only medical lifeline.
Study Details and Key Takeaways
To conduct the CHQPR study, researchers examined publicly available data to assess the finances of rural hospitals over a period of three years, according to Harold Miller, CHQPR's CEO and author of the report. Below are five key takeaways.
Rural hospital finances are bleak
More than 800 hospitals are at an immediate or elevated risk of closing due to diminished financial reserves or high reliance on local taxes or state grants.
Health insurance payment models drive these closures
Payments from health insurers are not structured to sustain the essential services needed in rural communities, in large part because private insurance plans often reimburse rural hospitals at lower rates than the already discounted Medicare or Medicaid plans.


Rural hospital closures affect the entire country
The ongoing Covid-19 pandemic has underscored just how vulnerable the nation's food supply is to any disruption associated with worker illness and labor shortages. Since most of the nation's food supply comes from rural communities, it is critical that the entire country prioritize rural healthcare. "The myth is that these are hospitals that should no longer exist in communities that should no longer exist," Miller said.
Saving rural hospitals will save lives and money
If vital rural hospitals were allowed to close, spending would actually increase due to the greater health problems rural residents would experience as a result of losing access to preventive care and timely treatment.
Current federal proposals aren't solving the problem and some will make it worse

One federal proposal recommends that rural hospitals eliminate inpatient services

. Another approach, the CMS Community Health Access and Rural Transformation (CHART) model, would cut Medicare payments, thereby increasing financial losses. Short-term grants and other financial assistance, while necessary during the pandemic, offer no long-term solutions.
My Take: What Does This Mean & How Should Rural Communities Move Forward?
The challenges facing rural healthcare are myriad, and as such, will require a combination of solutions to overcome them.
As the CHQPR study indicates, payment reform will be central to enduring rural healthcare success. Author Harold Miller proposes a Patient-Centered Payment System —a mixed model which includes "standby capacity payments", paying for primary care based on patient needs, and service-based fees to help sustain access to emergency care.
Resolving rural healthcare disparities, however, cannot and should not end with merely adopting new payment models. For a thoughtful, lasting change in the rural healthcare system, community leaders should:
Similarly, many pharmacies now have clinics offering primary care services such as physicals, diabetes monitoring, and minor illness treatment. By expanding care services to familiar, stable community locations, patients will be less vulnerable to potential closures and more likely to stay connected and engaged.
Luckily, recent technological advancements driving the adoption of telehealth and remote collaboration have shown significant promise for bolstering rural patient access to care. Telehealth is especially beneficial for patients seeking education, counseling, and assistance monitoring chronic conditions.
Meanwhile, remote collaboration services like Siemens Healthineers' WeScan help healthcare providers offer services, such as an MRI exam, even if they lack qualified staff on-site. With WeScan, rural hospitals can access a pool of skilled remote imaging technologists who help operate an MRI scanner.
In the U.S., rural areas face many technological hurdles—chief among them being unreliable internet. Investments to bridge this digital divide would go a long way in opening new doors for patients and hospitals alike.
The healthcare sector is perhaps the most consequential part of the United States economy. It currently ranks as the country's largest employer and, in 2020, healthcare spending accounted for nearly 20% of the nation's total Gross Domestic Product (GDP). Enacting change in an industry of such a daunting size will be no easy task, but the consequences of failing rural communities are too high not to keep trying. Improving healthcare literacy, expanding community-based care, and investing in technology are three important steps rural communities can take today to help make those changes a lasting reality.