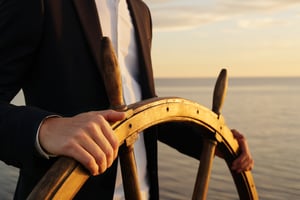 Whether you're driving a bus, a plane or a boat, there's no question that effective leaders have a significant role in getting people and organizations to where they need to go. Being a leader implies that you are able to move the needle and improve outcomes.
Sounds pretty easy, doesn't it? But the truth is, leadership is messy, with a lot of moving parts. Leadership is knowing a little bit about human behavior but, just as importantly, it's about getting people up and moving.
That's the real trick. How do you get a group of people to move in the same direction so they can make a positive impact on others, including the organization and patients? In healthcare, no one works in a silo. Most groups and teams are multidisciplinary. Experts from multiple fields and specialties come together to make positive changes. So how do you lead such a team?
There are lots of reasons to work in teams. I suppose the biggest reason is to bring people together who are smarter than me. They have different views, opinions and perspectives than I do. When we do that, we might have a little conflict. We might need to take more time. But eventually, whatever we come up with is going to be better together than if we were to take something on by ourselves.
Not only do teams need leaders, but they need strong leaders with the ability to coach, motivate others and drive performance. Not everyone on the team is necessarily going to have the same agenda or goals. We all want to contribute, but the expertise we bring to a team should be varied and diverse. With that, naturally, comes conflict and maybe a little extra baggage. But effective leaders are very good at steering the team toward the desired outcomes, even when they might be a little resistant.
Leaders need to be able to effectively communicate not only the goals of the team, but how each member of the team is going to contribute to reaching those goals. Conflict is naturally going to happen. Leaders need to be good at mediating that conflict. We need conflict if we are going to have differing perspectives and do things better.
As individual team members, we are all motivated differently. Leaders need to know how to effectively motivate each member of the team not only so they work toward the desired goals, but so they understand how their individual talents and value will contribute to the final product.
Performance is always a driving factor for team leaders. The best team leaders have a good understanding of how communication, conflict and motivation contribute to success. Effective team performance, when done right, is not a product of leadership. It's reflective of leadership. You won't hear successful team leaders taking credit for what the team did. Naturally, it's a group effort. But without the guidance and coaching and encouragement of an effective leader, teams are going to struggle.
Leadership is messy. That's why you need team leadership with a broad range of skills and expertise and the courage to lead in a team setting.
This is precisely what I'll be covering during Cassling Leadership Institute's "Who's the Captain? Healthcare Leaders at the Helm" webinar. I hope you'll join me on April 15 for a frank discussion of these topics so that, you too, can learn to navigate the sometimes choppy waters of leadership.