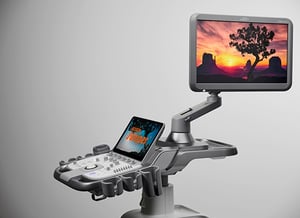 (Omaha, Neb.) —Beginning July 1, 2018, Cassling, an Advanced Partner of Siemens Healthineers, will assume primary responsibility of its customers' ultrasound equipment service throughout its Midwest territory of Nebraska, Iowa, Kansas, South Dakota and select counties in Illinois and Missouri. Until today, the service and preventive maintenance of Cassling's customers' ultrasound equipment has been handled directly by Siemens Healthineers.
Cassling's OEM-trained service team has been servicing Siemens X-ray, magnetic resonance, computed tomography and mammography equipment since the Advanced Partnership was signed in 2001. The company will now extend its medical imaging equipment service expertise and passion for serving its healthcare customers to Siemens ultrasound users as well.
"The entire Cassling organization is proud and excited to broaden our service know-how to include Siemens Healthineers' ultrasound product line, as well as develop and strengthen our relationship with new and existing customers," said Joe Matthews, Vice President of Service. "Our goal is to provide healthcare organizations and imaging facilities with more direct and local coverage, improved response time and less downtime—from the service team customers know and trust," he said.
The transition of service coverage is expected to be seamless.
"Two highly respected Siemens service engineers, Dale Hansen and Jerod Olson, have joined the Cassling organization as Ultrasound Service Leads—bringing a combined 45+ years of ultrasound service experience helping Siemens customers throughout the Midwest," said Matthews. "In addition, many of Cassling's existing Field Service Engineers are being cross-trained in ultrasound service."
Beginning July 1, customers are invited to contact Cassling directly at 1-800-228-5462 for any ultrasound service requests, questions or concerns.
According to Cassling President Kyle Salem, PhD, Siemens ultrasound customers can have confidence in Cassling's approach to the service and coverage model.
"Cassling's service team follows the highest production, installation and service standards—providing an on-site response time of less than one hour to customers with service contracts," said Salem. "Ultimately, we're committed to diagnosing problems quickly, fixing equipment as fast as possible and ensuring customers' diagnostic imaging equipment is in optimal condition."
Customers with questions or concerns about their ultrasound service coverage are invited to contact Vice President of Service Joe Matthews directly at jmatthews@cassling.com or 402-334-5000, ext. 1150.
About Cassling Equipment Service
At Cassling, we build long-term relationships with our customers and offer complete support every step of the way. Whether it's routine maintenance or an emergency call in the middle of the night, your need is our first priority. By maximizing equipment uptime, Cassling Service allows you to help more patients and decreases financial loss and wasted staff time. Learn more about our commitment to equipment service at www.cassling.com/equipment-services.
Meet the Author
Cassling strengthens community healthcare through customer-centric imaging and therapeutic technology, services and solutions. From critical access hospitals and diagnostic imaging centers to large health systems and IDNs, Cassling is committed to helping healthcare organizations improve access and outcomes, create efficiencies and lower costs.