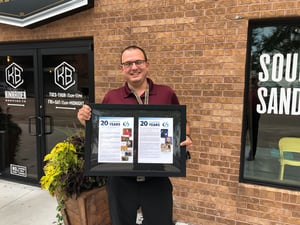 At Cassling, we hold our Field Service Engineers (FSEs) to the highest standards. Our team is focused on achieving the maximum level of imaging equipment uptime and the best diagnostic results, because they know healthcare organizations are counting on us to help ensure an exceptional patient experience.
Still, sometimes an FSE takes customer service to another level, with a work ethic that's second to none. David Kenkel, Field Service Engineer, celebrates his 20-year anniversary with Cassling this summer, and his colleagues were quick to offer their congratulations and respect. In fact, as fellow FSE Leo Delka acknowledges, David's shoes are anything but easy to fill.
"David is a tough act to follow," said Leo. "On the occasion that I take a call for one of his sites, his customers seem disappointed when I show up to work on their equipment instead of David, though they're too nice to say it. Customers have told me he's great at keeping them informed, they appreciate how responsive he is to them and, of course, they love that he gets their equipment running in top form."
"Dave is a great asset to our service organization and is always willing to help out," said FSE Ryan Banzhaf.
"The radiologic technologists at Mary Lanning say, 'We just love David' and the techs at Howard County have told me, 'Dave's just the best,'" said Leo. "Needless to say, the bar is set pretty high. If I've got a tough site problem or something I haven't seen before, he's my first call. David has, is and will continue to be a great asset to Cassling. I'm happy he's on our team!"
That wasn't all these facilities had to say. Take a look at some of the kind words organizations have shared about David over the years:
"Why would we go with anyone else to service our equipment? Cassling knows us, our techs, our equipment and how we do business better than anyone. David is amazing—always so responsive and answers all of our questions without every making us feel dumb for asking even the most basic things. He is so smart and helps us in so many ways. You guys are the BEST!" --New West Sports in Kearney, NE
"David did a GREAT job communicating and checking to make sure the equipment was working to our expectations as well as helping us with any questions or concerns we had. He was very efficient in getting our machine fixed when it went down and was very good at letting us know the 'why's' of what was going on. We appreciate the awesome customer service." -- Autumn Wegner, Radiology Director, Howard County Health – St. Paul, NE
"Once again Cassling shows their true colors. Last night we had a generator test. One of my technologists went to perform a PE CT and the scanner was giving errors. My tech got in touch with David and he went above and beyond trying to get us up and running. Again, Cassling's commitment and service never cease to amaze me! I just wish ALL of our equipment was serviced by Cassling. Thanks for your EXCELLENT service!" -- Sue Diehl, Imaging Manager, Valley County Health – Ord, NE
"David is one of Cassling's secret weapons," said Tim Elder, Regional Service Manager and David's supervisor. "He is so knowledgeable, so technically skilled and so customer-oriented, plus he genuinely cares about doing the right thing every time. Over the years, he has shown this in many ways, including traveling to every state in the Midwest territory to either help with service calls or complete equipment installations. The latest one was in May 2019 (see photo), when he went to Moline, Illinois to help on a CT installation. Many Cassling FSEs utilize David for tech support, especially on CT and X-ray products."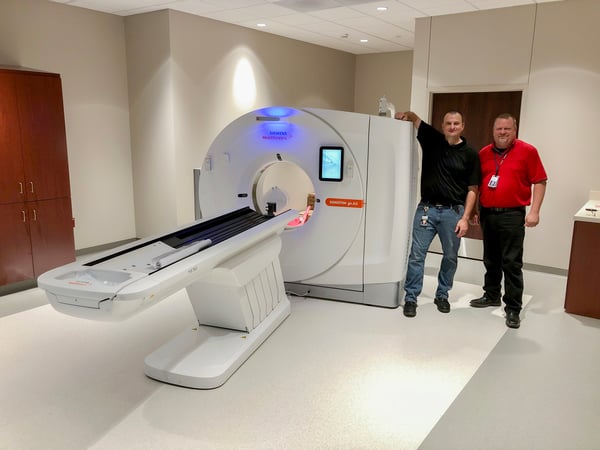 Tim even credits David's expertise and friendliness with helping to expand the Cassling and Siemens footprint within many of our client hospitals.
"David is excellent at building customer relationships, which has helped turn a lot of them into loyal, repeat and long-term customers. Several years ago, Mary Lanning Health in Hastings, Nebraska had no Siemens imaging equipment in their hospital. After the first system was sold and David started showing the customer the world-class service Cassling brings, they were hooked. Imaging Director Tami Lipker tells me again and again how they cannot believe the amazing service David delivers, which is why they continue to buy Siemens equipment from Cassling. They now have 14 imaging systems purchased from Cassling that we take care of.
"Just a few years ago, Butler County Health in David City, Nebraska, did not have a single Siemens system installed. We were able to sell them a Siemens Luminos Agile that David installed and now services. Since then, the customer has purchased a Siemens Somatom Go.UP CT, a Mobilett Elara Max and now a MAMMOMAT Revelation. David played a significant part in influencing the customer to purchase the MAMMOMAT. They were highly considering the competition but, after talking with David at various times about the Siemens system and knowing that he would be their service engineer, they decided on Siemens.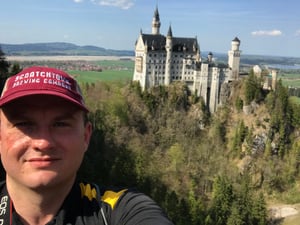 "David is a highly valuable part of the Cassling service team. As a service manager, he makes my job much easier. He's a big reason why we get a majority of our service contracts renewed and why our customers continue to purchase new equipment from Cassling."
Even with all this praise for his professional work ethic, Leo Delka is also quick to point out that, as well as being an expert on Siemens equipment, David is an expert on things like craft beer and smoking meat. You know, the really important stuff.
David is also a huge Iowa Hawkeyes fan, something that years of living in Nebraska hasn't changed. He loves to scuba dive, a hobby he sometimes gets to take part in during his semiannual trips to Jamaica with his wife and friends. But this isn't the only spot you can find David out and about with friends and family, as Cassling Vice President of Service Joe Matthews found out a few years back.
"Fun fact: Years ago, while attending my cousin's wedding in Las Vegas, I noticed David in line with the groomsmen. I asked him what he was doing in this wedding. Turns out his brother was marrying my cousin that day. Small world!"
The team at Cassling is proud of David, our very own in-house 'radiology whisperer,' for reaching the 20-year milestone, and we all wish him congratulations, something that Joe echoes in his own praise for David's work.
"I've always appreciated David's drive to provide excellent customer service," Joe continued. "He holds himself and everyone around him to the highest standards, always pushing for Cassling to be the best. Congratulations on reaching 20 years with Cassling, David!"