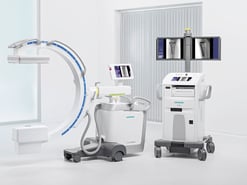 As with most things, diagnostic medical equipment isn't designed to last forever. Given the investment, your organization may be hesitant to approve purchasing the latest upgrade. But if you have an aging fleet of C-arms, it may be time to consider just that. There are a number of things to keep in mind when finalizing the buying decision, and with so many advanced imaging options now available, it's important to identify a C-arm that not only meets the needs of your budget, but also utilization patterns, staff expectations of imaging quality, and perhaps most important, patient safety.
Budgets are what they are; often, there is little wiggle room with the numbers in black and white. That makes it all the more important to assure your C-arm investment provides the most advanced features and highest image quality for the price.
Once you have a clear idea of your budget, consider the types of exams you would like to offer your patients. Are you looking for a C-arm that can handle everything from vascular to cardiac and everything in between? Or, will its primary use be for basic surgical imaging? More features and higher cost aren't always better or even necessary. Taking time to analyze utilization patterns is key to getting the right C-arm for your hospital or facility. It's also essential to understand the level of training your staff has when choosing a new C-arm. Realizing how easily a new C-arm will fit into your team's current workflow will help you get up and running in no time.
There are many new features available in C-arms today, but few are as difference-making as the introduction of flat-panel detector technology. For smaller facilities not doing fluoroscopy, image intensifiers may offer a high enough image quality at a lower price point. However with a flat-panel detector, you can expect higher spatial resolution and better image quality. This improved image quality makes small objects, such as guide wires, easier to see—which is essential for interventional fluoroscopy. Flat-panel detectors also offer a lower radiation dose, which is key for patients and staff alike.
Siemens Healthineers has spent the last few years focused on adapting its product line to offer a C-arm for every type of facility and the gamut of patient needs. Both the Cios Alpha and Cios Fusion offer flat-panel detector technology and the ability to perform an array of clinical specialties. The Cios Connect and Cios Select both have image intensifiers and work well for everyday surgery at a reasonable cost.
What other factors do you consider when upgrading your surgical equipment? Please share with us in the comments section below.
Interested in learning more about the Cios family of C-arms? Contact your Cassling Account Executive.