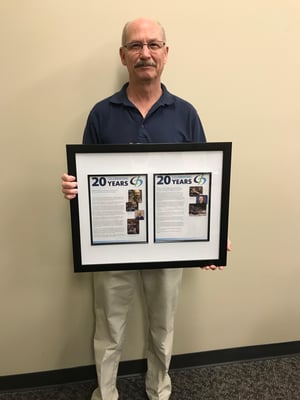 Those who know Field Service Engineer (FSE) Brent Headley well know he's a betting man. And that has translated well to his experience in the field for Cassling.
"I would say Brent works like he gambles," said FSE Ron Zink. "He likes to increase his odds to get the best outcome by covering all his bases. When he plays roulette, he will bet on both black and red at the same time to increase his odds of winning. With regard to both service and gambling, he usually has a good outcome."
As Brent celebrates his 20-year anniversary, one thing that's clear when talking to those who know him best is that he would never gamble on customer service. In fact, Brent has more than doubled down on his commitment to customers.
"No matter the task at hand or the job that needs to be done, Brent can be counted on for his impeccable customer service skills," said Shawn Pew, regional service manager and Brent's supervisor. "He routinely goes above and beyond to make sure customer satisfaction remains priority number one. Brent's positive attitude and personality has helped form unbreakable bonds and relationships with co-workers and customers alike.
"When Brent is sent out on service calls, not only does the customer get their issues resolved, but they often get a life-long friend as well. It has been a pleasure being Brent's co-worker and manager but, most importantly, it has been a pleasure being his friend. Congratulations on reaching your 20-year service anniversary and thank you for your continued commitment to Cassling and our customers."
"I have known Brent since 1988," said FSE Dan Boone. "We worked for Siemens and had a little office space down on Industrial Road. He has always been a very customer-focused engineer, always going the extra mile to make people happy."
"Brent brings a level of commitment to customer service that is second to none," said Joe Matthews, Vice President of Service. "His willingness to 'go the extra mile' for our customers, his fellow engineers or anyone, for that matter, has always impressed me. Before Brent began working for Cassling, he was our customer. I remember being slightly intimidated when I first met him, thinking he was going to be tough to get along with. Turns out, nothing could be farther from the truth. Congratulations on reaching 20 years with Cassling!"
"I've known Brent for over 24 years and have worked with him for most of them," said FSE Ed Holub. "I have always admired the patience and care he shows his customers and co-workers. His professionalism, effort, and knowledge are a great example for anyone. Brent has been a great role model to me and I'm sure to many others. No one is more likeable and caring and I consider myself lucky to have crossed paths with him many years ago. Brent, congratulations on 20 years with Cassling."
"Brent Headley is a true pleasure to work with," said FSE David Evans. "He just has this helpful nature about him, always willing to share knowledge and lend a hand. Great fun to have a beer with as well. He is a great friend and colleague."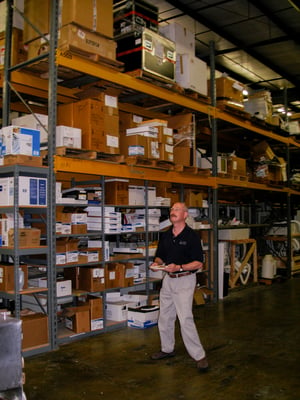 Whether it's PACS support, modality service or CIM service, Brent is considered an expert by his colleagues. FSE Bob Dickes's recent experience with a particularly tough service call involving a MAMMOMAT Inspiration mammography unit emphasizes Brent's reliability to his co-workers.
"Brent had been responsible for completing all of the 3D upgrades on the Siemens Inspiration mammography systems in our service area. He typically has a full workload of service calls week to week, but he never turns down an opportunity to help someone. I had been working on a down Inspiration recently and having a hard time with it, so I decided to call Brent to get his input. It was just after 5PM but he immediately offered to come over and help out. Within an hour or so, we had isolated and repaired the problem. I thanked Brent and suggested that I could finish putting the system back together so he could head home.
"I then tested the system a few times to make sure everything was in order, and it failed again! It was getting late and I was out of ideas, so I texted Brent to see if he had any other suggestions. Before I knew it, here he was, walking in the door again, ready to dive back into it! We got the system up and running that night but I couldn't have done it without Brent's help. He is the consummate team player. Congratulations on your 20-year anniversary!"
If you happen to see Brent in the coming months, be sure to tell him congratulations. Or, if you're anything like FSE Rod Rosenbohm, you could even buy him lunch at one of his many favorite restaurants!
"Brent came to Cassling already knowing the Cassling culture," said Rod. "Truth, honesty, a great work ethic, and real care for the people he works with. I have witnessed the manifestation of this in how our customers greet Brent when he arrives on site, like a friend has just shown up."
"Brent is one of my favorite people to work and go to lunch with. One of the priorities we have when we work together is to go out to a good place to eat: Michael's Cantina in Norfolk, El Tapatio in Columbus, El Toro in Lincoln, El Bee's or Hog Wild Pit BBQ in Omaha (with some good and loud country music playing at Hog Wild!).
"The time I remember the most, though, was during an upgrade to a PACS server in Norfolk. It took until around 9:30 PM before the upgrade was finally done. Unfortunately, when we left the hospital, six or maybe 12 inches of snow had fallen! We barely could get to the hotel. The only place open was Burger King, so we both went through the drive thru for dinner; not exactly a good day for food."
"Brent, lunch is on me the next time we work together. Congratulations for 20 years with Cassling!"
Thank you, Brent, for everything you've contributed to Cassling and our customers!