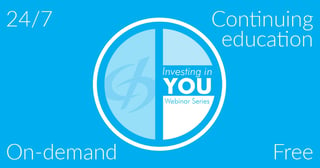 Call me old fashioned, but the best part of my job is getting out into the field and talking to customers. Recently, I had the opportunity to chat with a chief CT technologist, Lynn, who had assumed a new role, managing a department of three in a small-town critical access hospital.
She had a lot on her mind. It's budget season, she needs a temp to cover another tech's maternity leave, and the tube on her CT went down again. [It wasn't a Siemens system, so, naturally, I suggested she consider budgeting for one.]
We also had a brief conversation about another pain point: continuing education. Lynn loves Cassling's 'Investing In You' educational program and has participated for the ten years we've been offering our no-cost seminars and webinars for CEUs. But she said there just isn't enough coverage at her small facility or hours in the day for her entire team to participate.
Today, I called her with some good news.
On-Demand CE Credits Are Here
Lynn's comments echo feedback we've received from other hospitals and imaging facilities. It's not always possible for more than one person to get away for a daylong seminar. Even the hour timeframe of a webinar doesn't fit everyone's schedule. And of course, department budgets for continuing education continue to shrink.
Here's the good news. Starting today, each of Cassling's future 'Investing In You' webinars will be available to view on demand for CE credits. So whether you participate as a team over your lunch hour or you tune in solo from home on a Saturday morning, you'll still earn CE credits from the American Society of Radiologic Technologists. And they'll always be free to participate.
Our first webinar in this new era is, "Biomedical Informatics and its Impact on Radiologic Technology," takes place on February 8 and is worth 1.0 CE credit from the ASRT. Kori Stewart, MHS R.T.(R)(CT)(ARRT), will share insight into how data and artificial intelligence are impacting imaging providers.
I hope you can make it and take part in the interactive portion of the Q & A. If not, I encourage you to sign up anyway so that you can be among the first to earn your CE credit after the fact, when the webinar is available to view on demand.
We also have on-demand webinars that you can view today. These include "Cardiac Tissue Strain: Basics and Beyond" and "7 Customer Service Habits that Boost Patient Satisfaction." Rest assured, we'll add webinars to our on-demand library throughout the year.
Looking Ahead
Over the last decade, thousands of techs, managers and directors across the country have attended Cassling's live seminars and webinars. We've been joined by hundreds of speakers who are leaders in the medical community or experts from other industries to present on topics that matter to you.
Going forward, we'll continue to share a variety of content—from honing in on technical imaging topics, to opening up a dialogue on workplace culture or personal wellbeing. Be sure to share your feedback on the topics so we can improve, and we also invite you to help us spread the word about these "anytime, anywhere" CE opportunities with your friends and colleagues.
We look forward to seeing you at our next event—whether you join us "live" or at a time that fits your schedule.