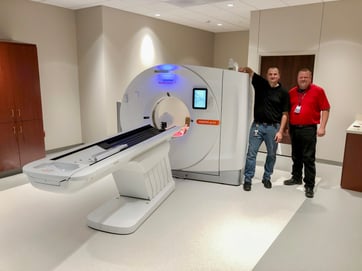 When you invest in medical imaging equipment from Cassling and Siemens Healthineers, we work closely with you to ensure your purchase helps you make a positive impact on patient outcomes in your community.

Part of that commitment involves making sure your systems are delivered on time and within scope of your construction project, with no surprises that could delay or impede your ability to deliver exceptional care.

As equipment vendors and service professionals with nearly 40 years of experience, we've identified key considerations for helping your equipment get installed on time and under budget. This checklist is designed to help you prepare everything you'll need for delivery and installation of your MRI, CT or any other imaging system, including typical contacts you'll need to reach out to.

We encourage all our customers to begin these preparations as soon as possible so they can schedule all necessary services prior to delivery, and we also recommend they contact their personal Cassling project manager if they need to clarify anything about their installation. We're here to help you succeed, and we want to guide you through this process as smoothly as we can.

But before we get into the checklist, here are four additional things we recommend everyone consider when planning their imaging system purchase.
Existing equipment removal:

You have a brand-new system coming in, but have you given any thought yet as to what you'll do with the old system? Many options are open to you, but no matter the decision, we encourage you to plan this early so the old system doesn't get in the way of the new system's installation.

Room renovations:

Not all systems are created equal. Literally; the size and setup of imaging equipment has evolved dramatically over the years, meaning your current room dimensions and infrastructure might need to evolve as well. Make sure any preparation you need to do within the room itself has been completed as far in advance of the installation as possible.

Shipping and delivery:

We'll work with you on an ideal shipping and delivery timeline, keeping you posted on your estimated installation date. But throughout that process, it's important to be communicative to your own team and adjust timelines according to any changes in the supply chain.

Staffing:

We try to minimize downtime as much as possible, and we encourage you to do the same by carefully calibrating how many team members you'll need to successfully train on and run your new imaging system. You can also begin strategically planning any adjustments you'll need to make to your workflows.
Now, with those considerations out of the way, onto your checklist. An image is below, or you can access and download a PDF here.
Save and print as many copies as you need, and then fill this out to make sure you've gotten ahold of everyone who may need to play a role in the successful space preparation and installation of your equipment. Some of these may be unnecessary for every project, but this all-encompassing look at everything that goes into an installation will ensure you are well on your way to getting your new scanner up, running and ready to aid patients.