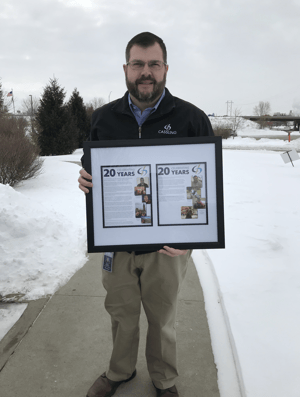 Ryan Wachter is someone who takes customer service seriously. He bends over backwards to solves clients' problems quickly and with the utmost professionalism. Still, people closest to him also know he has a hidden comedic streak too. As Shawn Pew, Regional Service Manager puts it:
"Ryan has a sense of humor that some may not be accustomed to," said Shawn. "We may be in the middle of a difficult issue or situation with in-depth discussion going on. Ryan's tone of voice or demeanor won't change, but he will say something or give one of us some good-humored ribbing that will take us by surprise. It takes a second analyzing the comment to see if he is serious, but one quick glance at that smirk he has on his face always gives it away."
As Ryan celebrates 20 years of helping keep Cassling customers' imaging equipment in pristine condition, those who know Ryan best explain what makes him such a standout Field Service Engineer.
"Ryan started not long after I was hired," said Kevin Richardson, another FSE who recently celebrated a milestone anniversary with Cassling. "He would ride along on service calls and learn from my little experience what not to do. We get along very well; he is a good friend. I enjoy working with him and hope to see him celebrate many more years. They keep going by faster and faster! Congrats Ryan!"
When Account Executive Mike Pedersen was asked to speak to Ryan's reputation and his ability to please customers, he went right to the source of Ryan's glowing reviews, gathering feedback from current Cassling customers that emphasizes why Ryan has become a favorite among hospital staff over the course of two decades.
"Ryan always provides prompt and courteous service," said Teresa Cummings, Lead Technologist at Pella Regional Health's Harmeling Imaging Center in Pella, Iowa. "He actively listens to us so that the problem can be identified quickly, and he works without hesitation until the problem is resolved, no matter what time of the day. I appreciate him; he is truly an asset to Cassling. Congratulations on 20 years!"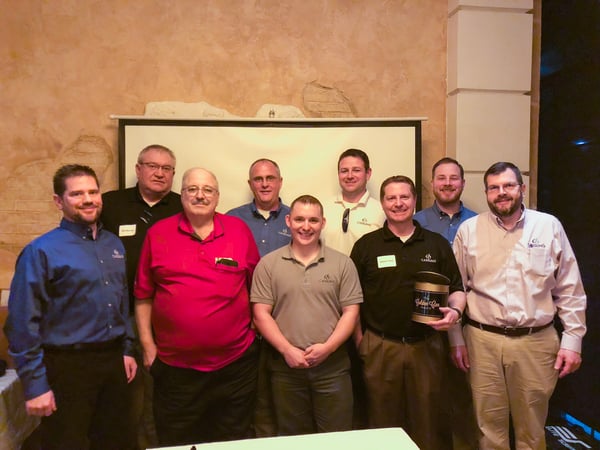 "From the day I met Ryan over 15 years ago, he has been the example of what I need in a service partner," said Julie Hartke, Director of Radiology for Mahaska Health in Oskaloosa, Iowa. "If he doesn't know the answer to my question, he diligently follows up until he can give me that answer. He has gone above and beyond to help in our patient care numerous times and generally comes armed with parts to get us up and running. His training and knowledge serve almost every modality we have, even if he isn't the primary on that equipment. We are very grateful for Ryan's continued excellent service!"
Mike also had some kind words of his own to share about Ryan.
"It is a great pleasure to work with Ryan," said Mike. "I am very thankful for all that he does for our customers. Ryan always puts our customers first and provides great support no matter if it's late at night, Sunday morning or during a holiday. I value his professionalism and look forward to working with him for many years to come. Happy anniversary and thanks for all that you do!"
"Throughout his career, Ryan has played a strong role within the Des Moines area service team and has most recently grown into a key member of a talented group," said Joe Matthews, Vice President of Service. "Ryan goes about his work quietly, not looking for accolades, but he consistently receives excellent feedback from customers and colleagues. Congratulations on reaching your 20-year milestone year with Cassling, Ryan. It's a big deal!"
Finally, in addition to acknowledging Ryan's wonderful sense of humor, Shawn Pew also wants to be sure to point out just how much of an asset his expertise has been to the Cassling team:
"Ryan does a great job of not only providing exceptional customer service, but also for being a mentor within the group and for me personally. Throughout the years, Ryan has been asked to take on service for multiple modalities and a wide range of equipment. He has taken all of these opportunities (or challenges, depending on how you want to look at it) in stride and has shown great leadership in doing so.
"Ryan is someone who I have full trust in to get the job done and done well. He is always willing to provide service whenever and wherever needed and routinely goes above and beyond to make sure customer satisfaction remains the priority. Ryan, it is a pleasure working with you and serving as your manager. Congratulations on reaching your 20-year Service Anniversary with Cassling! I look forward to many more years working together!"