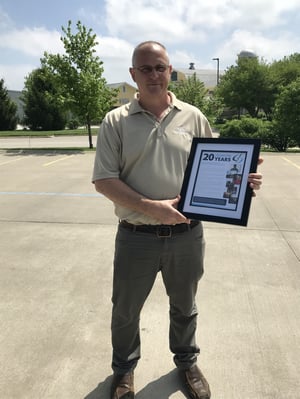 For Kevin Richardson, Cassling Field Service Engineer, a vacation means something quite different from what it might mean to the rest of us.
"More than once a customer has told me Kevin will answer or call them back even when he is on vacation," said Shawn Pew, Regional Service Manager and Kevin's supervisor at Cassling. "When I tell Kevin he needs to put his phone down while on vacation, he usually just gives me a shrug and says 'If I'm able to help them over the phone, it will hopefully get the customer back up and scanning quicker and might even save someone else from having to make a trip."
That kind of dedication is just one of Kevin's hallmarks over the past 20 years. As he celebrates his two-decade anniversary, many of those who have worked directly with Kevin shared stories about his kindness, his intelligence and his laid-back attitude that puts colleagues and customers alike at ease.
"Kevin is a no-nonsense kind of guy who quietly goes about his work and gets things done with excellent results," said Joe Matthews, Vice President of Service, emphasizing something that many people kept coming back to. "Congratulations on reaching your Cassling 20-year milestone, Kevin, and keep up the great work!"
"I remember first talking to Kevin all those years ago," said Marty Huebner, retired Executive VP of Service. "He had customer service experience as a technician working for a Cadillac dealership. It was hard, hot work keeping those customers happy. Kevin impressed me as a hard worker with a positive attitude, and the impression was accurate. He immediately proved to be one of the many dedicated and accountable team members that has been such an important ingredient in making Cassling successful!"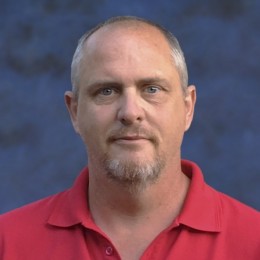 "It has always been a pleasure to work with Kevin," said Dana Downs, Service Billing Specialist, who has worked with Kevin for the past 18 years. "He has always been helpful and willing to give that extra effort to assist the customers and our customer service department, whether for passing a service call or obtaining information at any given moment. Kevin always appears upbeat and has a great attitude for whatever issue is passed his way. Thank you, Kevin, for all your hard work and dedication and congratulations on your 20-year anniversary!"
"Kevin has always been wonderful to work with," said Misty Green, Installation Specialist. "His customers adore him, and here in the office we love and appreciate his laid back, always happy to help attitude! No matter the situation, Kevin handles it with ease and a smile! Congrats on your milestone anniversary, Kev, I'm so proud that we have worked together all these years (15!)."
"You have worked with us for 20 years and we cannot tell you just how much we are grateful for your services to us," said Jennifer Izokaitis, Service Coordinator. "Please continue the hard work and the undiminished dedication! Thank you and happy anniversary!
Congratulations, Kevin, and as a thank you, let us handle the calls the next time you're on vacation!