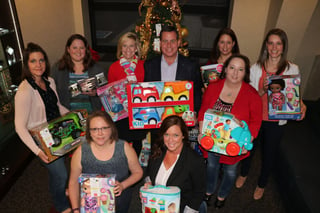 The end of the year at Cassling and its parent company, CQuence Health Group, is quite possibly the most fun time to be a team member here. That's thanks to a number of activities geared toward helping employees enjoy the holiday season and group outings that make a real difference in the community.
Throughout the year, Cassling takes part in a variety of programs that benefit local and national charities.
We partner with

TAGG

to make it easy for employees to donate a percentage of their purchases to charity, with a new cause handpicked by our CQ Cares committee each quarter.
We sponsor a number of events, including

Go Red for Women

and the

Heart Walk, and pay the registration fees for any employee who takes part in things like 5Ks, golf tournaments and other charitable activities.
Each employee gets a set number of Volunteer Time Off hours they can use to take paid leave in order to lend a hand to a cause of their choice, and many team members used this benefit to help some great charities this month.
We host fundraising opportunities throughout the year, contributing canned goods, toiletries, school supplies and more to those in need.
Things reach a crescendo during the holidays, when we give back to the employees who give so much to their communities while continuing to use our own resources to help where we can.
Here are a few things that have been going on during the month of December.
The Angel Tree
This is a tradition that seems to just grow bigger and bigger with each passing year.
In the front lobby of our headquarters is our annual Angel Tree. Each year, dozens of employees take an ornament down from its branches, with each of those ornaments listing the name of a child in need of a gift this Christmas. Our people then bring a gift back to set under the tree for that child.
This partnership with the Salvation Army has been going for over a decade now, and our team collected nearly 100 presents this year! I'd like to thank Jessica Miller and Tammy Nelson for organizing these efforts.
Ring the Bells
Every year, we choose a day to station people outside a local Hy-Vee to ring the bell for the Salvation Army's Red Kettle Campaign. This year, the turnout we received was jaw-dropping. We were inundated with employees who wanted to help out, and remote employees also had the opportunity to participate in their local communities.
This is a testament to our team members and their willingness to donate their time and effort for a great cause. Thank you to everyone who made contributions to this campaign.
Tis the Season for Fun
Because our employees do so much during the month and throughout the year, we make sure to give back to them this month too.
Our Cassling holiday party remains a highlight of the year, and in keeping with the spirit of charitable giving, the proceeds from the prize raffle at the party go to a charity of the winner's choice. This year, that winner was Justin Eggspuehler, who chose Project Pink'D as his charity. CQuence Health Group matched the raffle proceeds, bringing the overall donation total to $2,700 thanks to the continued charitable efforts of our crew!
As our own Kayla Engel says, there's another big reason why this is considered the most wonderful time of the year at Cassling: the annual Stress Less Week! Here's what our employees were able to utilize:
Chair massages at the office for two straight days
Free Starbucks gift cards
Lunch & Learn dedicated to de-stressing by way of simplifying your life
Free gift wrapping (which really helped with the de-stressing for those still finishing up their holiday shopping!)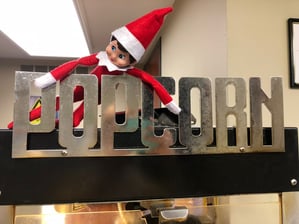 And let's not forget that Cassie the Elf has been causing trouble all month, popping up in the most unexpected places to bring some holiday cheer (and some unnerving, silent stares) to the Cassling office. She must be communicating her wishes to the big man up north, because Santa Claus himself even decided to pay a visit to CQuence Health Group to greet the children of our employees earlier his month!
Holly Jolly Healthcare
We love what we do, and the holiday season is when our employees' commitment to spreading good tidings shines brightest. We will all continue to give back in 2018, and I close this out by inviting you to share the love in your heart with those who are most in need of cheer this holiday season.
Thank you for all you do.