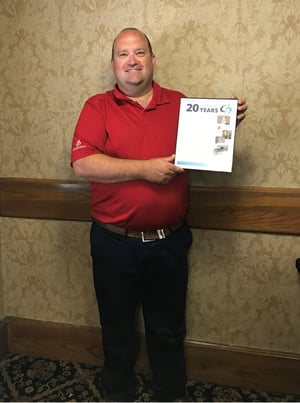 Customers are often in disbelief when they discover how quickly our Field Service Engineers get back to them about service issues. And that's thanks largely in part to intelligent, hard-working individuals like Jason Horst.
"Recently a new customer was skeptical about how quickly we would really respond to their service needs," said Joe Matthews, VP of Service. "When Jason returned their very first call for service within five minutes, this customer was astonished and exclaimed 'Wow, you guys weren't bluffing!'
"THAT kind of customer focus is what makes Jason such a valuable member of our service team."
This June, Jason celebrates 20 years of providing excellent customer service as a Cassling FSE. And those who know him best attest to the dedication he brings to his job and to the customers he serves on a daily basis.
Proof of that dedication? The fact that a former customer is now Jason's own boss!
"I remember my first experience working with Jason as a customer at Avera McKennan almost 20 years ago," said Mark Groeneweg, Regional Service Manager and Jason's current supervisor. "He was friendly, knowledgeable, and focused on taking care of the issue. I remember thinking, 'man, I wish all of our vendors would treat us this way!'
"Jason continues to connect with customers to this day. He takes the extra time to build relationships and genuinely cares, which translates to a deep level of trust. Jason's character, positive attitude and accountability paired with his excellent technical skills represent what the Cassling culture is all about! Jason, congratulations on reaching your 20-year milestone with Cassling, and thank you!"
Retired VP of Service Marty Huebner also had exceptional things to say about Jason.
"I would like to congratulate and thank Jason for his 20 years of dedication and commitment to Cassling and its customers," said Marty. "Twenty years ago, Cassling's installed equipment base was much smaller than it is today. Jason and the South Dakota and Northwestern Iowa service and sales team have grown the business tremendously! Jason is well-known and respected by his customers and is a major contributor toward building the level of customer trust needed to be successful."
"When I started with Cassling in 2004, Jason Horst was the engineer that I spent the majority of time with during training," said Jay Tolsma, Cassling Account Executive. "Jason is well-liked by our customers and always willing to stay until the problem is fixed. As an engineer, you could call him any time for help and he was willing to lend a hand. With his 20 years of service, customers are confident that, no matter the problem, if Jason is on site, he can fix it."
"I want to wish Jason congratulations on his 20-year milestone and thank him for all he has done and taught me over the years. Cassling is 'Cassling' because of him and the great service he provides!"
FSE Joel Otto shared his feelings about Jason as both a hard worker and a stand-up guy.
"I could not have asked for a better person to work with to service our customers in our area and as a friend," said Joel. "Customers are very appreciative of his service."
Joe Matthews recognizes Jason's commitment and knows that the many people who rely on him for their service needs are in the absolute best hands possible.
"Jason has always been a 'go-to-guy' who gets the job done with excellent results," said Joe. "He has been a foundational service provider in the Sioux Falls area for his entire career and his customers always have great things to say about him. Jason, congratulations on reaching your 20-year milestone anniversary with Cassling!"
Jason, thank you for two decades of hard work and for ensuring that our customers' faith in Cassling is well-placed. You represent the best of our culture of service.