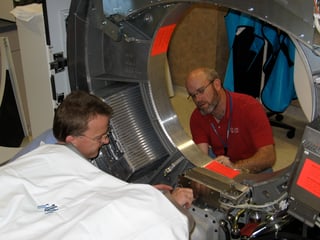 A friendly nature, strong sense of duty and remarkable intelligence have shaped enduring customer relationships for this Cassling Field Service Engineer, who has more than three decades of experience.
There was a time years ago when I was a Field Service Engineer and had figured out an adjustment needed in a machine. Jerry Glenn, whom I looked up to, called and asked me about it, I was thrilled because for once I knew the answer before he did.
When it comes to knowledge about imaging equipment, it's hard to top Jerry Glenn. If you think of troubleshooting equipment as an art, Jerry is an artist. He might be known for his jokes, but no one takes their work more seriously than Jerry does. The 'go-to guy' since he started at Cassling, he's been known to fix whatever is put in front of him.
That 'anything' includes all types of diagnostic imaging equipment for customers like CHI Health, Nebraska Medicine and Faith Regional Hospital, among others, as well as anything else his co-workers need repaired.
"Jerry knows how to fix medical equipment, but he's not afraid to take on anything," said Mandy Olderog, Cassling Sales Contract Coordinator, recalling how Jerry fixed a faulty rear defroster in her car. "Jerry spent hours troubleshooting and tinkering around on that car until he figured out what needed to be done."
According to Shawn Pew, Regional Service Manager, Jerry's technical prowess was even responsible for fixing his holiday season.
"A few Christmases ago, I had a light-up, inflatable snowman in my front yard and it quit working," Shawn recalled. "I took it over to Jerry's house and within a few days he had rewired the entire thing and it was as good as new."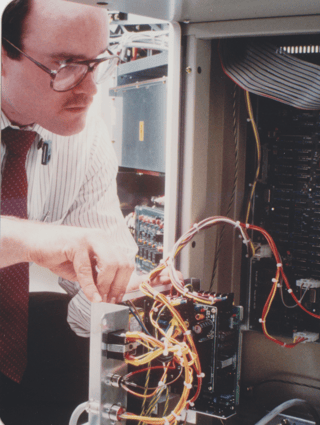 'That's Classic Jerry'
Since he joined Cassling as a service engineer in 1986, Jerry has developed a reputation as one of the best in the business. He has an uncanny memory, able to recall information and details no matter how much time has passed. Many have expressed amazement at Jerry's ability, which is why we so often look to him for help.
Marty Huebner, former Executive VP of Service, agreed, saying "Jerry really is a 'go-to guy' when we need to cut through nonsense and get to the bottom line on issues. I have the utmost respect for Jerry and have always been thankful he's on our team!"
Those solid working relationships have turned into friendships over the years, as both customers and colleagues have accompanied Jerry on fishing trips and motorcycle rides.
Gene Wendt, former Strategic Business Executive and a longtime colleague of Jerry's, credits the fact that people know they can expect the best when Jerry is involved.
"Time has changed a lot of things in our business, but Jerry has not changed," Gene said. "He still always looks out for the customer first."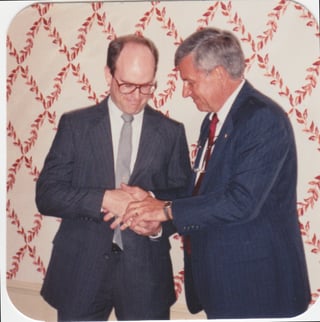 Influence Felt Around the Company
Jerry's influence on those around him extends to the service engineers and project managers he has mentored over three decades. Bill Heeren and Jim Withrow both credit Jerry with helping them learn the imaging business.
"Jerry has been a great resource for me with his vast knowledge of all the different products Cassling has represented over the years," said Jim.
Shawn Pew agreed, saying, "Jerry is just a great instructor and teacher."
Whether he is resolving an equipment issue or sharing his knowledge, Jerry does it in style. And while he's known for having fun while he works, those closest to him say Jerry is always 110 percent accountable in his role as a field service specialist.
"Jerry is one of those guys that when you call and ask him for help," Shawn said, "he simply says 'When and where?'"
Jerry is a prime example of the type of customer service we strive for at Cassling, and we're honored to have him on our team.
Choice Quotes about Jerry
"Jerry has a huge heart. He is one of those 'do anything for anybody' kind of guys."
-Deb Flor, Commissions Specialist
"One of my favorite memories of Jerry is when he found out that I had ALWAYS wanted a motorcycle but had yet to get one. Knowing I volunteer at the Easton Poker Run every year, Jerry and Bill Heeren, Cassling project manager, showed up at my stop, brought me a helmet and told me to hop on the back of Jerry's 'hog' so I could experience the Poker Run the way it should be: on the back of a bike with the wind in my hair. We had a blast and I'll never forget it!" -Mandy Olderog, Sales Contract Coordinator
"Jerry's technical abilities are world-class and his ability to satisfy customers is second to none." -Marty Huebner, former EVP of Service