It's early days yet for 2020.
But already, the year is presenting many vexing questions for healthcare leaders.
How should responsible health system leaders respond to the outbreak of COVID-19? Will the Affordable Care Act survive its latest challenge in the Supreme Court? Will recent pushes for transparent healthcare pricing and prescription drug cost reductions be implemented into law? Could Medicare-for-All be on the policy docket in the near future?
Any one of these issues can profoundly shift the landscape of the healthcare industry. Yet today's healthcare leaders are facing these all at once.
Given these unprecedented challenges, it's imperative for health system leaders—and those who aspire to leadership—to know how to navigate the changes ahead, whatever form they take. They'll need a deft hand to guide their organizations through an uncertain future.
That's why Cassling is excited to announce Year Two of the Cassling Leadership Institute (CLI). In partnership with Bellevue University, we've curated an incisive curriculum of topics in healthcare leadership. The inaugural year of CLI provided deep dives into such topics as Organizational Change, Emotional Intelligence and more, and Year Two aims to expand the focus to additional important subjects.
Through convenient quarterly webinars, CLI's subject matter expert, Dr. Mike Freel, brings you up to speed on the emergent trends in hospital management and puts today's most pressing challenges into context. You'll emerge from these sessions with sharper skills and a clearer vision for your organization's future.
Continuous learning is a cornerstone of effective leadership, one that Cassling whole-heartedly embraces. If you're in a position of leadership within a healthcare organization, or if you have ambitions to lead, we invite you to join us for CLI's second year of programming.
CE credits will be awarded for participation in any of these webinars; a special certification awaits those who complete all four. With that said, here's a preview of what you can learn.

Wednesday, April 15, 2020, 1:00PM - 2:00PM CDT
No one doubts the importance of leadership, especially for the large, multi-disciplinary teams at health organizations. A strong leader effectively coordinates their team, inspires confidence from employees, spurs motivation and morale, and ultimately drives positive outcomes.
Important as it is, however, leadership is also a somewhat nebulous skill. What capabilities make for effective leadership? And how can health system leaders systematically cultivate them?
This webinar will deconstruct what high-performing leaders need to achieve. It will break down leadership into its component skills, as well as highlight some of the obstacles that arise when leaders assert their visions.
By the end of this webinar, you will be able to…
Explore how leaders contribute to team performance
Identify and analyze barriers to high-performing leadership
Understand how effective leaders motivate their teams
Thursday, July 16, 2020, 1:00PM - 2:00PM CDT
Every organization must deal with conflict. Health systems are no exception.
While health system staff often rally behind a shared mission for patient care, different employees—or even different departments—can sharply disagree on how to succeed in that mission. With limited time and resources to deploy, health system leaders continually face difficult decisions over whose priorities to emphasize and how. These stark choices make conflict inevitable.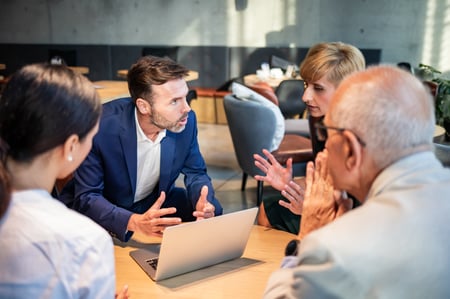 But conflict is no excuse for complacency. Effective leaders must learn to reconcile multiple points of view, without compromising their organization's momentum—and maybe even learn to embrace constructive conflict in the process.
By the end of this webinar, you will be able to…
Understand the underlying drivers of workplace conflict
Dissect different types of conflict and how management should respond
Discover the value of constructive conflict and how to differentiate it from conflict that holds an organization back
Thursday, September 17, 2020, 1:00PM - 2:00PM CDT
A coherent strategy is critical for any organization's success. Devising one requires a broad vision, with a view toward long-term success. But the daily demands of running a health system can make it difficult to keep larger strategic questions in mind. It's a case of missing the forest for the trees.
How can leaders learn to cultivate a big-picture perspective of their organization's strategy without overlooking the little details that keep operations on track? This webinar traces several approaches.
By the end of this webinar, you will be able to…
Pose basic questions of strategy and see how they drive the overall direction of an organization
Discern the four phases of a strategic management model
Incorporate critical thinking and creativity into the development of broader health system strategy
Wednesday, November 18, 2020, 1:00PM - 2:00PM CST
Peter Drucker, the great management guru, once said: "Culture eats strategy for breakfast." He was absolutely right.
Strategy may lend direction, but it's culture that truly moves a health system forward. A great workplace culture instills employees with a shared sense of purpose and helps every team member independently make constructive decisions for the organization. A healthy culture makes strategic success almost inevitable; a dysfunctional culture makes success nearly impossible.
That begs the question: how can health system leaders create a positive culture within their organizations? How can they bring together the disparate values shared by individuals on their teams? How can they make sure that their organization's culture supports the ethical vision of the health system as a whole?
This webinar explores the answers to these questions.
By the end of this webinar, you will be able to…
Define value congruence within an organization
Identify the causes of value incongruence
Understand the role a leader plays in reinforcing an ethical culture
Your invitation
We hope this year's programming gives you some food for thought. It takes a special kind of leader to look for opportunities to improve themselves. At Cassling, we consider it a privilege to help you cultivate the skills you'll need to shepherd your organizations into the future.
If you're intrigued by the content available this year, we invite you to join us for year two of CLI!