Maybe you remember it or you've caught it on YouTube: the Wendy's commercial from the 1980s, featuring a non-Wendy's fast food worker trying to sell a processed chicken sandwich by saying "parts is parts." Just like Wendy's believes processed chicken isn't the same as a whole chicken breast, I'm here to tell you there's also a difference between new and used diagnostic imaging equipment parts.
Before you decide about parts for your MRI, CT, C-arm or cath lab equipment, take note of three considerations—beyond the obvious "new" or "used" label—to guide you as you head down the parts purchasing path.
"Price" isn't just what you pay for when purchasing a used or after-market part.
Let's just say it: everybody loves a discount. The prospect of paying less than list price for a new CT tube is certainly appealing. But installing a used part can render a CT system or other diagnostic imaging equipment unacceptable and to a condition where it no longer meets manufacturing specifications.
In some instances, hospitals and imaging centers have found it can actually cost more to bring a system, where a used or after-market part was installed but didn't work, back into operation. Add up the price of the used or after-market part, price of a new part and price of the labor to de-install and re-install the correct part, and the math starts to get complicated. The worst part is this doesn't even take downtime into consideration.
A part number doesn't equal compatibility.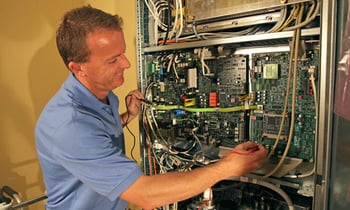 Finding the right replacement part for existing cath lab equipment isn't as simple as typing seven digits into a website and waiting for the site to spit out a match. That's because part numbers are only part of the story.
Over its lifespan, top-of-the-line imaging equipment maintained with a regular preventive maintenance (PM) schedule typically receives multiple enhancements in the form of updates to advance the performance of the original equipment. A used or after-market part with the right number can be installed, but it also needs to be the correct version. A mismatch in this area can cause issues immediately. Even more problematic is when a used or after-market part is installed and appears to work, but an issue arises days or weeks down the road when the radiology department goes to perform a particular type of study.
Your reputation depends on the parts that enable quality imaging.
I'm biased on this last point, but that's because I've seen what happens when quality control is sacrificed for short-term gain. Unfortunately, too many parts brokers harvest components from imaging equipment and divvy them up indiscriminately. Some equipment is sold wholesale outside the United States. Other parts are shopped around to the highest bidder.
The handling of circuit boards, tubes, detectors, subassemblies and other parts during the harvesting process can cause problems. For example, circuit boards can be destroyed, or seriously weakened, due to electrostatic discharge that occurs during handling. Plugging used high-voltage components into an existing system may "inject" additional problems and cause failure of connected hardware or firmware.
Plus, when parts have been harvested, repaired, bought, sold and moved between equipment, their history can be incomplete. Even skilled imaging equipment specialists can't tell exactly how much wear and tear a subassembly or other part has just by looking at it. While there are reputable companies that sell used or after-market parts for diagnostic imaging equipment, there are an equal number, if not more, that are less than reputable. The good news is that there are OEMs that invest significant dollars into research, development and testing to ensure high levels of quality. That's why I encourage you to factor your hospital's reputation into the overall equation.
Used or after-market parts can be compared to new parts in many ways, and they both represent a significant financial investment. But no matter what anyone says, "parts is parts" just isn't true when it comes to diagnostic imaging equipment.
---
Let us know about your questions or thoughts on the topic of parts in the comments below, and then be sure to read more about Cassling's solution for equipment service and parts.