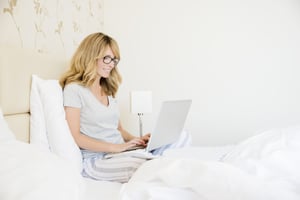 If you're an imaging professional who finds themselves spending more time online seeking continuing education opportunities, you're not alone.
To give you a little peek behind the curtain, Cassling has seen unprecedented demand for our free Continuing Education courses this year. It's clear that, right now, there's a large appetite for live and on-demand webinars. There are a few reasons why:
Cancellation of In-Person Events: Without the ability to travel to a seminar for continuing education credits, imaging experts are flocking online to earn their necessary CE credits.
Home Work: Whether working remotely or on furlough, the imaging community is using their time at home to keep up with the latest trends affecting the industry.
Convenience: Even if in-person events were still happening, many have discovered just how easy and convenient it is to earn credits from an online platform instead.
The Great Unknown: The situation happening in the healthcare field right now is more fluid than it's ever been, and with so many unknowns, people are trying to get as much expert information as possible. This is one reason why new webinars such as our recent "Crisis Readying Against COVID-19" have been massively popular.
For all these reasons and more, it's clear that online continuing education is and will remain popular in 2020 and well beyond.
But with that popularity also comes a number of new faces (hi, welcome, we're Cassling, nice to meet you) who may not know all the different aspects of continuing education we have to offer. So we thought we'd spend a little time answering some common questions, reviewing the different programs we have out there, and explaining what the future might hold.
Investing In You
This is the program that started it all.
Our "Investing In You" continuing education series provides CE credits to imaging professionals. Originally, this began as an in-person event held near our headquarters in Omaha, Nebraska, before spreading to surrounding communities in the Midwest. But it quickly became apparent that gathering the imaging community in one place more than once or twice a year was difficult.
That's what led us to develop an online continuing education series. Now, every month, we host a new webinar for our customers and subscribers. Our hosts, typically in-demand speakers and experts in their fields, cover topics that range from the very specific, such as Dual Energy Spectral Imaging and its place in diagnostic care, to broader skills and topics, such as How to Provide Excellent Patient Care or How to Be a Team Builder.
By watching the webinar and filling out a short quiz at its conclusion, the viewer earns 1.0 CE credit from the ASRT. Sonographers are eligible too, as each credit is also accepted by the ARDMS. You can watch these as an individual or, if you have an entire team you know would benefit from this education, you can watch together and turn in a group attendance sheet for your credits (some teams like to make a fun event out of it and bring in lunch to enjoy while the webinar is going on).
Once a webinar has taken place, we then put it on the website, where you can access it on demand at your convenience. That way, if anyone is unable to attend on the original air date, they can catch back up later and still attain the relevant CE credit. Our library is constantly evolving as we bring new content online and older webinars expire (typically a year from their original air date), so check back often to see what's new.
Finally, please remember: In all cases, these webinars are completely free to attend. That will never change.
The Cassling Leadership Institute
"Investing in You" is just one facet of Cassling's continuing education program.
Last year, we partnered with Bellevue University for a series of webinars specifically geared toward managers, executives and all manner of leaders in the healthcare field.
The Cassling Leadership Institute (CLI) tackles some of the most pressing topics facing individuals steering their teams through the ever-evolving healthcare field. Hosted by Dr. Mike Freel, the discussions featured in the Cassling Leadership Institute were vital even when there was a sense of normalcy in healthcare. But now, with the COVID-19 pandemic turning the entire world upside-down, Dr. Freel's webinars on things like charting a strategic course, navigating conflict and being emotionally intelligent have taken on a newfound relevance.
CLI therefore remains the perfect educational opportunity for both healthcare leaders and those striving to become leaders.
Investing In You – Omaha Seminar
Finally, a word to all those who have attended our Investing In You – Omaha Seminar in the past and were looking forward to joining us live and in person this fall.
A lot is up in the air right now, and we're still figuring out the best way to bring the imaging community together and keep everyone safe. We are exploring all options, including hosting an event with strict social distancing procedures in place, hosting a virtual event and more.
As we make those decisions as to what Investing In You – Omaha 2020 will look like, we will keep you apprised as to what's going on. Until then, thank you for trusting us with your continuing education and imaging product needs.
We will continue to bring you the latest relevant information happening in the imaging field, both COVID-related and otherwise. Check out our on-demand library and Cassling Leadership Institute page to earn CE credits right now, and please subscribe to our Knowledge Center for the latest news, tips, trends and industry updates.