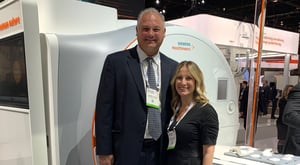 Last week marked one of my favorite times of the year, an opportunity to network with professionals in the imaging space and to get a peek at the exciting innovations that lie just around the corner.
I'm speaking, of course, about RSNA. The biggest gathering of imaging professionals in the country, if not the world, took place last week in Chicago, and my team at Cassling and colleagues at Siemens Healthineers were there with me to learn about the technologies revolutionizing imaging and the ongoing needs of healthcare organizations.
We appreciate the opportunity to meet with hospital leaders to find out what they're concerned about in imaging, service and healthcare as a whole. These conversations guide our work for the following year, and I thank everyone we spoke with directly, as well as anyone who welcomed a member of our team into their conversation.
Of course, the technology available on the trade show floor is pretty cool too. Here's some of what I was most excited to learn.
Rolling out the CT System (Literally)
The coolest new imaging system was a real show-stopper, even as the system itself was on the go.
The SOMATOM On.site is Siemens's latest contribution to computed tomography, and what makes this system so unique is that it's fully mobile. This mobile CT scanner turns the process of transporting a patient to the imaging department completely on its head, enabling the patient to stay where they are and bringing the CT system directly to them.
I can't tell you how impressed I was by this system. I kept thinking about how many hospital workflows hinge on taking fragile patients from the intensive care unit (ICU) and moving them to radiology for the imaging procedure. We've always done it this way because there simply haven't been other options. It's true that some mobile CT products have already been out there, but Siemens has really raised the bar in terms of the technology available and the imaging capabilities onboard.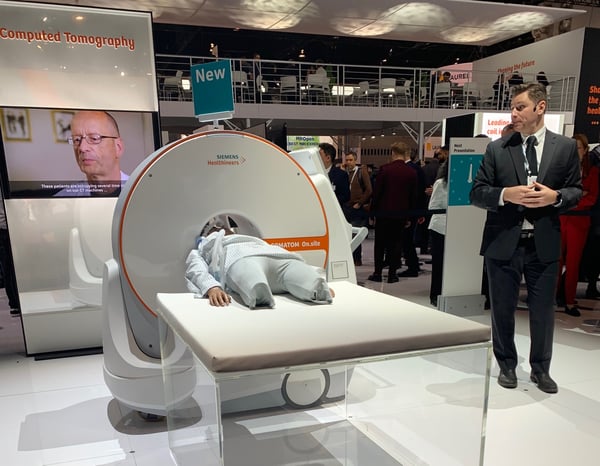 While the system is not yet commercially available in the United States, I believe it will reimagine head imaging for ICU and stroke patients. It has the potential to shake up the patient experience, reduce staffing burden and, ultimately, improve care, and I can't wait for our customers to start using it in the near future.
And that wasn't the only CT scanner gaining attention at RSNA. The SOMATOM X.cite was recently cleared by the FDA, which means hospitals will soon be able to take advantage of an 82 centimeter gantry bore and optional Moodlighting that combine to improve the patient experience.

But the best part of the new X.Cite system might just be the myExam Companion, which performs key tasks in the background so that users can focus better on their patients. Essentially, myExam Companion renders complicated clinical decision-making into these 20 user-definable decision trees that are displayed either at the operator console or using the scanner's mobile, detachable tablets. It will help guide techs of all experience levels through complex procedures, making the tasks less daunting and the results more consistent.
If there was one modality that made its mark at RSNA this year, it may very well have been computed tomography.
AI Continues Its Evolution
It seems like every year I return from RSNA excited about the newest advances in artificial intelligence and the impact these advances will have on imaging. Well, this year is certainly no different, but the unique ways in which AI is shaping the conversation around imaging is something I think is important to touch on.
Clinical decision support (CDS) has been a topic of conversation as of late with the mandate handed down by CMS, but artificial intelligence can go so much further. AI is transforming the patient and technologist experience by making intelligent decisions based on things that an imaging system has really never before been able to sense without human input. That includes things like patient size, shape and genetic makeup based on data that wasn't possible to capture automatically...until now.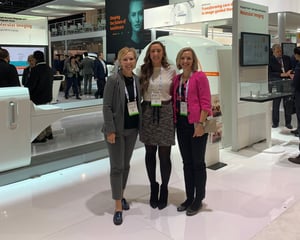 At RSNA, I had the chance to see how AI can make the radiology teams' lives easier by removing guesswork and time-intensive tasks from the equation. Thanks to things like tablet-based controls and connective mobile and desktop applications, it's possible to have ideal parameters of an exam be programmed by an AI application, with that information reproducible within every single workflow. Then, if the technologist needs to make adjustments, he or she can do so easily.
Think of AI as a suggestion of optimum radiologist preference that you can easily override depending on your needs. This is typically paired with a one-touch setup process that has the potential to make exams faster and improve the patient experience.
Siemens Healthineers's AI-Rad Companion software is a great example. Siemens introduced the country to two new iterations of this technology that focus, respectively, on Brain MR and Prostate MR. The former can actually measure brain volume, mark deviations and segment the brain within MRI images, while the latter can facilitate targeted biopsies via a similar segmentation process. This is all automated, with AI taking over routine activities that could otherwise prove time-consuming.
This AI-Rad Companion functionality builds upon what Siemens's introduction of a chest CT feature at last year's RSNA, and I have no doubt that developers will continue to iterate upon AI with further improvements in the coming years. We're seeing more and more creative uses of AI every single year, and 2019 was certainly no exception.
ELF Hits the Shelf
I couldn't refrain from talking briefly about one more type of technology. Just in time for Christmas, Siemens launched a new ELF Testing Service.
Okay, as many of you know, ELF is short for Enhanced Liver Fibrosis and this test aims to help identify chronic liver disease in patients. I just couldn't resist bringing it up given the seasonal timing of the announcement.
See You Next Year
Once again, RSNA points the way to where we're going as an industry, and I was thrilled to be surrounded by the best and brightest minds in the imaging field, to speak with our customers and to learn about what the future has in store for all of us.
I'll see you at RSNA 2020!
[*Many of the systems discussed here and showcased at RSNA are either not yet cleared by the FDA or are pending approval, so I apologize if you're unable to get your hands on them quite yet. But rest assured you'll be among the first to know when they're available in the U.S. market.]