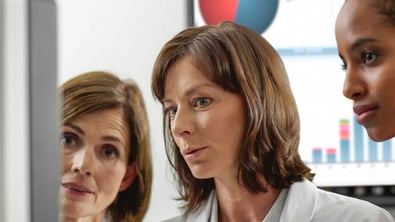 Every year, the leading minds in imaging gather for the annual Radiological Society of North America meeting in Chicago.

It was the event's second year in person since the start of the COVID-19 pandemic, and attendee numbers are quickly ticking back up now that more and more people have grown comfortable with travel.

Healthcare leaders from around the world descended upon McCormick Place to share new research and knowledge and learn about the latest innovations taking the imaging world by storm.

And this year, there was one subject that you simply couldn't escape: Artificial Intelligence.

RSNAI

Continuing a trend that's been years in the making, Artificial Intelligence was inescapable on the show floor and in presentations from industry leaders.

Nowhere was that more apparent than at the AI Showcase. Each of the major vendors and a growing number of niche companies have invested significant amounts of money and research into developing cutting-edge AI-based tools, and they were happy to show off the fruits of their labor at this year's RSNA.

The applications on display ranged from promising products in the early stages of their development to astounding technological advancements that have already hit the market.

RadAI, a company that seeks to prevent burnout via AI-based tasks that make radiologists' work less taxing, is expanding thanks to its purchase of Equium, which uses the power of artificial intelligence to forecast demand and staff accordingly. And Siemens Healthineers continues to grow its own AI solutions such as the AI-Rad Companion, Medicalis Clinical Decision Support, and many others.

These are just a couple examples among many. I feel like AI is just starting to live up to the promise of what it can bring to the market. It's one thing to implement an algorithm and call it AI, but the true promise of AI is in the ability to learn and improve as it is used. One anecdote I continually think about is that of the self-driving car. For the better part of a decade, we've been led to believe that self-driving vehicles are right on the cusp of widespread adoption. And while we've been teased with small bits like adaptive cruise control or lane keeping systems, there is still no significant source (or mass adoption) of true self-driving cars.

Why is that? Well, to be fair, the AI technology that powers these systems is most of the way there. But that remaining small percentage is the difference between a smooth trip without incident and a trip that ends with a fender bender or worse. Self-driving systems can take many scenarios into account, but it's the logistics of unusual circumstances that give computers trouble in situations where humans can react via instinct.

So it is with Artificial Intelligence. The technology is incredible when utilized to conduct a specific function. But it's the ability to handle unusual circumstances (which just happens to represent some of the most critical cases) that poses the biggest mountain for researchers and entrepreneurs to climb. AI can do promising things, such as provide clinical decision support, workflow improvements, image quality optimization, and more, but we still need talented radiologists, technologists and other healthcare workers to oversee the systems and be the gut-check for scenarios that the most advanced AI couldn't fathom but that the human brain takes in stride.

We're at an exciting crossroads, and advances are sure to continue in this massively expanded space.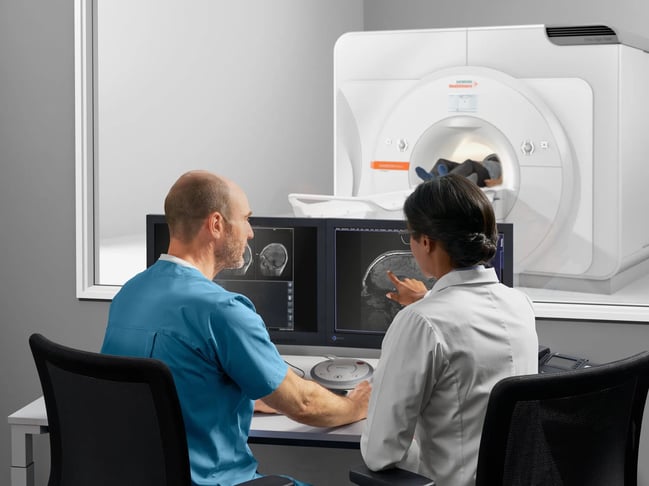 A New Reality

A big change from years past was the abundance of technologies focused on fully or partially virtual worlds.

These are maybe a little less fully baked than the Artificial Intelligence programs on display, but what was available was still plenty promising. While adoption and implementation of AI is well on its way, virtual and augmented reality are still in their relative infancy, and we're only beginning to see what's possible when innovators embrace this tech.

Mixed reality is a blanket term that relates to any technology providing visual stimulation that either replaces the real world or can be overlaid onto it. Applications that work via virtual reality headsets were available on the show floor, though even more common was the presence of augmented reality, where some kind of lens covers the eye, letting you see the real world while providing additional visuals beyond what you can normally see.

Exciting start-ups and well-known companies have gotten into the space with applications that extend what's possible for clinicians and providers of all kinds. Taking, for instance, the idea of a surgical robot further by letting the surgeon put on a headset that puts them right in the OR. Alternatively, future radiologic technologists could be trained by guiding them through a virtual lab or enabling feedback right within a headset as they go about their workflows.

We're not nearly at the widespread adoption phase yet, but if the technologies on display are any indication, solutions like these and many others are incoming, and I can't wait to see what's next.

Breaking New Ground, Again and Again and Again

The promise of the future was evident in the latest versions of the "traditional" imaging systems that will soon be making an impact on patient care around the world.

Obviously, as an Advanced Partner of Siemens Healthineers, I always look forward to seeing what new advances the Siemens engineers introduce. While not yet available in the United States, I'm already impressed with systems like the MAGNETOM Terra.X and MAGNETOM Cima.X - systems that push the boundaries of what's possible with 7T and 3T imaging.

We also got data from the first early real-world imaging results of photon-counting CT (i.e. the NAEOTOM Alpha) and a variety of groundbreaking ultrasounds and X-ray systems. It's exciting to think about how these scanners are now changing patient lives in hospitals and health systems around the country.

2023 Is Almost Here

Development never stops. Whether it's advances in artificial intelligence, brave new virtual worlds, or systems that expand clinical capabilities, RSNA remains important for anyone who wants to keep their finger on the pulse of the imaging space.

I already can't wait for 2023.