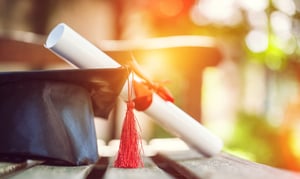 The ASRT Foundation, the philanthropic arm of the American Society of Radiologic Technologists, has announced the recipients of the two $4,000 scholarships, awarded to healthcare professionals continuing their medical imaging education and expanding their credentials.
Omaha, Neb. – June 18, 2020 – The Bob Cassling Memorial Scholarship has been awarded to two deserving medical imaging students who intend to make a difference in their communities.
The ASRT Foundation recently announced the 65 recipients of the $213,200 worth of scholarships for the upcoming academic year. Among that scholarship money were two $4,000 scholarships created by Cassling in honor of the company's founder.
"Our mission is to strengthen community healthcare, and I believe education is a key component of that," said Mike Cassling, CEO of Cassling. "I know my father would have been proud to see us help students who are furthering their own careers while improving the health and wellbeing of their communities through medical imaging. I consider it a privilege to continue offering this scholarship in the years to come."
The recipients of these inaugural scholarships, each of whom live in Iowa, are a radiologic technologist enrolled in a sonography program and an MRI tech enrolled in a bachelor's program and who intends to become a radiologist in the future. These two recipients, like all those selected by the ASRT Foundation, were chosen based on their evidence of commitment, leadership, achievement and financial need.
The application period for next year's ASRT Foundation scholarships, including the Bob Cassling Memorial Scholarship, will open later this year. Subscribe to Cassling's Knowledge Center at cassling.com/sign-up to be notified when the scholarship period is open.
About Cassling
Cassling is an Advanced Partner and authorized sales and service organization for Siemens Healthineers. Founded in 1984 by Bob Cassling and headquartered in Omaha, Nebraska, the company is committed to offering comprehensive support to healthcare providers—including world-renowned diagnostic imaging equipment, 24/7 service, project management, marketing, continuing education and everything in between.
Cassling is a strong supporter of the imaging profession and believes professional development and ongoing education are essential to creating a vibrant healthcare community. Cassling helps organizations of every size, from critical access hospitals and diagnostic imaging centers to large health systems and IDNs, to increase efficiency, decrease costs and enhance patient care. Learn more at www.cassling.com.
Meet the Author
Cassling strengthens community healthcare through customer-centric imaging and therapeutic technology, services and solutions. From critical access hospitals and diagnostic imaging centers to large health systems and IDNs, Cassling is committed to helping healthcare organizations improve access and outcomes, create efficiencies and lower costs.