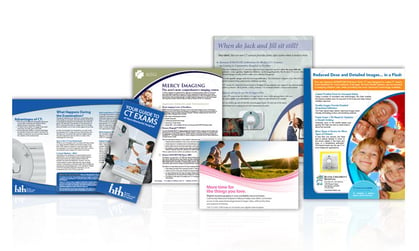 In many areas of the country, patient levels still haven't reached where they were pre-pandemic.

A small but significant portion of your patient base may still be hesitant to enter a healthcare facility for everything from preventive testing to critical imaging exams their physicians have been urging them to get for years. Even as the population as a whole has shown an increased willingness to get back to their normal habits, many still feel nervous about being in a medical facility.

As a result, it's more important than ever that you take your marketing to the next level to reach both patients and providers. We've previously covered some of the COVID-specific strategies to keep in mind when speaking to your audience, but in this article, we're highlighting tactics to drive patient referrals and foot traffic to your healthcare facility.

These are the 7 tips to keep in mind to boost marketing for healthcare providers.

Start Small for Big Results

Advertising your hospital or health system is certainly important, but such a narrow focus on your overall brand can be counter-productive if, for instance, you're trying to drum up referrals for a new imaging center.

Our recommendation is to spend time calling out specific facilities, departments, or even exam types. For instance, if you have a new CT system you want to tell your patient population about, you can advertise its capabilities and benefits to patient experience.

If you want to get even more granular, you can call out the importance of preventive exams, with ads and other marketing about annual mammograms, low dose lung cancer screenings and more. This serves to educate your patient base about services they may not even realize you offer, and it can help you acquire new patients who will stay loyal for years to come.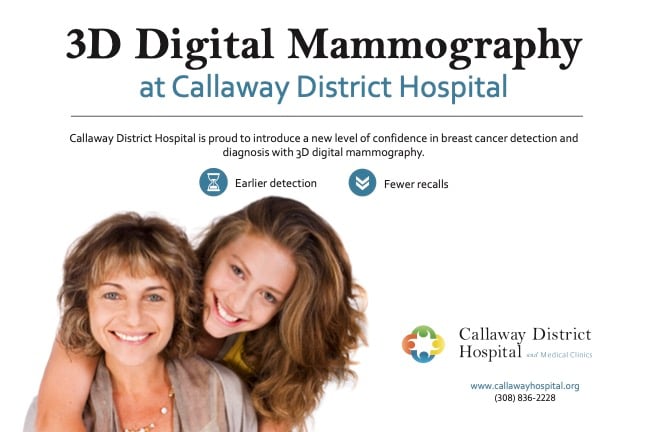 Define Your Patient, Not Your Patient Base

When determining where and how to market to your patients, it's easy to get stuck on generalities. For instance, you may know that the vast majority of your patients come from just a handful of zip codes, so it seems logical to just blanket the airwaves or the freeways with messaging to reach everyone in that area.

However, if you want to really take your messaging to the next level, especially when budgets are tight and you can't be everywhere all at once, it helps to once again get granular with who your patients actually are.

Instead of just targeting an entire geographic area, really think about who it is that needs to hear a message about your services. Develop a persona, basically an outline of who a typical patient might be. You can use this to zero in on their needs, values and demographics, and with this information in hand, you can tailor your message to better reflect your patients' interests.

If you were a breast health center or any facility offering mammograms, you might have one persona for a 40-year-old getting her first mammogram. It helps to name your personas, so we'll call her Sarah. Sarah is working full time, has children in sports, supports her parents, and is saving for her kids' college.

You'd have another persona, Judy, a 60-year-old former breast cancer patient in remission. She's widowed with adult children and grandchildren. She hopes to retire in the next few years.

With these personas, you can imagine that the marketing message and tactics you use will be different, in part because these patients have different values, challenges, and needs. With Sarah, convenience will be key. So will education around prevention. For Judy, she's likely to respond to marketing that acknowledges her cancer history and includes information about low-cost options or even free community events.

By creating these personas, you can identify the best path to getting them to come to you for the services they need.

Here's a helpful tool to help you get started in building your personas!

Building Ongoing Relationships with Your Referring Providers

For imaging centers and other healthcare providers who require referrals, marketing to patients exclusively may not be enough. You also need to reach physicians.

This is especially important if you have new technology or exam capabilities. A physician in another county may have a certain view of your organization that is fixed in time. They may not realize everything that you can now offer their patients thanks to your recent investments.

Strategize ways to remain top of mind for physicians. This can be done via any number of tactics, from flyers to email campaigns and more. Many organizations even hire a physician liaison whose sole purpose is to communicate with referring providers.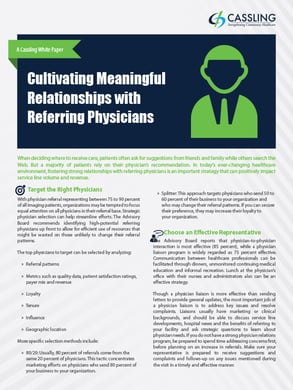 Don't Forget to Educate Your Own People

One audience you shouldn't forget? Your own team.

Your employees are the lifeblood of your organization, and as such, they can be both your biggest champion and the most valuable megaphone for your message.

In the rush to install a new system or new department, it can be easy to assume that everyone knows everything that's being updated. But this isn't always the case. Employees can get absorbed in their own work and therefore miss the happenings going on throughout the rest of your hospital or health system.

Strategize some of the ways you can reach internal stakeholders when you need to communicate an important message. Internal emails, signage in communal areas, messages to an employee intranet; all of these and more can ensure critical updates are distributed to all who need them.

And there's one tactic that's perfect for reaching this and all other audiences…

Host an Event

Events are a great way to showcase what's new at your organization and to generate stronger ties to your community.

You have a variety of potential avenues to explore, all of which will enable you to reach your key audiences. A grand opening of a new facility, department or system can generate news articles and community interest. Health fairs can get your team members out of the hospital and interfacing with their patients in a real world setting, helping your constituents see that your employees are their friends and neighbors while also educating about the importance of good health.

And if you're seeking funds for a new system or construction project, a fundraising gala can drive donations while informing your donors about how their dollars will go to support community betterment.

Meet Patients Where They Are

The modern healthcare audience is increasingly found on digital domains, particularly social media. And if you want to reach them, that's where you need to be putting messages and even ads.

There's certainly value to be had in traditional marketing platforms (billboards, radio ads, newspaper ads, billboards, etc.), but it's important to have a presence where patients increasingly spend their time, that being Facebook, Instagram, TikTok, LinkedIn and the like.

The goal isn't so much to go "viral" (although that would certainly be nice), but to establish a rapport with your audience. You want patients to get used to seeing your educational messages and campaigns on social channels.

Over time, you can accrue a litany of followers who will rightly see you as an authority and trusted figure on matters of health. And if you really want to reach more patients, you can even boost your posts with ad dollars to reach the largest audience possible.

Thanks to the level of audience customization available on social media platforms, you can also configure settings to help ensure you're reaching precisely the people who would most benefit from your message. And you'll know precisely what settings to choose, and who to target, because of the work you did to research your patient personas!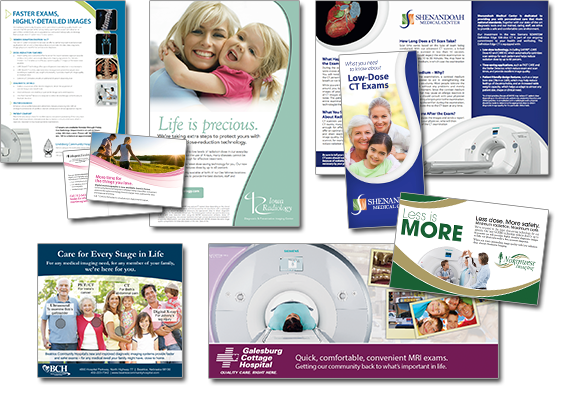 Measure Your Success with One Simple Question

At this point, you might be asking yourself: how will we know if the strategy we've put in place is a success?

If you've embraced digital media, you'll have a good idea of how many people you've reached and how they've interacted with your messaging, but it's still hard to track if and when those interactions lead to an increase in patient volume. This is especially difficult with traditional media.

To really track how well your various marketing efforts pay off, you must be willing to ask your patients one simple question:

"How did you hear about us today?"

It's perfectly reasonable, either at check-in or in a post-visit survey, to ask your patients how exactly they heard about your services. In many cases, the answers will align with what you'd expect: word of mouth, physician referral, newspaper ad.

But there may be other situations where the patient's response takes you totally by surprise. They may say that they found you through an aggregated review site like Yelp, or a Facebook post from their aunt, or Google. Many times, they might not even know the correct answer, which is why it's important to ask as many people as possible so that you can begin to identify trends.

Once you do identify patterns, you can act on this information, putting more effort into what's working while moving resources away from areas that don't pay off.

Become a Healthcare Marketing Leader

To sum up, here are the 7 key tips for marketing for healthcare organizations:
Start Small for Big Results
Define Your Patient, Not Your Patient Base
Building Ongoing Relationships with Your Referring Providers
Don't Forget to Educate Your Own People
Host an Event
Meet Patients Where They Are
Measure Your Success with One Simple Question
Want more information about how to best reach patients? Contact Cassling. Our team has helped hundreds of hospitals across the country reach patients and remain top of mind as trusted community healthcare providers, and we'd be thrilled to talk to you about how you can do the same with your marketing.