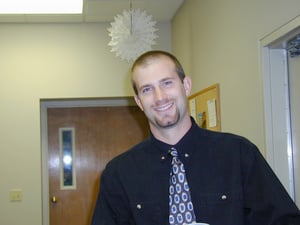 When asking Field Service Engineer (FSE) Ed Holub's colleagues what they appreciate most about Ed, more than one remarked that, in addition to his expertise in equipment service and his willingness to do everything possible to provide a solution to customers, it's his laugh that's most recognizable.
"Ed takes pride in the equipment he services," said Shawn Pew, Regional Service Manager. "Whether it's a new install or a machine that's been installed for years, he keeps the equipment looking and running like brand-new. Ed has a great sense of humor as well, but you'd be hard pressed to make him laugh. Throughout my career at Cassling, the most I've gotten him to laugh is with the occasional "he, he, he," which has really become his trademark. Ed, you continue to provide great customer service and I will keep trying to make you laugh! Congratulations on reaching your 20-year Service Anniversary with Cassling."
That "trademark" laugh is something called out by FSE Bob Dickes as well.
"Around the office, I would say Ed is a pretty laid-back guy with a serious opinion on some things and a joke for everything else," said Bob. "His distinctive 'Huh, huh, huh' chuckle is well-known in our service meetings, but when it comes to his job, he is all business and has to be one of the hardest working people I have ever known. Ed is one of those rare people that is able to focus all of his energy on a job until it gets done. He is a perfectionist. When Ed gets done repairing a system or even doing a PM (preventive maintenance), you know it's done right!"
In fact, Ed is somewhat renowned for his ability to provide the best preventive maintenance one can get on a piece of equipment.
"When Ed PMs a piece of equipment, it knows that it has been PMed," said FSE Brent Headley. "Thoroughly and completely."
In addition to his laugh and his ability to "thoroughly and completely" PM imaging equipment, Ed's fame extends to his dedication to the job, his thorough understanding of various systems and his ability to connect with customers.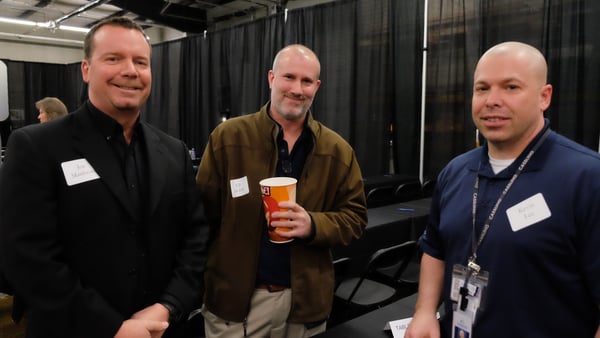 "Every customer I know and many Field Service Engineers have Ed on speed-dial," said Brent. "He has solid answers to even the most obscure questions and is always ready to help. When it comes to applications questions, Ed usually knows the answer. Congrats on reaching your 20-year anniversary!"
"If you want someone who shows the true meaning of customer support, it is Ed Holub," said FSE Ron Zink. "This is a guy who always puts the customer first, helping them in any way he can, including working long hours to resolve an issue and even working with other FSEs to help them resolve their own customers' issues too. Congratulations on reaching 20 years."
"Congratulations to Ed, one of the busiest guys I know," said FSE Dan Boone. "It seems like his schedule is always full far into the future. But if you do get a chance to sit down and talk with him, he's a funny, funny guy."
"Ed is a wealth of knowledge on most everything he services and, therefore, many of us go to him as a first line of tech support," said Bob Dickes. "Whenever I'm at wit's end on a job and I call Ed for advice, he always seems to have a fresh idea that I've never even remotely considered that will often get me back on track with troubleshooting, and he will keep checking back with you until a resolution is found to your problem. He always goes the extra mile for his co-workers as well as his customers. I would like to wish Ed a happy 20th anniversary and say that I've truly enjoyed working with him for most of those years!"
"Ed has forgotten more about X-ray than I will ever know," said FSE David Evans. "His concern and care for his customers is unmatched as is his attention to detail. Congratulations!"
"Ed is one of the hardest working Cassling Service Engineers," said FSE Duane Losh. "He always has a get-it-done-and-do-it-right attitude. It's not often that he cannot handle a problem on his own. His dedication is outstanding, and I'd like to congratulate him on 20 years!"
"Ed Holub takes his job and responsibilities seriously," said Joe Matthews, Vice President of Service. "You will not find anyone more determined to do the right thing when it comes to delivering service and taking care of customers. 'Ed Holub is the reason we buy from Cassling' is a statement I've heard from customers many times over Ed's 20-year career with us. Nice work, Ed, and congratulations on reaching the 20-year mark with Cassling!"
"Over the past 20 years, Ed has continually provided excellent customer service and has been a 'go-to-guy' for sales presentations and customer demonstrations. Thank you for all of your hard work and congratulations again on reaching your 20-year service anniversary!"
From all of us at Cassling, thank you for your hard work and your distinctive sense of humor that brightens the day of everyone who has the pleasure of interacting with you. Congratulations, Ed!