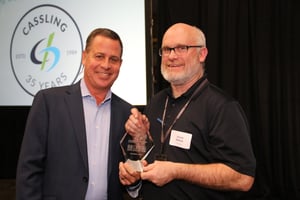 The Bob Cassling Service Excellence Award was created in 2015 to recognize employees who go above and beyond in exemplifying the organization's culture and service. The award celebrates founder Bob Cassling's legacy of taking excellent care of customers and employees. It commemorates the culture of Customer Service and Accountability that live on today across CQuence Health Group, Cassling and Ensocare.
Jerry Glenn, longtime Field Service Engineer for Cassling, was this year's recipient, recognized for over 30 years of outstanding service. He is a prime example of the type of customer service we all strive to achieve within the CQuence family of companies. According to Joe Matthews, Vice President of Service at Cassling, "Jerry has always been at the top of the list of 'Accountable' employees. His customers rely heavily on his expertise and common-sense approach. They know Jerry will take care of them and make things right!"
When it comes to knowledge about imaging equipment, it's hard to top Jerry Glenn. He might be known for his jokes, but no one takes their work more seriously than Jerry does. The 'go-to guy' since he started at Cassling, he's been known to fix whatever is put in front of him. Even on vacations, he's been known to answer customers' calls to lend a helping hand.
Jerry Glenn is not only a great field service engineer, he is a great coworker. He is one of the first to volunteer help with any car issues, rogue kitchen sinks or faulty Christmas decorations.
"A few Christmases ago, I had a light-up, inflatable snowman in my front yard and it quit working," Shawn Pew, Regional Service Manager at Cassling, recalled. "I took it over to Jerry's house and within a few days he had rewired the entire thing and it was as good as new."
"It is a great honor to receive this year's Bob Cassling Service Award," said Jerry. "I knew Bob and held him in high regard. That makes this recognition extra-special. But the award isn't just about me; in my opinion, it is a testament to our entire service team. Providing a solution to the customer requires the entire department to collaborate to provide the best service in the business."
Past recipients of the Bob Cassling Service Excellence Award include:
2015 – Frank Pultinevicius
2016 – Bill Heeren
2017 – Reed Poulsen
2018 – Martie Chauvin & Kayla Engel