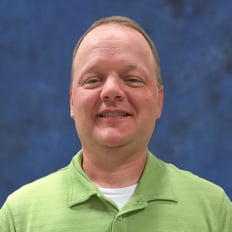 We live and work in the communities we serve, which makes a profound difference when it comes to the level of service we provide at Cassling. When you know it's you or a loved one who could be reliant on the lifesaving equipment we work on every day, you're going to do everything you can to ensure it's operating at peak efficiency.

That is why, when you hear this about Field Service Engineer Terry Hingtgen from longtime Cassling Field Service Engineer Jason Schmitt, you know how important the statement is:

"I would gladly be the first patient on the table once Terry has finished with service."
Terry exemplifies Cassling's commitment to service, bringing a level of expertise that gives not just Jason, but all of us at Cassling, the confidence to say we'd be happy to put ourselves on the table for any system he's serviced.

That's just part of why Terry is the 2022 recipient of the Bob Cassling Service Excellence Award. The award was established in 2015 in memory of our founder, Bob Cassling, to recognize employees who go above and beyond in exemplifying the organization's commitment to service and culture of accountability.

"Terry is an outstanding engineer and a very deserving award winner," said CEO Mike Cassling. "He is known for taking customer service, teamwork and work ethic to the highest level, and it is a pleasure to present this award to him in my dad's honor."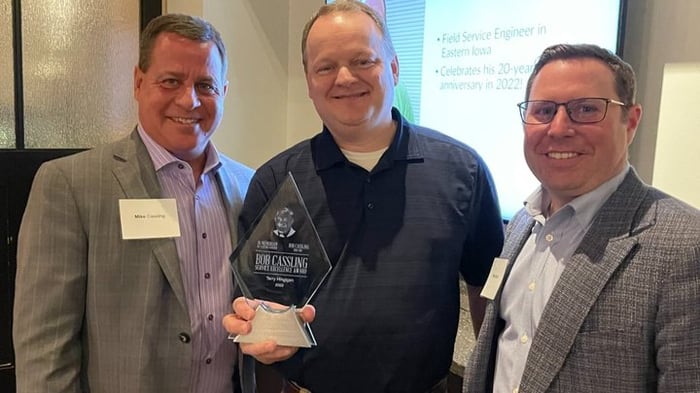 This year, Terry also celebrated 20 years of service for Cassling. Throughout that time, he's proven his dedication to outstanding customer service by ensuring Cassling's customers' imaging equipment is maintained in optimal condition, any problems are diagnosed swiftly, and repairs are made efficiently.

As Terry celebrates 20 years of service with Cassling, those who know him best provided insights into what makes him such a successful Field Service Engineer.

"Terry's commitment to supporting the Cassling service team and our customers is truly remarkable," said Joe Matthews. "His work ethic, technical expertise and customer service skills set the bar high, and I cannot express my appreciation enough for Terry. Congratulations on your 20th year with Cassling!"

"I call Terry TST — Tech Support Terry," said Darryl Westphal. "He is my go-to for support. He is always willing to help in any way he can. I know it's not just me that feels this way, and I feel privileged to have Terry as a coworker and friend. What an asset to Cassling he is. Congratulations on 20 years."

"Terry has always been great to work with," said Jesse Davis. "Congrats on 20 years with Cassling!"

"Terry, thank you for all the questions you've answered over the years," said Dan Zampogna. "Not sure how you remember even the smallest details, but I'm grateful that you do. Cassling is extremely lucky to have you and so are your colleagues and customers. Congratulations on 20 years."

"Terry's leadership and level of accountability for the service and support he provides has always been very high," said Kyle Salem, PhD, Cassling President. "When we talk about serving the healthcare industry 'the Cassling way,' Terry is exactly what we mean. He is an excellent role model.

In addition to his system knowledge and service efficiency, Terry is known for maintaining excellent communication with his customers, even when he is not the primary engineer on duty.

"He embodies the highest standard of customer service that we all strive to achieve at Cassling and within our CQuence family of companies," said Mike Cassling.

"Terry is a humble and hard-working engineer," said Joe Matthews, Vice President of Service. "He knows his customers well and consistently exceeds their expectations. Whether it's a critical down issue, a challenging install, or just a regular upgrade, I consistently hear that Terry makes it an exceptional experience."

In addition to taking care of customers, Terry is recognized as a leader among his co-workers and for going out of his way to lend a helping hand.

"Terry provides an amazing level of support to his peers," said Terry's boss, Chris Decker, Regional Service Manager. "He volunteers to help, even when he is not the primary engineer, just to ensure the project goes off without a hitch. It is rare for an engineer to care so much and take such great effort to help. Plus, Terry's attention to detail and knowledge about all the modalities he works on is second to none."

"I would like to congratulate Terry for reaching his 20-year milestone with Cassling!" Chris continued. "I have had the pleasure of working with Terry for the last 14 years. He has bailed me out multiple times when I needed help with a difficult issue in a Cath Lab. It never ceases to amaze me how much detailed information Terry retains about all the systems he works on. He has also helped me out tremendously since I transitioned to management."

"If you look up the definition of accountability, you will see a picture of Terry," said Chris. "It's obvious to all of Terry's peers and customers whom he has worked with for the last 20 years. I'm honored to work with him and hope to do so for many years to come. Thanks for everything you do for Cassling and your customers, Terry! Congrats!"

Terry was thoroughly surprised and honored to be named this year's award winner.

"I am humbled to be nominated, let alone be selected," said Hingtgen. "There are many employees and fellow engineers who are also deserving, which is a testament to the culture we have at Cassling."

"It truly means a lot. I am a man of few words, but I appreciate the feedback and positive reinforcement—that what we do matters to the healthcare professionals we strive to serve each day."

Terry's dedication to providing the highest level of service make him a well-deserving recipient of the Bob Cassling Service Excellence Award. Feel free to drop a note of congratulations to Terry in the comments below.
Previous recipients of the Bob Cassling Service Award
2019: Jerry Glenn
2018: Martie Chauvin & Kayla Engel
2017: Reed Poulsen
2016: Bill Heeren
2015: Frank Pultinevicius