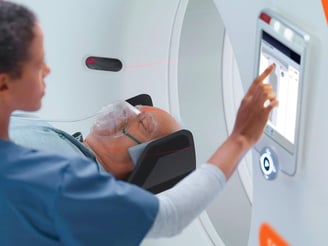 Lung cancer is a pervasive public health issue in the United States. To date, it remains the leading cause of cancer death among Americans — more than breast, prostate, and colorectal cancers combined. The American Cancer Society estimates 2023 will bring:
About 238,340 new cases of lung cancer (117,550 in men and 120,790 in women)
About 127,070 deaths from lung cancer (67,160 in men and 59,910 in women)
While these statistics paint a stark reality, advances in medical science, screening guidelines, and a growing emphasis on prevention are beginning to show signs of progress. Overall, more Americans are quitting smoking sooner (or not starting at all) and more lung cancer cases are being diagnosed and treated earlier — saving thousands of lives each year.

In particular, recent changes in lung cancer CT screening guidelines have uniquely contributed to this positive momentum. Let's look more closely at these guidelines, as well as what steps you can take to launch lung cancer screening initiatives in your own community.

Updated Guidelines Prioritize Prevention and Early Detection
Years of cancer research have underscored the value of preventive screening. According to the American Lung Association, an individual is 63% more likely to live five or more years if a lung cancer diagnosis is made early.

The Centers for Disease Control advise that the only recommended screening test for lung cancer is low-dose computed tomography (LDCT). Other screening tests, such as chest X-rays and sputum cytology, have not been found to be effective and are not recommended for screening.

It's important for both patients and providers to understand that not everyone shares the same risks for lung cancer and that screening initiatives should be strategically targeted. For healthcare leaders, the best place to begin your lung cancer screening plan is to review the updated low-dose computed tomography screening guidelines released by the U.S. Preventive Services Taskforce (USPSTF) in March 2021.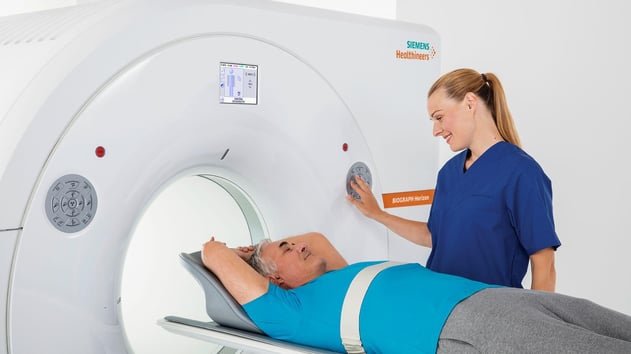 While patient age and smoking history remain the primary criteria for identifying high-risk individuals, the new guidelines greatly expand patient eligibility. In its first update since 2013, the USPSTF nearly doubled the number of individuals recommended for LDCT screening by making two key changes:
Lowering the suggested age range for screening from 55 to 50
Reducing the minimum smoking history from 30 to 20 years (defined as a pack per day for 20 years).
With the updated guidelines, 14 million Americans are now defined as being at high-risk for lung cancer. The new

high-risk patient profile includes adults aged 50 to 80 years who have a 20 pack-year smoking history (i.e. people who smoked 1 pack/day for 20 years, 2 packs/day for 10 years, etc.) and currently smoke or have quit within the past 15 years.

In an effort to reduce healthcare disparities, race and gender received special attention as a part of the new guidelines. USPSTF research shows that black Americans and women "tend to see greater impacts of tobacco use with lesser exposure." It recommends these groups receive additional consideration for screening.

The New CPT Codes You Need to Remember

Once you establish eligibility requirements for your lung cancer screening initiative, you must then ensure strategic alignment with payor coverage and reimbursement policies. Fortunately for providers and high-risk patients alike, public and private insurance providers have updated their coverage policies to nearly mirror the new recommendations of the U.S. Preventive Services Taskforce.

In February 2022, Medicare announced expanded coverage for lung cancer screening with LDCT criteria that strongly parallel USPSTF guidance (CMS suggests a slightly different age range of 50-77 years). Similarly, as of April 2022, most private insurance plans are required to cover lung cancer screening for those now at high risk under the USPSTF criteria. As a result of the expanded coverage, healthcare leaders can launch valuable screening services to their communities while also ensuring stable revenue for imaging practices.

Two codes are currently associated with lung cancer screening:

CPT G0296: Counseling visit to discuss the need for lung cancer screening using LDCT scan (service is for eligibility determination and shared decision making).
CPT 71271: CT, thorax, low dose for cancer screening without contrast material. This code became effective January 1, 2021.
Marketing That's a Breath of Fresh Air

If you're considering a lung cancer screening program, you'll likely need an accompanying marketing campaign to assist in targeting both patients and referring physicians. Many patients are unaware that lung cancer screening programs exist or that most insurance providers will cover CT screening with no out-of-pocket cost.

Options for effective, affordable marketing include presentations, patient educational events, and in-person visits with local physician groups. Online marketing through social media and other platforms has also become instrumental in growing your medical practice, with more patients and referring doctors seeking healthcare information online than ever before. Search engine-optimized blogs, social media posts (including Facebook, Instagram and LinkedIn) and targeted email campaigns provide key digital marketing opportunities.

While lung cancer continues to be a formidable public health challenge, the 2021 USPST expansion of screening recommendations is a promising sign of meaningful, proactive change. With nearly 14 million Americans now defined as high-risk, including those from historically underserved populations, the potential for early detection and intervention has expanded significantly.

To capitalize on these opportunities and drive improved health outcomes, your organization must not only implement strategic screening initiatives but also embark on a comprehensive marketing campaign to raise awareness among patients and referring physicians. While lung cancer continues to impact countless lives, the recent advancements in screening guidelines represent a substantial step forward in the collective efforts to reduce its devastating toll on our communities and families.

To learn more about low-dose CT solutions offered by Cassling, including those that provide LDCT lung cancer screening options, click here.