When it came time to replace their 14-year old MAGNETOM Symphony MRI from Siemens Healthineers, Colorado Springs Orthopaedic Group (CSOG) had a choice to make. They could shop around for different imaging equipment providers, or they could upgrade within the family of MRI systems that had given them success and longevity up to that point.
For Michael Henne, Chief Executive Officer, the decision was a no-brainer.
"When we presented to the partners that it would be less than a three-year payback, and that included the construction as well as the price of the magnet, they unanimously voted: let's get the new magnet."
That new magnet was the MAGNETOM Aera, a 1.5 T MRI scanner that offers reliability and ease-of-use in a 70 cm Open Bore. But it wasn't just the cost and ease of construction that made the decision to stick with the MAGNETOM family of systems a simple decision. It was also the clinical benefits.
Dr. Paul Stanton, DO, Orthopedic Surgeon, put it this way:
"When selecting a new MRI scanner, it's obviously a large capital purchase. We wanted to make sure that we had the best quality, the best image scanning, speed of acquisition, [and] comfort for our patients."
So far, that's exactly what they've gotten with the MAGNETOM Aera. The people who use these systems on a regular basis spoke out about the value the MRI has brought to the facility.
"It allows us to scan more people that are overweight or obese with more comfort," said Lead MRI Technologist Adolfo Trevino. "Some people that would take sedation, oral or otherwise, are able to get scanned without sedation."
"The wider bore and the shorter length of the Aera have made a big difference with our patients who are claustrophobic," said Christina Bauer, former MRI coordinator. "That's what our MRI department is all about, it's the patient care, being able to make them feel comfortable."
For his part, Dr. Stanton appreciates the diagnostic benefits the new system provides.
"The Aera scanner has provided an increase in our diagnostic confidence," he said. "We find that the newer scanning technology, especially with this particular scanner, has been very good in resolving existing metal artifacts and the surrounding anatomy, allowing for improved diagnosis."
From an operations standpoint, Colorado Springs Orthopaedic Group has also been able to realize unprecedented throughput. Exam times have been reduced, which equates to more patients in a given day, which means more revenue for the facility.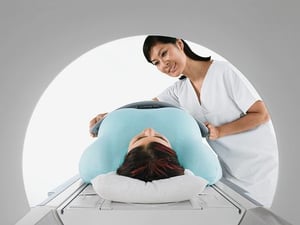 "As far as exam times, we've shortened probably over 50 percent of them by 15 minutes," said Mr. Henne. "They were 45 minutes, now they're 30. We were averaging 16 patients a day, and that was on what we considered a full schedule, [and] we are now averaging right around 20, 21. We've hit 25, and that's without changing hours. That's without adding shifts."
That's good news for patients too. As Mr. Henne puts it:
"We've actually lowered the direct cost of an MRI just because of the volume increase that we can do."
We're honored that CSOG chose Cassling and Siemens Healthineers for their MRI needs, and we hope their decision to invest in the MAGNETOM Aera pays dividends for patients and staff for years to come.
"We felt that our interaction with Siemens was a very positive one," said Dr. Stanton. "They made the transition between our old and new scanner seamless and painless and it really just helped improve the quality of our scans in a very short time."
"When they put you first," said Mr. Henne, "That's the company I like to do business with both now and in the future."
To stay up to date on the latest MAGNETOM news and more, subscribe to our blog.