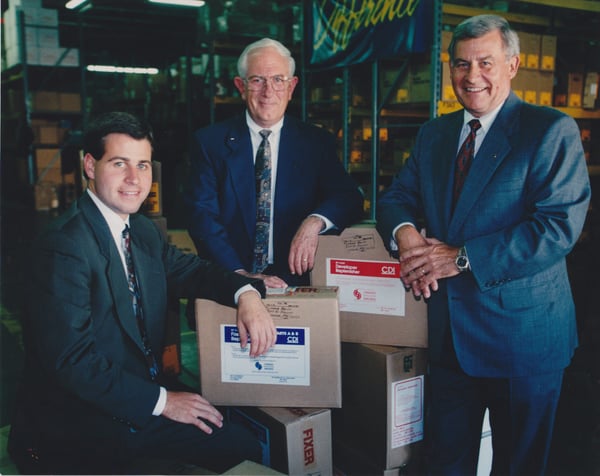 I was reminiscing with a long-time Nebraska customer recently about when we first met. I was a kid out of college and had just started working at my dad's new imaging company. She had been a technologist for a year or two but was destined for management early on. I'm going to date myself (and her), but our conversation had us longing for the days of X-ray films and dark rooms. Times were simpler. We had fewer gray hairs.
Obviously, a lot has changed since the 80s. Cassling celebrates its 35th anniversary this year, which means she's had to put up with me for a really long time. While I'm not her sales rep anymore, she texts me when she needs something (she used to dial my landline). Neither of us handle film anymore, and darkrooms have evolved into high-tech reading rooms. One thing that hasn't changed in those three and a half decades, she told me, is Cassling's commitment to its values and mission.
It's humbling to hear that, and frankly, exactly the feeling we strive to create. Whether you're working with one of our Account Executives to find an imaging solution that's going to be the best fit possible for your hospital or clinic, interacting with one of our expert Field Service Engineers to keep your MRI or CT system operating in peak condition, or taking part in one of our many Continuing Education webinars or live events, our goal is always to provide a premium level of service that you simply won't find anywhere else.
When my father, Bob Cassling, founded this company 35 years ago, he wanted to focus on providing the absolute best in customer support, from initial inquiry all the way through long-term equipment repairs. Bob grew the company by developing relationships with hospitals across the Midwest, not just with presidents and CEOs, but with the hard-working radiology technologists and other front-line healthcare workers that are the lifeblood of this industry.
He always had a particular soft spot for rural healthcare facilities, knowing full well how hard individuals in rural settings worked to support their patients and how often they'd be called up to perform duties that fell outside their traditional scope of work. Thanks to Bob, everyone at Cassling understands that we have a duty to support the hard-working imaging teams, rural or otherwise, who do so much for their patients. This is how we do our part to strengthen community healthcare.
Cassling was founded with a unifying vision that lasts to this day and informs everything that every individual does at every level of the company. These guiding principles continue to manifest even in the face of changing times. To help me better explain, I turned to the people who have been here since, well, if not the beginning, then pretty darn close.
These 30-year-and-up veterans of Cassling have a lot in common. For one thing, most of them come from the equipment service side of the business, where Cassling got its start. They're all quite talented at their jobs, but that's really only the beginning of their contributions. Each has progressed in their roles by showing a willingness to learn the latest technologies, possessing a work ethic that sees them responding to customer needs well into the late hours of the night and bringing to work a positive attitude that enables them to make long-lasting connections and friendships both within our own organization and at healthcare facilities across the country.
"I have seen many people come and go," said Bill Heeren, Director of Project Management. "Many processes change but, in the end, it's taking care of the customer that has allowed us to grow to where we are today."
This thought was echoed by Duane Losh, Field Service Engineer.
"Bob Cassling promoted a work environment of integrity that still exists today," said Duane.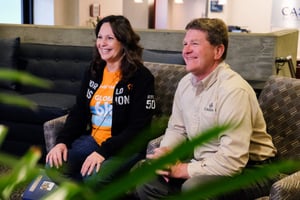 I want to also point out that the work environment is only part of the picture. What I've also seen, time and time again, is that our employees embody the culture of giving back even outside the workplace. Duane is a perfect example of that; he and his wife, Rebecca, have been avid supporters of World Vision, which brings clean water to areas of the world in desperate need of it. Duane and his family have sponsored children through the program and their enthusiasm was such that they've gotten our entire company involved in this worthwhile cause.
This ability to inspire and help others is another tenet at the heart of Cassling. My father always taught me the importance of charitable causes, and Cassling and its team members continue to donate their time and dollars to nonprofits making a real difference in the community.
I'm honored that I can continue to carry the torch started by my father, Bob, and I'm also honored that a team member as exceptional as Kevin Kraciun, Field Service Engineer, would speak to that point.
"When I joined Cassling 34 years ago, I found in Bob Cassling the values and beliefs of somebody that were in line with my own," said Kevin. "When Mike took over the company, I saw the same values and beliefs. Over the years, this company has stayed true to its customers and employees, and I'm proud to still be part of that."
Perhaps no one has been as central to that evolution as our own Joe Matthews, Vice President of Service. He got his start with our team as a Field Service Engineer 34 years ago. Since that time, he has moved up the ranks to his current position a couple years ago, following in the footsteps of former VP Marty Huebner. To Joe, Cassling is a place where customer service is paramount at all levels of the company.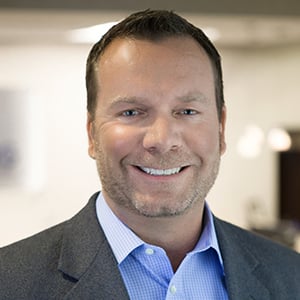 "The main reason I've remained at Cassling for over 30 years and I believe others have as well, is the outstanding level of leadership in this company," said Joe. "And by leaders, I'm not necessarily referring to those of us with titles, but the many employees who lead by example, striving for excellence and calling others to do the same each and every day. This organization is filled with true leaders who continue to keep the Cassling culture alive and well.
"Achieving excellence is not easy for any organization. It's incredibly difficult to maintain that high level of performance over three decades. I personally give all the credit for that achievement to every employee who lives, eats and breathes customer service."
Thank you to Joe for summing things up so beautifully, and thank you to every single one of our team members, from those who have been here for almost the entire 35 years of existence all the way to those just beginning their time at Cassling. We'll continue to evolve, but I have no doubt that customer service will remain the heart of our organization.
Stay updated on our latest company news by subscribing to our blog.