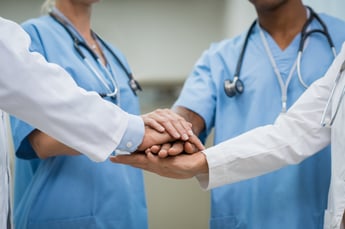 Tips to encourage and retain your team in today's healthcare environment...
Remember back in the early months of 2020, when the surge of patients into hospitals was heralded as unprecedented?
Well, it's 2022, and these unprecedented times are feeling quite precedented. Except now, as hospitals confront the rising tide of Omicron cases, the influx of new COVID patients threatens to somehow be even more overwhelming than before. That's because, two years on, healthcare teams are more burned out than ever, vaccinated and boosted individuals are being infected, and healthcare workers are calling in sick at unfathomable levels.
Is it any wonder that some have chosen to leave the frontlines of healthcare for non-patient facing positions, or have exited the field entirely? In such a challenging environment, it's more important than ever for executives and others in leadership positions to double down on employee-centric policies and focus on culture. Only by motivating your team and showing a deep-seated interest in their wellbeing can you retain and gain staff through the greatest challenge your organization has ever faced.
With that in mind, the following tips can help you achieve that goal. By implementing compassionate strategies that put your people first, you can weather the current environment and, just maybe, come out even stronger on the other side.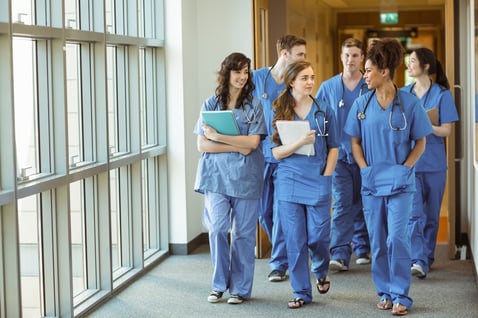 Revisit Benefits
One way to motivate and retain current team members, as well as draw new ones, is to take another look at the benefits your organization offers.
Sometimes, this is easier said than done when budgets are tight and you're limited in what you can offer. But there's no question that things like schedule flexibility, hospital-sponsored degree pursuits, parental leave, and more can have a dramatic effect on your ability to hire and retain your most qualified individuals.
Much has been made of the ongoing labor shortage, and healthcare is ground zero. Facing unique constraints such as quarantine rules, vaccine mandates and more, health systems have it tougher than most when it comes to drawing and keeping talent. The more attractive you can make the position, the less likely people are to leave.
Hospitals are pulling out all the stops to get people in place to care for patients in need, and benefits, salary increases, and bonuses are a surefire way to succeed if you can afford to do so.
Host Fun, Safe Events for Your Team
Of course, not every facility is in a position to just untighten the purse strings and start dramatically scaling up benefits and salaries (in fact, very few health systems are in a position to do so).
If the budget isn't there, you have to get creative, and that means doubling down on your organization's culture. You know what makes you special, and it's the little things you do for your team that separate you from everyone else.
Cater in lunch, breakfast or dinner when possible, or bring a popular speaker in to talk to your team. Combine this with continuing education to make it a one-two punch of socializing and development that supports your team's professional goals. Host watch parties for local sporting events. Do something extra special for team members that work holidays and/or night shifts, coupling an event with gifts and other treats that show you care.
These little things can go a long way toward making team members feel like a critical part of the team.
(It's important, of course, to follow all social distancing guidelines and mask-wearing best practices, but the last two years have shown many ways to get creative with celebrations while still being safe and having a great time.)
Send Your Team to Events Catered to Their Skillset
Toward the end of 2021 and continuing into 2022, you saw events, especially those catered to a healthcare demographic, get cancelled in droves as the Omicron variant became the dominant strain of COVID throughout the United States.
Still, there's some hope for the back half of 2022 to provide some return to normalcy. It'd be foolish to make bold predictions about the continued evolution of the pandemic, but there's at least a decent chance that events geared toward healthcare professionals will be mostly back on in the later part of 2022.
If that proves to be the case, and it's safe for your staff, you should consider sending your team to events of their choosing. Whether that be trade shows, knowledge summits, continuing education conferences, or anything else, your team will relish the chance to get out of the hospital and network with their peers, especially since they largely haven't been able to do so in the last two years.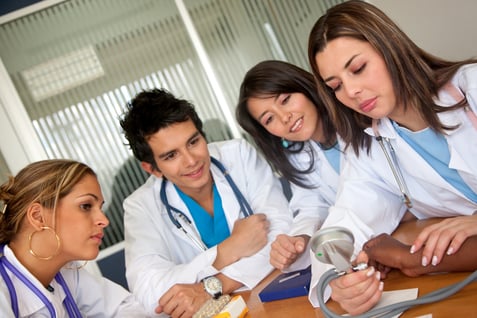 Invest in Technology that Empowers Your People
For budgetary reasons, hospitals sometimes have to rely on outdated equipment and systems to provide patient care. But in a world where the upcoming generation of healthcare professionals has never known life without a Smartphone, outdated and analogue interfaces that require regressive training to even function simply can't cut it.
You need to look at any systems that aren't what would be considered "modern" and weigh their cost of replacement with the sunk cost of losing out on highly skilled team members who would be burdened by these systems.
If upgrading a piece of equipment would allow you to attract and retain staff members who will stay with you for decades to come, it may be worth moving up the purchase of said system on your list of capital projects.
Look More Deeply at Staffing Solutions
Finally, when all else fails, there are third-party options for staffing.
Traveling nurse organizations have provided the template for many such businesses offering providers for every aspect of healthcare operations. Or, you can offload some exams and diagnostics to qualified providers who specialize in, for instance, reading X-rays and providing a professional opinion.
You can use machine learning applications to quickly parse images and test results, taking some of the burden off of your team members and freeing them up to focus more on patients. You can even optimize your scheduling with digital applications that take the manual work out of assigning staff.
No matter the issue you're facing, there's probably a third-party option out there that can help you.
Enhance Patient Care
Encouraging, promoting and empowering your staff is crucial in today's environment. These tips can help your organization stand out from all others, easing your staffing burden and helping you provide the best patient care possible.
Questions? Knowledge you've gained from your own experience? Share in the comments or reach out to us directly!