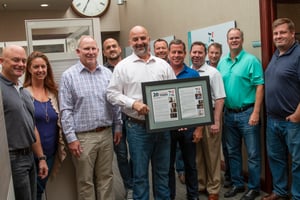 If you're a Cassling team member, there's no doubt you've encountered Randy Wobig.
Whether he's sending out emails about the latest IT security protocols, providing updates on the facility or traveling the halls of Cassling headquarters with a Green Bay coffee cup in his hand, Randy is someone whose reach extends to just about every aspect of the company.
It should come as no surprise, then, that so many people were excited to share their congratulations to Cassling's Chief Information Officer as he reaches his 20-year anniversary with the company.
"Randy is one of the hardest working people I've ever met," said Mike Cassling, CEO of Cassling. "He has this innate ability to become an expert in any topic he sets his mind to—from sonography in his early days to all things IT, or what's really close to his heart: ranching and Green Bay Packers football. We're honored Randy has lent his expertise to Cassling these past 20 years. Congratulations on reaching this milestone with our team!"
"Randy has been a tremendous colleague and taken on a wide range of tasks," said Kyle Salem, Cassling President. "We've referred to him as a non-traditional CIO because he owns all sorts of responsibilities, including the building and grounds. He's been a steady hand helping our organization grow and develop into what we are today. I appreciate his know-how and leadership every day. Congratulations!"
"Randy is my 'go-to' guy to get stuff done," said Lu Castillo, CEO of Ensocare, a Cassling partner company. "He is responsive, committed and, most of all, delivers high-quality service. Cheers!"
Carol Armitage, Vice President of Operations, echoed Lu's sentiment:
"I have had the honor of working both for and alongside Randy for the past 11 years," she said. "He is my go-to, give-it-to-me-straight guy. Whether it be a second opinion on a contract bid or lending an ear for any topic, Randy is one of the best! Oh, and did I mention he has great taste in music (Hint: he likes country). Congratulations on 20 years, Randy!"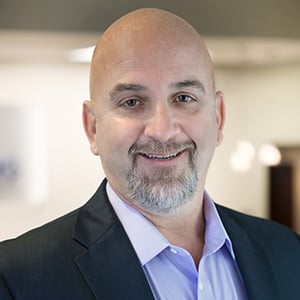 "As CIO, Randy has been a great resource managing all of our infrastructure, including physical assets, data, security and compliance," said Steve Chambers. "He has a great team in place and is always helpful in any way he can be, whether or not it is his responsibility. I know Randy is 'all things country,' as he was raised in the Sand Hills and periodically goes back to help out on the ranch. He also likes the Green Bay Packers for some reason and is soon to be a grandpa for the first time…congratulations on 20 years!"
While Steve has highlighted some of the more well-known tidbits about Randy, it's Andy Beer, Executive Vice President, who wins the award for one of the most interesting pieces of trivia:
"Growing up, Randy wanted to be a meteorologist. We're glad he decided not to go down that road. Congratulations on 20 years of making sure the sky is never falling at Cassling!"
"Randy embodies our culture of service," said Joe Matthews, Vice President of Service. "His level of commitment and energy spent making sure all of us have a great employee experience is second to none, and we are lucky to have him on the team. Randy, congratulations on reaching your 20-year anniversary!"
"Randy is the perfect example of a value that runs throughout the entire organization: dependability," said Bruce Stec, Vice President of Human Resources. "If he says he'll get something done, you know you can count on him to come up with not just a solution, but with backups to that initial solution and then backups to the backup. He pitches in anywhere and everywhere he can lend a hand, and he does it without a second thought. Congratulations, Randy, on reaching 20 years as one of the hardest working, most down-to-earth people in the entire company!"
"Randy lives and exemplifies the Cassling culture each day, providing a world-class service to all team members," said Elizabeth Grieger, Vice President of Clinical and Strategic Solutions. "Randy is always quick to respond to any need or request no matter how big or small the ask may be. It's not only his responsiveness, but his prompt, thorough follow-through and an acute attention to detail that set Randy apart. His passion for the entire Cassling family and the success of our organization is seen through his actions and daily behind-the-scenes work that make him the ideal team player. Congratulations, Randy!"
"Congratulations to Randy on his 20-year anniversary," said Nate Tippets, IT Manager. "Randy has always been fair-minded and provided solid leadership to the IT department."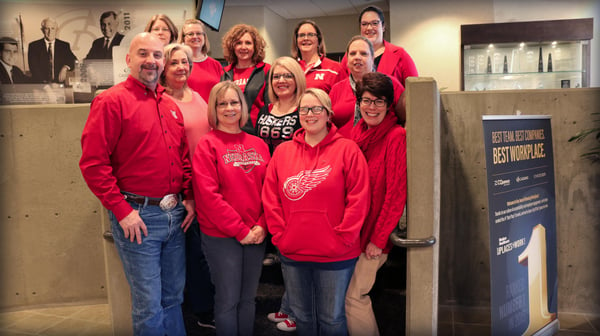 "In my years working with Randy, he has proven himself to be a leader who never backs down from a challenge," said Mark Petersen, Systems Administrator II. "Regardless of how menial or large, no task is outside his scope, as he will always give support where needed. Randy makes it a point to continuously think outside the box, which has played a huge role in improving our department and the Cassling family as a whole. I've seen his quick, off-the-cuff ideas and questions grow into meaningful, impactful projects over and over again. I can say it's definitely been a pleasure to work with Randy and I offer him a big congratulations on his 20 years here at Cassling."
Finally, while just about everyone spoke to Randy's unmatched work ethic and dedication, a couple team members wanted to make sure everyone knows about Randy's more light-hearted side.
"Congratulations to 20 years, Randy," said Frank Pultinevicius, Warehouse Manager. "He's always on top of the projects that need to be done to keep Cassling running smoothly, and he'll work hard to get the best results possible. Plus, he has a way with pranks that people might not know about."
That's right: pranks.
"Oh yeah, Randy definitely has a sense of humor people might not realize," said Shawn Pew, Regional Service Manager. "It's been awhile since this happened, but I had been asking Randy for a new monitor to replace my old one. I came in one day after being awake all night, already grumpy, and Randy had put this tiny, 8-inch monitor in place of my old one. I was so mad, I tried ripping it off my desk; what I didn't know was it was already wired to everything else on my desk. Randy had to run in and stop me from destroying my entire computer set-up.
"I'll also just say: traveling back from Orlando with Randy was an adventure I'll never forget. Randy, thank you for 20 years of good humor and a strong work ethic."
From all of us at Cassling: Randy, thank you for everything, and congrats on 20 years!