In case you didn't notice, we're pretty big believers in the importance of education here at Cassling.
Earlier this year, we introduced on-demand webinars for continuing education credits, and they've taken off in a way that we never could have predicted. Our ambitious goal was for imaging professionals to earn more than 1,000 CE credits by the end of 2018. We figured if we hit that mark—if that many people turned to us for their continuing education needs—the endeavor would be a success.
Well, it's May, and we're already there.
The Next Level
Now, we want to continue giving back to the imaging teams across the country that have given us so much, as customers and as colleagues. So here's what we've come up with:
We're giving away a free on-site ultrasound lunch & learn to one accredited healthcare institution somewhere in the United States.
As with all of our Investing in You events, attendees will be eligible for CE credits from the ASRT. And you won't have to travel far to get them; if you win, we'll come directly to your facility. We'll supply you with a great teambuilding activity that you and your team will enjoy and help you meet some of the CE requirements you no doubt have in place at your organization. And this will all take place by the end of the year.
You're going to love the speaker we have lined up. Dr. Traci Fox is an Associate Professor at Thomas Jefferson University in Philadelphia. She's the voice and brains behind one of our most popular webinars ever recorded, "You're Doing an Ultrasound of WHAT?! The Past, Present and Future of Ultrasound," which will soon be available to view on demand for CE credits.
Dr. Fox has a wealth of experience to draw from, along with great insights into the field of ultrasound. Plus, she has a unique perspective and a creative way of looking at the world that make her an ideal fit for this event. I'm excited for the winner to meet her in person.
To enter, all you have to do is fill out the form on our website. Plus, after you enter once, you can register for additional entries into the contest by answering ultrasound-related trivia questions on our Facebook page, thereby improving your odds.
A New Era of Ultrasound
One question you may be wondering right now is: why ultrasound?
To me, the answer is simple: in today's era, perhaps no modality in the entire imaging field is facing such unprecedented innovation. And I say that as someone who has a front row seat to the exciting developments happening in areas like 3D mammography, 7T MRI and the implementation of artificial intelligence across clinical specialties.
Siemens Healthineers has launched its ACUSON Juniper and ACUSON Bonsai systems, and they're taking the imaging field by storm. You can read more about those technologies here and here, respectively. The Juniper has a variety of transducer ports and one of the smallest footprints among ultrasounds of its class, while the Bonsai provides a portable cardiovascular-focused system without sacrificing imaging quality or diagnostic confidence.
New systems that improve the patient experience are only the beginning. There have also been so many technological developments that make the sonographers' life easier. The marketplace now has a number of ergonomic choices that can allow you to minimize the load you place on your own body. In fact, we've previously provided a guide on this very topic. In addition, AI's increased presence in the sonography world means improved workflow and reduced steps in attaining the image.
Ultrasound is also being used in new ways. The FDA approved contrast-enhanced ultrasound of liver lesions that previously would have only been diagnosable via biopsy. We've also been seeing a lot of medical facilities look to ultrasound as a quicker, less costly alternative to not just biopsies, but MRI and mammography too.
The fact is, there's a lot happening in the ultrasound world, and that's why we thought it was the right choice for our lunch & learn giveaway.
The Education Continues
I'm honored you and your teams have responded so enthusiastically to the on-demand offerings we announced back in February, and I hope your enthusiasm continues through this contest and all of 2018.
I encourage you to enter, and sign up for the other offerings we have lined up. In addition to the on-demand webinars I mentioned, we continue to host monthly webinars for healthcare workers. We just opened our summer series, where you can register for three webinars and walk away with 3.0 CE credits from the ASRT by the end of the season.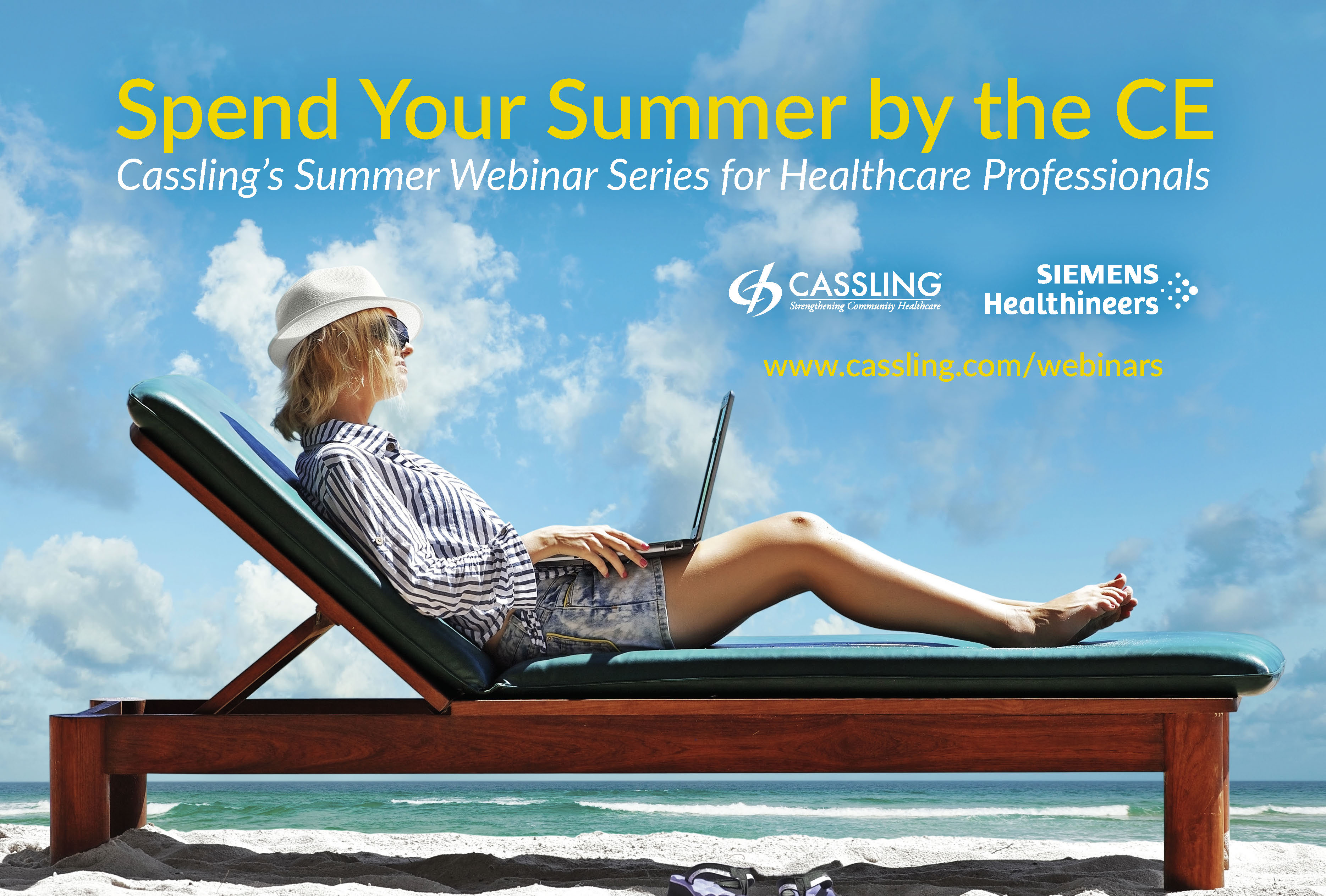 The best part? After these webinars are recorded, they will go up on our website, so you can continue to watch them on demand at your convenience.
We also have an in-person, all-day seminar taking place in Omaha, Nebraska this October. We have some great speakers lined up who will be covering a combination of in-depth imaging topics and overall developmental skills. I understand it might be a long way to travel, but we promise it will be worth your time, and, as always, the event will be complimentary to attend.
We also continue to update our Knowledge Center on a weekly basis. That's where you'll find our experts' insights into what's happening in the imaging field and how it affects your team, facility and patients day to day.
It's a great time to be an imaging professional, and I can't wait to bring our Investing in You series to the front door of one lucky imaging facility.