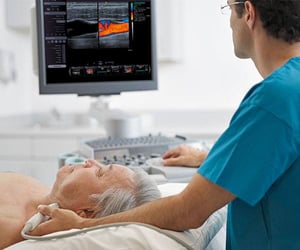 For the first time, Cassling has extended its equipment service capabilities to the ultrasound space.
At the beginning of this month, we announced that our customers will now receive preventive maintenance and service on their ultrasound units directly from Cassling. Previously, those duties were handled exclusively by Siemens Healthineers.
We've already received a number of questions from our customers about this transition, and we wanted to explain precisely what this announcement means for the future of service here at Cassling.
Decades of Experience
Cassling has brought onboard two experts with extensive knowledge of ultrasound equipment: Jerod Olson and Dale Hansen. They come to us directly from Siemens Healthineers, bringing over 45 years of combined experience.
We will be supplementing Dale and Jerod with a select group of Cassling's existing field service engineers, the very same persons whom our customers have come to know and rely upon as experts and as friends, who will be cross-trained to service ultrasound equipment as well.
If you're an existing customer, I encourage you to ask your current field service engineer about what to expect from ultrasound service. There's a good chance that, if you choose Cassling for your ultrasound service needs, you'll continue to see them around when you need assistance. And even if they themselves won't oversee your ultrasound repairs, I know they would be happy to introduce you to Dale or Jerod.
Midwest-Focused
Ultrasound service has been launched throughout our Midwest territory, which includes:
Nebraska
Iowa
Kansas
South Dakota
Illinois (select counties)
Missouri (select counties)
If you're in one of the above territories and are in need of ultrasound service, feel free to reach out, whether you're an existing customer or not. Cassling's Customer Care Center can be reached at 1-800-228-5462, ext 4.
If you aren't a part of those areas, I encourage you to get in touch as well. We can connect you with Siemens Healthineers or you can reach them directly at 1-800-888-7436 for your service needs.
Why Ultrasound Service?
By increasing the number of ultrasound-trained engineers, we will be able to improve onsite response times while providing the same premium level of care that people have come to expect across our other service areas, including MRI, CT and more.
Ultrasound customers will benefit from Cassling's industry-leading response time, currently just under one hour on average from the time we're contacted. That's 75% better than the industry average. It's this very responsiveness, combined with intimate knowledge of the diagnostic equipment you operate, that allows us to achieve greater than 99% equipment uptime across the Midwest.
Ultrasound service will be tied to our 24/7 call center, where someone is always available to take your calls or get back to you within minutes.
Utilizing Siemens Remote Service, we can respond to numerous situations by remotely fixing your system or making a diagnosis, which enables us to then arrive onsite with Siemens OEM parts in hand for a quick repair.
As an ISO 9001-certified organization that meets Original Equipment Manufacturer specifications, we will bring our unmatched dedication to your equipment service. You can expect regularly issued software updates and a team of experts who are well-versed in those updates, with knowledge of how to respond efficiently to any problems that arise.
Protect Your Revenue Streams
When evaluating whether or not to invest in an ultrasound service contract, either with Cassling or a third-party vendor, it's important to carefully weigh the true cost of ownership against the cost of the contract itself.
Any potential downtime is revenue left on the table at your organization. Depending upon the size of your ultrasound fleet and your patient volume, a machine going down can impact scans for hours, days, even weeks at a time. You need to be able to be back online as soon as possible, so that the domino effect of shifted or cancelled tests doesn't interfere with your organization's ability to properly care for patients or prevent you from turning a profit.
Lost revenue may add up more quickly than you expect. Siemens Healthineers provides a downtime calculator that shows just how fast downtime can add up on a per unit basis. It includes CT, MRI, nuclear medicine, PET and others.
To illustrate the importance of ultrasound service, consider this example. If you conduct two scans per hour, you could be at risk of losing over $400 in revenue in the first hour, over $3,000 if the system is down the entire day, and nearly $10,000 over the course of three days! (This information is based on Medicare reimbursement rates and assumes an eight-hour day. Click the link itself for more information.)
Ensuring a certain degree of uptime is critical in both emergency and non-emergency situations, especially at smaller facilities that don't have a fleet of backup equipment they can turn to. In these scenarios, minimizing downtime can be the key distinction between profit and loss.
Let's Work Together
We don't take a one-size-fits-all approach to service contracts, and that's the case for ultrasound service too.
I'll work with you to create a contract that makes financial sense given the size of your facility, the number of units you have on-site, and your overall service needs. You'll be able to rely on Cassling's field service engineers to handle your ultrasound inquiries with the care and attention that so many health systems throughout the Midwest have trusted over the course of decades.
We are very excited to service ultrasound systems on behalf of Siemens Healthineers, as it puts us in position to grow even closer to our customers. As always, our commitment is to provide world class service enabling you to provide critical patient care and provide the best outcomes possible.