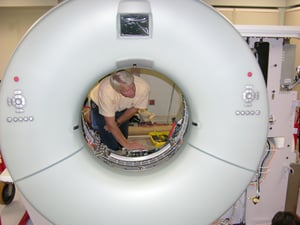 This summer, Reed Poulsen, one of Cassling's longest-serving Field Service Engineers, celebrated 30 years of offering exceptional equipment service to customers. Here, those who know Reed best offer their congratulations, along with a few photos highlighting just how much imaging equipment (and Reed himself!) have changed over three decades.
"Congratulations to Reed for 30 years of dedicated service to Cassling and our customers. I can't recall how many times I've heard customers say, 'We just love Reed Poulsen!'
"So Reed, thank you for doing a great job and please keep up the good work!" - Marty Huebner, former Executive Vice President of Service
"Congratulations, Reed, on 30 years of service. You've touched so many lives wherever you go, especially at our hospital. We think of you as part of our family, especially the times you've helped out some of our people that were really in need of help.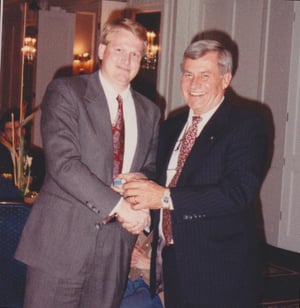 "You always go above and beyond for all of us, and with such a positive attitude all these years. I admire you, and congratulate you on 30 years. I'm very proud to be your friend. God Bless!" - Jo Swartz, Executive Director of Radiology, Lexington Regional Health Center
"Congratulations on reaching your 30th year with Cassling. Your commitment to our customers is unparalleled. I have enjoyed working with you all these years and look forward to many more!" - Joe Matthews, Vice President of Service

"Congratulations, Reed, for reaching your 30-year service anniversary with Cassling! Your humility, experience and ability to connect with and serve others are what make you a great Field Service Engineer. Over the past several years, I've had the pleasure of working with you and I've seen your positive attitude along with the incredible attention and care you give to our customers.
"Time and time again our customers tell us you are one of the many reasons why they choose to work with Cassling. Thank you for all of your work over the past 30 years. Congratulations Reed! - Tim Elder, Nebraska Regional Service Manager
"Reed, congratulations on 30 years. I have enjoyed and appreciated the opportunity to work with you these past 19 years." - David Kenkel, Field Service Engineer
"Congratulations, Reed, on 30 years of service with Cassling. It has been a pleasure working with you over the years. Your excellent customer service skills are what keep our customers buying our products and service. Here's to many more years at Cassling! Congratulations." - Ryan Banzhaf, Field Service Engineer