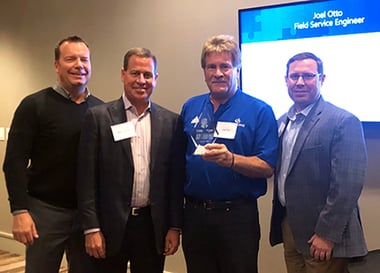 Field Service Engineer Joel Otto was recently recognized as the recipient of the company's most prestigious honor, the Bob Cassling Service Excellence Award. Named after Cassling's founder, Bob Cassling, the award recognizes employees who go above and beyond in exemplifying the organization's culture and values.
"After my dad passed away, this award was created to honor his legacy for taking excellent care of customers and employees," said CEO Mike Cassling. "This recognition is reserved for those individuals who take service to the highest level. It is as much an honor for me to present the award as it is for the recipient to accept it, and Joel is an exceptionally deserving award winner."
With 18 years of experience as a field service engineer at Cassling, Joel provides outstanding customer service by ensuring that our customers' diagnostic imaging equipment is maintained in optimal condition, any problems are diagnosed quickly, and repairs are made efficiently.
"For Joel, the customer always comes first," said Field Service Engineer Mike Chayka.
Joel is known for proactively servicing his customers and maintaining continuous communication in addition to his system knowledge and service efficiency. He embodies the highest standard of customer service that we all strive to achieve at Cassling and within our CQuence family of companies.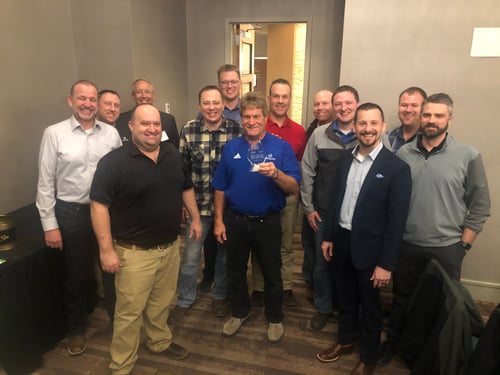 "I don't know if there is anyone who cares more about their customers than Joel does," said Project Manager Justin Hajek. "A lot of the time, Joel's customers don't even need to place a service call because he is already there making sure their equipment is running properly."
While our organization is full of employees who are dedicated to providing an outstanding customer experience, Joel's commitment to providing the highest level of care and his efforts to proactively anticipate customers' needs make him a well-deserving recipient of this award.
"I'm very honored and humbled to have received the Bob Cassling award," said Joel. "It is very gratifying to have your peers recognize you for the job that you do. As far as I'm concerned, everyone in this company does an excellent job of giving our customers the best service we can give. I couldn't work at a better company or along any better co-workers."


Past recipients of the Bob Cassling Service Excellence Award include:
2015 – Frank Pultinevicius
2016 – Bill Heeren
2017 – Reed Poulsen
2018 – Martie Chauvin & Kayla Engel
2019 – Jerry Glenn
Do you have a story about working with Joel? We would love to hear them in the comments below!