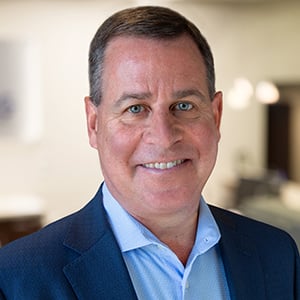 This year, Cassling celebrates the 35-year anniversary of the one team member who just so happens to share a name with our company itself.
Mike Cassling started on the Cassling sales team, but it wasn't long before he was making an impact on the entire company, steering the ship through numerous changes and expanding business dramatically in that timeframe.
Steve Chambers, Chief Financial Officer, is one of the individuals who has been with Cassling for the vast majority of that time. In fact, his friendship with Mike goes back even further than that.
"I first met Mike in college. He was an accounting major, president of his fraternity and, not surprisingly, a leader on campus at the University of Nebraska. He was not a typical accounting major but managed to get excellent grades in a difficult degree. I like to tell everyone I carried him through that degree, but most people know how smart he is…
"After college, Mike had several other great job opportunities. I believe one of his offers was a sales position with Black and Decker, which was a difficult job to get. However, his father, Bob, had started Cassling a couple years earlier! I think Mike threatened to go elsewhere just enough to have a little fun with his dad. He started in sales at Cassling, under the tutelage of Bob, Ken Vetter, Ken Sullivan and many others. Not surprisingly, he was an incredible salesman, and in 1996, he was named President.
"Bob loved what he built, but Mike always wanted bigger things for the company. I like to think that Bob Cassling started and cultivated our company, but it was Mike who sent it skyrocketing.
"Many of you have probably heard words from him like 'world domination' and 'world class.' He definitely achieved world-class. Among his biggest accomplishments is moving us to the digital world early and moving us to Siemens. Mike has built quite a company.
"Most importantly, Mike is a very generous person. He wants the best for our employees and customers. Sometimes at great expense of dollars and my own blood pressure. He truly wants the best for everyone and is very generous in our community as well. The best part is he's not done yet. Our company is thriving and growing more than ever. Congrats to Mike Cassling for 35 years of service!"
Mike's generosity was cited by many others who have had the pleasure of working closely with him in the intervening 35 years. And, as anyone who knows him can attest, that selflessness encompasses just about everyone.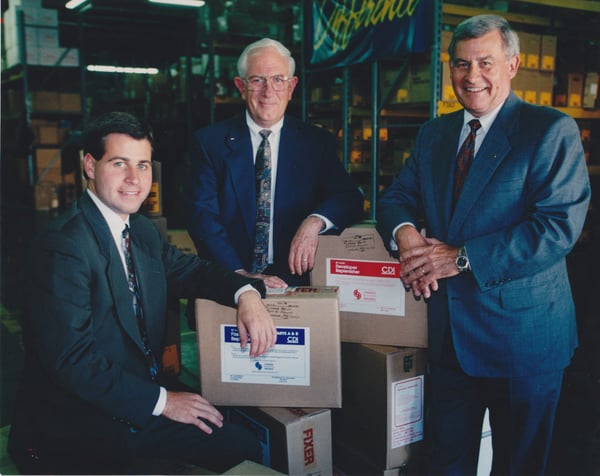 "His generosity definitely comes to mind," said Lu Castillo, President and CEO of Ensocare, a Cassling partner company. "He surprised me a few years back. He knows that I am a big Chicago Cubs fan and that I grew up a few blocks from the park. When the Cubs were in the World Series, he gave me two tickets to Game 4. Unbelievable! It let me check something off of my bucket list! Thank you, Mike, and congratulations on 35 successful years."
"I am thankful to have worked for Mike for the past 16 years," said Kim Phox, Regional Vice President of Sales. "He is the most loyal person I know. In the middle of my Cassling Account Executive days, Mike allowed me to switch to a new lab product that we had invested in, for which I was thankful, but within a year, a different healthcare company purchased the product from us.
"I should have been out of a job, but Mike told me to go help out in Kansas while he figured out a job for me. Three months later, he created a position that I stayed in until I moved into a Regional Vice President role. I will forever be thankful for Mike believing in me and treating me like family. Congratulations, Mike!"
"Mike's commitment to taking care of people is one of the things that sets Cassling apart from other organizations," said Elizabeth Grieger, Vice President of Strategic & Clinical Solutions. "His desire and drive to listen, lead and inspire is evident in all aspects of his work and personal life. Whether it is the people at Cassling, the people in our communities or the people in our customer space, his actions are filled with genuine care and compassion. Congratulations, Mike, on 35 years of leading excellence at Cassling!"
"The thing I have enjoyed most is getting to see Mike's philanthropic side," said Carol Armitage, Vice President of Operations. "It is something he and I have in common – giving back to those in need. Over the past few years, we have collected and delivered sports balls for various youth organizations as part of an initiative put on by the American Heart Association. Delivering them put a huge smile on everyone's faces, kids and adults alike. Congratulations on 35 years, Mike!"
"Congratulations on your 35th anniversary," said Marty Huebner, retired Executive Vice President of Service. "The products and services you provide continue to improve the quality of life for people everywhere, and that's something to be very proud of.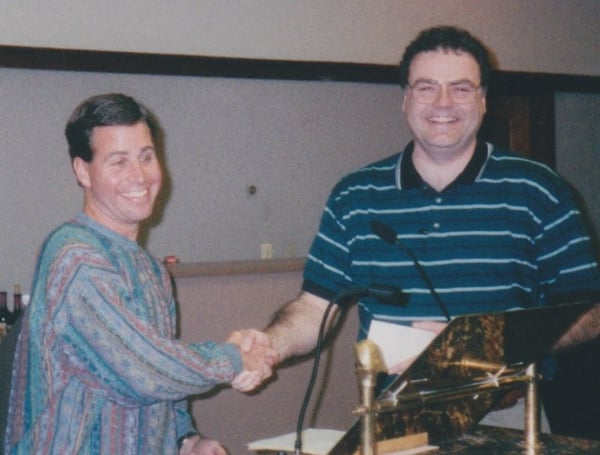 "You have always been a proponent of change and anticipating the needs of your customers. One thing that's never changed, though, is where your focus has been. In addition to the needs of your customers, you have always taken great interest in taking care of your employees. I'm proud, honored and thankful to have had the opportunity to be a part of the organization for so many years. Please keep up the great work!"
"Bob Cassling started this company with the simple idea of taking good care of his employees, his customers and his community," said Joe Matthews, Vice President of Service. "Mike, from those foundational cultural beliefs, your relentless drive, vision, and genuine care and concern have taken this organization to levels of strength and excellence that most of us could never have imagined. You are truly an inspirational leader. Congratulations on your milestone 35th anniversary with Cassling!"
"Mike is one of those unique visionaries capable of seeing things that others do not," said Vice President Dan Gordon. "Combined with his singular, 'dog with a bone' focus, he has led the company to new heights. No doubt there is more in store for our collective future. He challenges all the people around him, from employees to community leaders – and his friends – with his ideas and his vision. Yes, it can be fun. Yes, it can be difficult too! But it is never dull. And the ride will be like no other. Congrats, Mike, on 35 years!"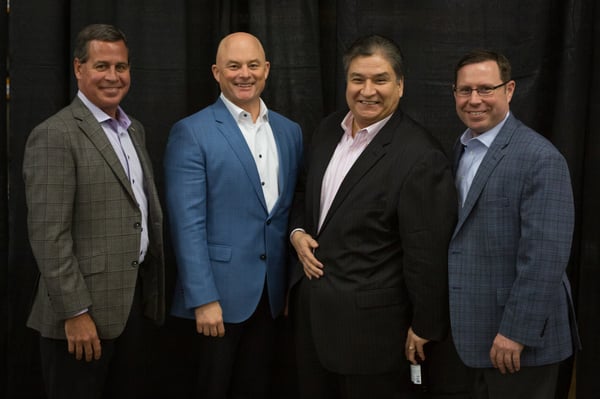 "35 years is an amazing achievement," said Bruce Stec, Vice President of Human Resources. "Mike brings passion for our people and their families to work with him every day. He's always challenging us to do more in how we support the teams in our organization, driving all of us to keep that in the front of our decision-making. It makes me want to come to work for him every day! In my six years working for Mike, I have learned to appreciate his fierce competitiveness, short emails and his expectation that things happen now. Thanks for pushing me to think differently and encouraging me to take risks! Congrats on 35 years!"
"Congratulations, Mike, on your 35th work anniversary!" said Chief Information Officer Randy Wobig. "You've truly grown the business to new heights all while maintaining your dad's legacy and vision of exemplary service to your employees and customers. The expansion of products and services that have occurred over these 35 years has provided our employees unique opportunities for work and our customers with many products and services to enhance the delivery of healthcare to their patients, many of which are our own family members.
"On a personal note, I want to thank you for all of your support bringing me on board 20-plus years ago. It was a big step for me to leave the comfort of my clinical/IT career at UNMC and step into a whole new world on the vendor side. We've experienced a lot of really good things together alongside our colleagues over the years.
"Your commitment to both employees and customers is really unique and refreshing in the business world today. Cheers to all of the future opportunities coming for Cassling!"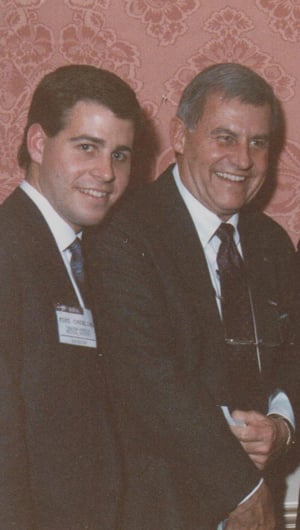 "I have had the pleasure of attending a lot of customer meetings with Mike over the last 18 years," said Executive Vice President Andy Beer. "Our customers always enjoy having Mike at these meetings, as they know he is there to listen to what they really need and offer ideas on what Cassling can do to solve their problems.
"Building these long-term executive relationships is key to our customers, who know they can always pick up the phone and get in contact with Mike. Congratulations, Mike, on 35 years of taking care of our customers and providing a fun environment to work in! Hopefully, one of these days, he can beat me in a motorized go-kart race (I still have the trophy!)."
"Mike's heart always starts from a place of care and concern for others," said Cassling President Kyle Salem. "While others are worrying about dollars and cents, Mike is making sure that everyone is comfortable first.
"He is also truly amazing in his ability to be in so many places seemingly at once. From his local and national philanthropic endeavors to keeping a steady hand on Cassling and other investments, Mike ensures that his life creates tremendous positive impact for others.
"Mike, your leadership of the organization has been incredibly valuable to our growth. From hiring young PhDs from Siemens to having the foresight to diversify and providing a steady hand through downturns and pandemics, you've always provided the leadership the organization needs, right when it's needed.
"Mike, congratulations on 35 years."
From all of us at Cassling, thank you Mike, and congratulations on reaching this awesome milestone!