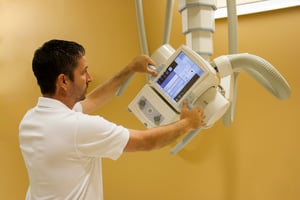 "He does not always tell me what I think I want to hear, but tells me what I need to hear!"
That quote from Robert Boxum sums up about everything you could ever want in a Field Service Engineer (FSE). Mike Tinsley celebrates his 20th anniversary with Cassling this July, and throughout his two decades of service, he has been an expert whose friendly demeanor and willingness to find the right solutions for customers and FSEs alike have made him an indispensable part of the Kansas service team.
"Is there anything Mike can't do?" asked FSE Ryan Mahler. "Mike is an inspiration for what all service engineers want to be. He is unsurpassed in his dedication to taking care of his customers and always willing to help out an engineer in need. I always learn something when I reach out for a hand. Congratulations on 20 years!"
"In my just over two years on the Kansas FSE team, Mike has welcomed me from the very beginning," said FSE Robert Boxum. "He has been a mentor who has taught me so many things. He is always willing to field questions and offer guidance no matter if it was operational, technical or tied to other day-to-day concerns. He has a way with customer relations that I strive to duplicate. His equipment knowledge is vast and he is always willing to share this knowledge to help other team members better serve our customers. Congratulations Mike!"
Interestingly, this willingness to take newer service engineers under his wing and lend his knowledge to come up with a fix is something that Mike wasn't always comfortable with, which might come as a shock to those who work with him!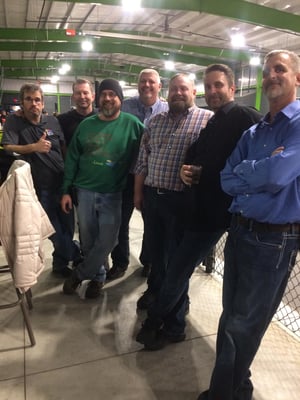 "I think that Mike is a great example of the kind of engineer that Cassling should strive to develop," said FSE Jonathon Jones. "He once told me how much he hated being a mentor to new engineers because he didn't feel he knew enough or was good enough to be that guy. What I quickly realized is that is exactly what makes him such a good resource for our newer engineers. They know they can call Mike up and, instead of being lectured on what they should and shouldn't do, or what they're supposed to know, they'll get a patient and understanding conversation about the problem. Mike doesn't tell you what to do – by talking out the situation, you both kind of figure it out.
"Besides, he does know everything – he just doesn't like to brag about it. Congrats on your anniversary!"
"I would just say he is a great colleague and source of support," said FSE Scott Lyons. "Congratulations on 20 years of service."
"Mike's always been willing to lend support, whether in person or over the phone, regardless of how chaotic his day is going," said FSE Jacob Oharah. "Congratulations!"
"Mike is a key part of the Kansas team," said FSE Mark Gurera. "He develops great relationships with his customers and teammates. His willingness to help others either by phone or assisting in person are only a few of the characteristics that make him such a good Field Service Engineer. He continually goes above and beyond to get the job done and his attention to the small details ensures that systems are running in tip-top condition. His years of service make him a wealth of knowledge on several systems. Mike, Congratulations on 20 years of service."
"Mike Tinsley is one of those 'go-to' engineers who not only gets the job done but consistently delivers customer service at an excellent level," said Joe Matthews, Vice President of Service. "I've enjoyed getting better acquainted with Mike over the last few years and always appreciate his insight and dry sense of humor. Congratulations on reaching your 20-year milestone anniversary, Mike!"
"I first met Mike when I was a customer, so we have known each other most of his 20 years with Cassling," said FSE John Jenkins. "His integrity and work ethic have always been evident to customers and coworkers. Mike, thanks for being a great coworker!"
"I have known Mike his entire career here," said Regional Service Manager Layne Oberto. "He and I were in the field together as Field Service Engineers, working on and installing mammography systems and X-ray rooms. We trained together, worked together and sometimes failed together. It is hard to believe that it has been 20 years already!
"I would like to say congratulations to Mike for 20 years of outstanding service. It has been my pleasure to work alongside Mike both as an FSE when he first joined Cassling and now as his supervisor. Mike is a person who is always there to help regardless of the situation. Congratulations Mike!"
Mike, from all of us at Cassling, congratulations! You're a fantastic team member and an incredible person. And in the words of Robert, that might not be what you want to hear…but it's what you need to hear!