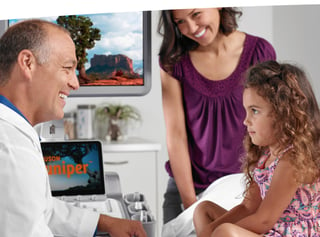 While you weren't looking, a lot has been happening in the field of ultrasound!
New technologies, new workflows, new best practices. Over just a few short years, the potential uses of ultrasound have grown exponentially, and that means exciting things for you and your imaging team.
Join us as we take a look at the latest developments in ultrasound you may have missed, even if you're working on equipment that's just a couple years old.
4D Sonography Is Here
The latest sonography software brings a whole new dimension to ultrasound exams: time.
3D/4D volume transducers can create a 3D image in real-time, giving sonographers an unprecedented look at patient anatomy in the moment. This has the potential to be a gamechanger for obstetrics, not to mention vascular, breast and even pediatric imaging.
As 3D/4D image acquisition techniques become more common, sonographers everywhere may find themselves re-evaluating their current workflows in order to become more efficient while acquiring the most diagnostically relevant and accurate results possible.
And that's not the only technology that's turning heads. The Ultrasound Derived Fat Fraction (UDFF) is a new measurement tool to aid physicians in the overall assessment of hepatic steatosis. In fact, the UDFF on the ACUSON Sequoia is the only ultrasound technology to classify hepatic steatosis as an index value greater than 5% (as of November 2021).
When coupled with a variety of software updates rolling out across a portfolio of systems that includes the ACUSON Sequoia and the ACUSON Redwood, ultrasound as we know it may soon experience a dramatic and positive shift in capability.
Goodbye 'Opsy
Are the days of invasive tests behind us? Not entirely, but ultrasound is bringing us closer than ever before, and liver imaging provides a perfect example.
With the use of contrast-enhanced ultrasound now approved by the Food and Drug Administration, diagnostic imaging of liver lesions has taken on a whole new life that would have been unprecedented not that long ago. As contrast bubbles fill the area in question, the technologist can capture an accurate image at three separate stages to diagnose the type of lesion affecting the patient.
Before, this would have most likely required a biopsy to identify. But not anymore. And since approval of ultrasound imaging for liver lesions, additional applications of contrast-enhanced ultrasound have been given the green light by the FDA as well.
It doesn't stop there. The combination of an increase in liver cirrhosis and an overweight population means that our imaging capabilities have to be better if they're going to capture an accurate image at a greater depth. Thankfully, modern ultrasound is up to the task, assessing liver stiffness and starting a patient on a prescriptive regimen sooner than was possible before.
The reduction of invasive procedures coupled with a dramatic rise in non-invasive ultrasound can lead to faster results, less risk of infection and increased patient and provider satisfaction. And it's all possible thanks to innovations in the ultrasound space.
Form and Function Finally Come Together
The newest ultrasound machines are customizable to your preferred parameters when conducting a test, yet they also pack in all of the technologies you've come to rely on, and then some.
More attention is being made to the ergonomics of a machine in order to ensure the comfort of the user. With large, adjustable LED screens and the ability to configure height of the monitor, angle of the control console and placement of the machine to your specifications, you're going to experience less strain on your body than you have in a long time. So while the patient benefits from new and improved imaging capabilities, your own wellbeing benefits from a device that doesn't force you into uncomfortable positions.
What's important to note is that all of this happens without any attendant loss of diagnostic capabilities. Far from it.
High-contrast resolution, high-fidelity transmission, one-touch image optimization, noise reduction, improved elasticity, stunning image detail and automation are some of the biggest buzzwords in modern ultrasound. Hospitals and clinics throughout the world are finding new ways to improve clinical workflows and achieve a better patient-to-provider relationship than they've ever had before.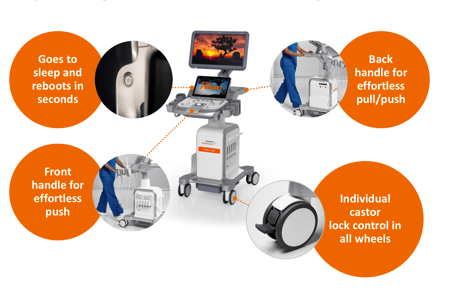 Shush
One great and often overlooked aspect of modern ultrasound equipment? It's quiet.
On some of the newest machines, you may find yourself questioning whether or not you've even turned them on. Siemens Healthineers' new ACUSON Juniper, for instance, is 40% quieter than the average ultrasound system. Its 28 decibels is far below the 45 decibel average of other machines (for reference, 60 decibels is how much noise is made during a typical conversation).
That may not sound like a big deal, but anyone who's spent an inordinate amount of time in an imaging suite can tell you that having a quiet workspace makes a big difference for the comfort of both the sonographer and the patient.
From Department to Department
The increased versatility of the modern ultrasound machine means that it can be wheeled virtually anywhere.
This is perfect for mobile ultrasound units that travel around the hospital, as less space means less weight and more opportunity for comfortable placement. Wheel the unit next to the patient's bedside in virtually any hospital room (something that's even more important now, with COVID patients who need to remain quarantined in a single space).
Or, if the unit will largely remain stationary, that's okay too, because it means you can create an ultrasound suite out of pretty much anywhere you have space in a facility.
The increased availability of highly specific transducers to meet numerous clinical applications also affords a degree of adaptability that hasn't always been possible. The ACUSON Juniper, for example, can support 16 transducers that enable cardiac imaging, women's health applications, interventional radiology, urology and more.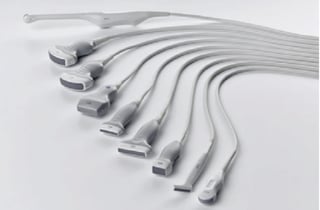 Different Patients, Same Accuracy
Speaking of adaptability, it's important to examine how newer ultrasound units make switching between different types of patients and their necessary exams easier than ever.
Readily reproducible workflows have always been the goal and, with machine-assisted guidance now coming into its own, it's possible to conduct more exams more quickly without ever losing time or image accuracy. This is set to improve even more dramatically in the coming years, when Artificial Intelligence applications evolve the imaging field in unprecedented ways. AI-powered tools on board systems like the ACUSON Redwood can help reduce exam burden and increase efficiency by removing manual processes.
Expect machines that guide you to the proper imaging sequence in order to attain a complete study of the patient, with adjustability suited to different types of patients and exams. One-touch imaging is more common and, when coupled with motion reduction technology and artifact suppression, you're going to find that difficult-to-image patients aren't quite as difficult as they used to be.
This is great news, as it means your facility will potentially be able to see more patients and you'll never lose confidence in the image captured. That's great for revenue, the patient experience and your own peace of mind.
A New Level of Support and Service
Finally, we would be remiss not to mention that the 'Internet of Things' has officially entered the world of ultrasound.
WiFi-equipped devices are the norm, and with good reason. It is now possible to instantly transmit a complete exam using technology that syncs information between multiple devices and modalities (picture an MRI machine and an ultrasound transmitting details to a single application that routes the appropriate results where necessary).
That kind of connectivity improves communication and speeds up diagnosis, but there's another huge benefit of having WiFi onboard: service. In many cases, you no longer have to wait while your ultrasound provider sends someone out to take a look at the problem. It may be possible for them to log directly in to your machine, diagnose what's wrong and fix it with a simple (or complex) software update. This also means that your equipment remains cutting edge thanks to regular updates from your provider.
Ultrasound Outlook is Bright
If it's been awhile since you updated your ultrasound fleet, there's never been a better time to start looking into what's available. The advent of new technology has revolutionized what's possible via ultrasound, leaving it the imaging unit of choice for numerous clinical specialties that would have seemed far-fetched in decades past.
Ultrasound is going places, and it's time to hitch a ride!