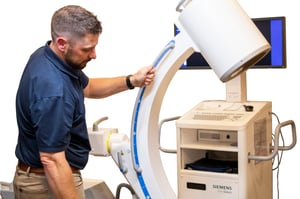 As the pandemic continues, healthcare systems across the country find themselves confronting a wide range of scenarios. Some states have been able to ramp elective procedures back up while others are confronting a surge of COVID cases that make it exceedingly difficult to couple standard care with coronavirus-related care.
Cassling is in a unique position in that we provide imaging equipment service to healthcare customers across a number of states in the Midwest. Because our field service engineers live within the communities we serve, we've had a state-by-state vantage point on the pandemic and its effect on imaging.
Throughout everything, our team has remained flexible to meet the needs of our customers. We respect, for instance, that many hospitals may have had to put off preventive maintenance and modifications. And others, anticipating a surge in volume once elective imaging procedures draw closer to pre-pandemic volume, want to get those types of services scheduled right away so that their systems are "ready to go" when the time comes.
All of this has taught us a lot about hospitals' equipment service needs and how we can better serve healthcare professionals during this difficult time. Whether your elective procedures are going strong right now or you're planning for increased volume in the future, I wanted to share some things to consider when you're evaluating your current imaging equipment repair needs. Things have changed since the pandemic began, but what hasn't changed is the need for expert service with a team that truly cares about your organization and understands its operations.
Policy Adherence
Your hospital has no doubt implemented new visitor policies to mitigate the risk of COVID-19 transmission. It's important that your equipment service provider knows about and is responsive to those precautions.
The days of walking straight into a hospital without a visitor badge or check-in are behind us. Your service engineer should be well-versed in your visitor policies and adhere to the processes critical to protecting your staff and patients. A lack of understanding or an inability to meet the proper guidelines can delay your repairs and have a downstream effect wherein patient care is also delayed.
It shouldn't be up to you to supply personal protective equipment (PPE) to your engineer. He or she should have ample PPE that meets state and federal guidelines for preventing transmission of the virus. They should be willing to work with you to figure out the safest way to reach a piece of equipment, get the parts necessary for a fix or an update, and communicate needs to radiology staff.
They should know this information ahead of time so they're not spending valuable time figuring out your procedures. Ideally, they've been proactive about learning your policies and communicating their own procedures. Which brings us to the next point.
Local Service
Having a field service engineer who's local has never been more important.
In addition to having an understanding of your policies and being willing to work with you to figure out the best process, a local field service engineer can also pose less of a retransmission risk.
If you're working with a third-party organization that brings in a service engineer from elsewhere in the country, that presents an additional risk of exposure, as they likely have flown commercially and been in close contact with multiple facilities in multiple states.
With local service, you know the overall COVID situation they're in is no different from your own. A local engineer will also have a deep understanding of your state's current guidelines and recommendations, not to mention policies that have been implemented at the health system level.
Infection Control
Your field service engineer should also be willing to take additional precautions while evaluating equipment, i.e. disinfecting surfaces, washing hands at regular intervals, etc. What's more, they should be ready and willing to speak with you about the many ways they're working to ensure the risk of viral transmission is minimal.
At Cassling, we pursue a number of disinfection procedures before we even enter the hospital, depending on the needs of the repair, the risk threshold and more. These include such things as:
Temperature Checks: Engineers take their temperature prior to going on a service call. If their temperature is high, he or she will arrange for an alternate service engineer to fill in.
Health Monitoring: Engineers are well-versed in the common symptoms of COVID-19 and will immediately report these. This is often followed by a coronavirus test and, if necessary, a 14-day quarantine.
Re-Evaluations: Our team is re-evaluating the current COVID-19 status and the latest research and recommendations constantly, adjusting procedures as necessary to reflect the latest developments.
Ask your equipment vendor about how they're handling infection control. By taking steps to protect themselves and imaging equipment, they're ultimately going to protect your staff and patients too.
Flexibility
Finally, perhaps the most important thing to consider with imaging equipment service right now is flexibility.
The pandemic isn't uniform across the country. It's spreading differently in every state, in every city, in different areas within a single city. Some places will see spikes in cases that strain hospital resources while others have minimal exposure, only to see those roles reversed in a month.
In this environment, your equipment service provider must be flexible. They should check in regularly with your team to provide insights into the ongoing healthcare situation and to learn about what you're seeing on the frontlines.
You may need to put off regularly scheduled maintenance or get an engineer into your facility as soon as possible, and it's critical that the organization that services your imaging equipment understands that and can react as needed in a way that's in your best interest rather than in a way that works best for their schedule.
The Fix Is In
So there you have it. Policy adherence, a local presence, infection control and flexibility. If your equipment service provider can meet those thresholds, you should be in good shape. Things can and will change over the summer and into the fall and winter, but if your equipment service provider is willing to work with you to address the situation you face as it evolves, you'll be able to tackle any imaging challenge that comes your way.