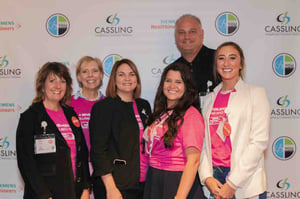 That's a wrap on Investing In You 2019!
Every year, Cassling brings together radiology professionals for two days of continuing education, hands-on demos of innovative imaging equipment, networking and professional development.
Over the coming months, we'll be posting the audio of all of the educational presentations in our on-demand webinar library. If you were unable to attend the event in Omaha, these recordings are a wonderful opportunity to acquire CE credits and stay up to date with the latest trends happening in imaging. Sign up for email updates from the Cassling Resource Center to make sure you're notified when each of these webinars goes live on the website.
Now, here's a quick look at what the radiology community was up to at Investing In You 2019!
Parking It for a Cause
Investing In You began with an event that also doubled as Cassling's personal kickoff to Breast Cancer Awareness Month.
Investing In Her invited women's health professionals to come aboard the Siemens Mobile Mammography Truck to preview the innovative technologies Siemens Healthineers uses to help technologists and physicians in the detection of and fight against breast cancer.
Women's Health Specialist Pamela Odino led demos of the MAMMOMAT Revelation, a 3D breast tomosynthesis system that provides more imaging capabilities thanks to a wider angle than most users are likely accustomed to (up to 50 degrees!).
But it wasn't just this system that turned heads. Attendees also appreciated the chance to take a peek at the ACUSON S2000, an Automated Breast Volume Scanner that's quickly becoming a go-to technology for aiding the physician in the diagnosis of patients with dense breasts. Visitors also had the chance to take the streamlined mammography workstations for a spin!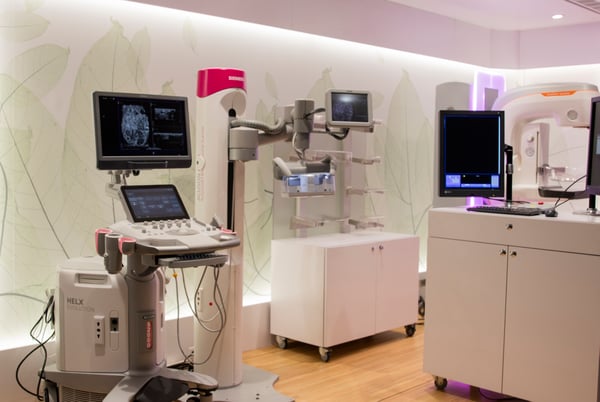 Because we know not everyone could make it to the event, we took the Mammography Truck on the road for our Women's Health Road Show, letting women's health specialists throughout Nebraska and Iowa get a hands-on look at these systems a little bit closer to home. And the public got to see these technologies at work during our stop at the Susan G. Komen Nebraska MORE THAN PINK Walk.
Investing In Her concluded the first night of our Omaha seminar with a couple of educational presentations centered on women's health topics (as stated above, look for these to hit the Cassling on-demand CE library in the next few weeks and months).
The Cost-Conscious Patient
Investing In You began the next day with an introduction from Cassling President Kyle Salem, and then really got going with the Advisory Board's Stuart Clark providing a deep dive on the current state of imaging and the trends that will shape patient care in the years to come.
Perhaps the hottest topic discussed was the apparent disconnect between price-conscious patients and the drive toward consumerism in healthcare. The federal government continues to push price transparency, and insurance companies clearly have a vested interest in sending patients to more cost-appropriate imaging clinics, yet this hasn't led to a large number of people "shopping around" when it comes to imaging.
It turns out inertia still plays a big role in who the patient sees for their imaging care; the majority are still just as likely to go to whichever provider they're referred to by their general practitioner. This despite the fact that a patient could save, on average, almost $500 on an MRI scan if they're willing to shop around and travel up to an hour away.
The other alarming trend: lack of utilization. With the rise of high-deductible health plans that push more of the price of care onto the patient (as opposed to the employer), patients are becoming more sensitive to price than ever. But it would seem that, rather than comparing providers or leaning on insurers' web platforms to choose the most cost-effective option, patients are more likely to forgo care altogether.
This spells trouble for the long-term, as we're seeing millennial and generation Z patients (and even quite a few older patients) put off relatively low-cost preventive care. So what's likely to happen is that these same people will run up much higher healthcare bills in the future.
Stuart Clark had plenty of other worthwhile takeaways, but I won't steal his thunder; I'll let you hear from him yourself when the webinar goes live. Needless to say, there's plenty of material for imaging providers of all types to think about in 2019, 2020 and beyond.
A Staff Infection?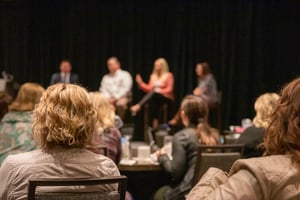 One of the most spirited debates happened during the Cassling Customer Panel, as Kyle spoke on a couple of different topics influencing the modern imaging field and invited panelists to provide their thoughts.
The panelists were Leslie Cattau, Director of Diagnostic Imaging at CHI Health Creighton University Medical Center - Bergan Mercy, Jon Honsey, Chief Executive Officer of Advanced Radiology, S.C., and Marisa Theulen, B.S. R.T.(R), Interventional Radiology Supervisor at UnityPoint Health Des Moines. Their lively conversation was a highlight for both myself and the audience.
Perhaps the most contentious portion of the talk came when Dr. Salem brought up the subject of radiology staffing. It became clear that having the staffing necessary to keep up with imaging demand, increase quality and value and provide an exceptional patient experience is one of the greatest challenges for healthcare organizations.
This is an especially difficult obstacle to surmount when you realize that median pay for radiologic technologists hasn't increased dramatically in recent years even as reimbursement/payments are being reduced. Hospitals and clinics are increasingly reckoning with the costs associated with bringing in imaging specialists. As Jon Honsey put it, "Hiring staff is the most expensive thing we do."
The panelists were basically in agreement that one of the biggest risks they're taking is training staff on all their internal processes and workflows, only to have those team members take their newly acquired knowledge and leverage it for a different job elsewhere, causing the organization to start back at square one.
Staffing was one of a few different subjects discussed, but it definitely hit a nerve with our panelists and the room. Solutions do exist, such as rethinking traditional scheduling or hiring workers on a contract basis, but this will no doubt continue to be a topic of conversation for the foreseeable future.
A Preview of the Future of Imaging
I appreciate the opportunity to attend Investing In You every year, not just because it gives our team invaluable time to speak with customers on the front lines of imaging, but because those conversations point the way to the imaging care of tomorrow.
Once again, I invite you to subscribe to Cassling notifications so you can be alerted immediately once these discussions go live on the Cassling website (for CE credits, of course) and be among the first to receive an invite to our next big event (stay tuned for details). There's even one presentation, Printing Positive Outcomes: An Overview of 3D Printing and its Application in Healthcare, that might have you tearing up once you see how Children's Hospital in Omaha is using 3D printing to revolutionize pediatric surgery and patient care.
Thanks to everyone who attended Investing In You 2019, and we'll see you again in 2020!