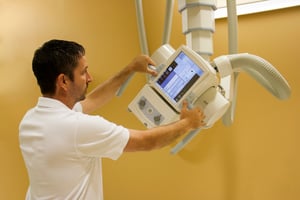 With every imaging equipment purchase comes an important question your team will need to answer:
Do we purchase a service contract?
While the response boils down to a relatively simple 'Yes' or 'No,' the ramifications are more complicated. For an Original Equipment Manufacturer (OEM) service contract to make sense, your team will need to establish that you're getting an appropriate return on investment.
Doing so, however, is a lot trickier than it may seem on the surface, and is a factor not just of the cost of the contract, but the expertise of the engineers tasked with repairing the imaging system, a comparison of the probable length of downtime for a contracted system versus a non-contracted system, and the lost opportunity cost of potential system downtime if a contract is not in place.
In breaking down each of these numbers and applying them toward your overall ROI, it's possible to see how an OEM contract doesn't just provide an effective return on investment, but how it's likely one of the more important financial decisions you can make.
What's Up with Downtime
Downtime can make or break your facility's ability to hit its revenue targets, particularly for smaller hospitals or clinics that can't rely on a large fleet of backup units to step in when intervention is needed.
When a system goes down, it creates a chain reaction that's felt among your staff, your patients and, ultimately, your accounting team. For technologists and anyone else involved in the day-to-day operation of an imaging facility, their workflow gets thrown out the window. If an alternative solution isn't readily available, you'll have to reschedule appointments with your patients.
Delaying your patients' appointments has a three-pronged effect. First, it's detrimental to the patient experience, as the short notice will no doubt leave them frustrated. In some cases, they may elect to get their procedure done elsewhere. But it's not just patients that feel the effect. It's also staff, who are suddenly being under-utilized within your facility. Of course, it doesn't leave a good impression with your referring providers, either, which could negatively impact future revenue potential.
How Service Contracts Can Decrease Downtime
No matter the facility size, an OEM-certified service contract minimizes the downtime that leads to lost revenue and an inferior patient experience. It does this in multiple ways.
Preventive Maintenance
It's not enough to simply wait until something breaks. A CT or an MRI system isn't like a car where you can wait until something starts smoking, take it into the shop and use a Lyft while you wait for it to be fixed. These are incredibly complex machines with very specific software and hardware needs to ensure maximum efficiency for the entirety of their lifespans.
With a service contract, you get regularly scheduled preventive maintenance to carefully evaluate potential issues before they ever arise, along with software updates and upgrades keeping our system up to date and up and running.
Field Service Engineers
With an OEM service contract, not only do you get preventive maintenance, but you gain access to experts who will oversee the repairs. Your specialists will intuitively understand these systems because they exclusively work with this particular equipment manufacturer (in our case, Siemens Healthineers). They know what to look for and the approximate lifetimes of every component within a given system.
Our Field Service Engineers can closely analyze these components in person on a regular schedule throughout the year and, when it's time to replace certain parts, they'll get the ball rolling long before something breaks down. If they know a given item is reaching the end of its lifespan, they will proactively order those parts and work with you to determine an install date that minimizes disruption and ensures you won't have to reschedule appointments.
Remote Monitoring
Service coordinators can monitor your machine remotely to look for signs of potential failure. After all, that's really the best way to minimize downtime: making sure it doesn't happen in the first place.
With remote monitoring, your service representatives will often be able to identify potential issues before they lead to downtime. You sometimes don't even have to contact us to let us know something is wrong; we already know it. A Cassling Field Service Engineer will do what they can to fix the issue remotely and, if that's not possible, they'll be dispatched at once. And because they live and work within the surrounding community, they can be there as quickly as possible (58 minutes on average at Cassling, far exceeding the industry average).
Avoiding Prolonged Stretches of Downtime
What about those moments that are inevitable, where something goes awry despite all possible foresight? That's where the OEM service contract proves its worth in other ways.
If a part is deemed necessary, the engineer will place the order at once, directly from the Original Equipment Manufacturer, reducing any delay that would result from having to search, price out and purchase from a third party. This expedited ordering and shipping process ensures they'll be able to install the part and have the system back up as soon as possible.
It's because of all this that we're able to achieve an industry-best 99.9% uptime. That means far less lost revenue that you could expect by going without a service contract, saving the healthcare facility literally hundreds of thousands of dollars over the course of time.
By the Numbers
Let's take a look at a real-life example of a CT scanner that demonstrates the value of a service contract.
We worked with one imaging center in a busy metropolitan area that had a significant volume of patients to see per day. Despite this volume, the clinic was relatively small and had just a single CT scanner to meet all their needs, which meant the system was definitely earning its keep. On a good, busy day, they could see up to 25 patients in a single 13-hour day, roughly two per hour, with some leeway built in for set-up and patient interaction. On average, this particular clinic could count on bringing in about $300 per patient for each of these exams, which added up to $7,500 per day.
Pretty good! Those are numbers most organizations would be jealous of. And the imaging staff knew they were in a fantastic position, putting them right at the sweet spot of volume and cost.
This facility's administrators also recognized the favorable situation and, as a result, opted to purchase a service contract with their new CT scanner. When it came time to renew, they did so, in a move that was described to us as a no-brainer.
At $7,500 per day at stake, it's not hard to see why they went with a Cassling service contract. $7,500 is a lot of lost revenue if you don't have a reliable backup that can be put into commission right away for your patients. Let's imagine the facility experiences about six days of downtime per year, which is around the industry average across all systems for facilities that go without a service contract. Over the course of ten years, the typical timeframe that a hospital will use their CT system for, that amounts to an incredible $450,000 of lost revenue.
As this customer said: no-brainer.
Healthcare is All About Prevention; Your Systems Deserve the Same Treatment
You can see where a service contract really starts to pull its weight. Service is truly an investment, and you rightfully expect an appropriate return.
We work directly with hospitals to develop service contracts that make sense for their given financial situation. We know everybody wins (including the patient) when equipment operates at maximum efficiency, and that's only truly possible with a reliable service contract.
We'll close with a quote from the Radiology Director in the example given above. She was willing to speak about why a service agreement was the right choice for her facility. For this director, the return for the service contract more than paid for the initial investment:
"Due to our preventive maintenance visit, we knew our CT would only work for another two days. If we didn't have the service contract in place, we would have had to make an unexpected emergency call for help to the service team. The engineer would have had to arrive, find the source of the error, order the replacement part and come back again to install it. That would have led to a system failure of one and a half days. Thanks to the PM visit, the CT scanner was available after four hours of repair time. That saved me eight hours of downtime and prevented $7,500 in lost revenue."