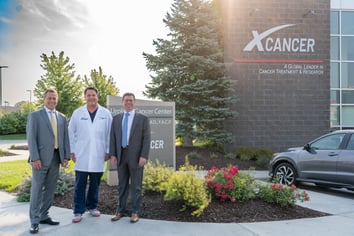 One of the great joys of my role is getting to see the impact a new imaging system can have on a healthcare provider and, ultimately, their patients.

In fact, the most rewarding experiences are when we get to see the profound personal effect providers have on their patients.

Sometimes that means watching the installation of the facility's first MRI that will enable them to provide access to their population on a daily basis rather than rely on a once-per-week mobile solution. Sometimes it's seeing the formation of a whole new department that provides for an underserved demographic in the community. And often it's just stopping in to say 'hello' and seeing a patient receiving care on a system that we helped make possible.

Recently, we had an opportunity to speak more with Dr. Luke Nordquist and his team at the Urology Cancer Center and the GU Research Network. Located in Omaha not all that far from our own company headquarters, the Urology Cancer Center has made incredible strides in the testing and treatment of urologic cancers, not just in Nebraska, but all around the country.

Dr. Nordquist is the founder of the XCancer Research Network. He utilizes his and his team's expertise to work with providers around the country to secure participation and placement in cutting-edge clinical trials, giving patients the opportunity to access what could potentially be life-saving care.

When I first met Dr. Nordquist, we had extremely valuable conversations about the needs of his organization, especially when accounting for the rapid growth they were experiencing (growth that continues stronger than ever to this day). Dr. Nordquist supports 55 team members and they see an incredible 450 patients every single month, so they needed systems that are built to last and that enable them to scale.

Yet at the same time, Dr. Nordquist doesn't have the backing of a massive health system. Each imaging system investment must be carefully considered, ensuring his expanded clinical capabilities are targeted to help the most patients while driving volume in a way that's sustainable financially.

Dr. Nordquist and I had many conversations about the needs of his patients and how important it was to provide them and his staff with an excellent experience. We talked through a variety of different options, ultimately coming up with a series of innovative systems, supported by a financing plan that made sense to an independent practitioner and research innovator like Dr. Nordquist.

After all that, Dr. Nordquist was kind enough to go on the record and talk a little bit more about his experience. In the above video, we highlight the work Dr. Nordquist has done to X out cancer, work that's supported through technology like the Symbia Intevo Bold SPECT/CT and the Biograph Horizon PET/CT, both from Siemens Healthineers.

We had a great time meeting with Dr. Luke and learning even more about his team's work and the patients they've been able to grant a new lease on life.

At a certain point during the shoot for this video, the talk really hit home. It turned out that two members of the Cassling team had personal experiences with family members who relied on the Urology Cancer Center for care. The compassion Dr. Nordquist showed during those times was something they didn't forget.

We've already seen the X Cancer Network do so much for patients around the country. And we can't wait to see what they do next and the lives they change for the better.