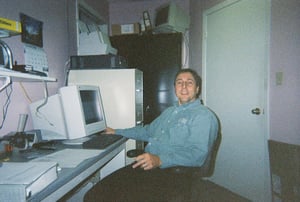 Anyone who's spent any time with Field Service Engineer (FSE) Kevin Kraciun understands how committed he is to making sure equipment is in the best shape possible for customers and patients. In fact, Kevin is so confident in his ability to ensure an item is back up and running that his guarantee has become legendary in Cassling circles.
"The catch phrase I've heard him say is, 'Oh I'll guarantee it,'" said FSE Jason Schmitt.
"One of the running jokes we have here in Eastern Iowa is called the 'Kevin Kraciun Guarantee," said FSE Jeff Furgerson. "Whenever one of us works with Kevin, he always likes to say, 'I guarantee it will work.'"
This year, Kevin celebrates 35 years of guaranteeing uptime and always rising to the occasion for both his colleagues and the medical community. That level of commitment is something that has earned Kevin accolades from the customers who know they can rely on him for any situation that arises.
"Since my transition to Regional Service Manager for Eastern Iowa, Kevin has continued to show me how lucky Cassling is to have him," said Chris Decker. "I have received so much praise about Kevin from several of his customers. One particular customer said Kevin was the best engineer he had ever worked with. Quite the compliment considering that it's coming from a university physicist! And he's far from the only one. Many others have mentioned how at ease they are when they know Kevin will be responsible for their new system. It's obvious every time I meet with them that Kevin's customer relationships run deep."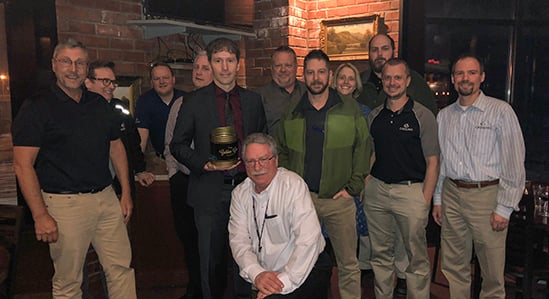 And it's not just customers. Kevin's work ethic and his willingness to lend a hand have endeared him to his field service team as well.
"Kevin, you have been a consistent and reliable service provider for our customers and Cassling team members, and I want to thank you for all your hard work," said Joe Matthews, Vice President of Service. "Congratulations on reaching your milestone 35th year with Cassling!"
"I'd like to congratulate Kevin on 35 years of dedication to Cassling and his customers," said FSE Terry Hingtgen. "Our paths haven't crossed that often in service, but I won't forget the time down in Keokuk many years ago when Kevin decided to give me some tips on soldering. Flux was the main topic that day. I think he has flux in his pocket at all times. Congrats Kevin!"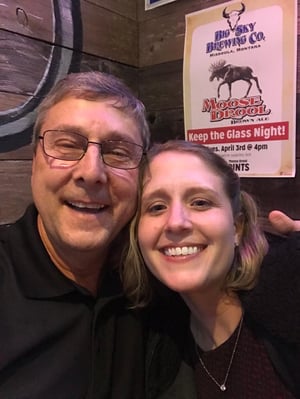 "I would like to congratulate Kevin on his 35-year anniversary," said FSE Dan Zampogna. "Cassling has been lucky to have him as an employee and I've been lucky to have him as a colleague. He is always willing to help out, even on modalities he doesn't work on. Servicing imaging equipment has really changed over the years, but Kevin has always kept up. He really shines with old-school troubleshooting. I've learned a lot from Kevin, and he's become a very good friend. In fact, Kevin seems to be a friend to everyone. He's truly one of a kind."
Kevin's generosity to his team even extends through generations, as noted by FSE Tyler Driever, whose father, Larry, also worked with Kevin in field service.
"For as long as I can remember, Kevin Kraciun has always been around," said Tyler. "Mostly because I have known Kevin since I was born. For two decades, he has been a mentor and guide to me at Cassling. Twenty years ago, servicing X-ray was harder than it is today. Systems were quite different than the digital Siemens systems we work on now. Kevin really took me in and showed me the ropes, providing tricks and ways to make servicing X-ray equipment easier. From the beginning, Kevin has always been willing to teach me what he knows and help me when I was in need, and that is still true to this day. Any time I have a call on a system he is trained on, he offers help if he is available. Congrats on 35 years!"
"Kevin was one of the first Cassling engineers that I met while attending initial training in Cary over 12 years ago," continued Chris Decker. "Right away he made me feel like family and started helping me out with the best places to eat in the area. Kevin is really easy to talk to and makes friends everywhere he goes. About five years ago, I was in the Quad Cities to take care of a start-up of a new fluoro room. Kevin welcomed me to the area, showing me all the best places to eat and get the best local craft beer. He also helped me with the entire startup even though he was not trained on that particular system.
"I want to congratulate Kevin for his very impressive milestone of 35 years with Cassling! Thanks for taking care of our customers with world-class service, Kevin!"
That's a sentiment that all of us at Cassling share. We guarantee it.