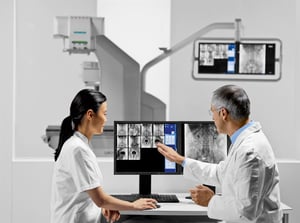 Hospital, health systems and clinics around the country have long relied on Cassling to not only provide them with cutting edge diagnostic imaging solutions, but to help them honor the very folks who operate those systems. For more than a decade, Cassling has provided free resources to help recognize sonographers and radiologic technologists as part of Medical Ultrasound Awareness Month and National Rad Tech Week.
Now, we have a brand new awareness effort to announce, one that will directly support healthcare professionals while making patients more aware of a vital part of their own health.
Urology Awareness Month takes place every September, and in 2020, Cassling is going all-out to recognize the efforts of urologists, surgeons and everyone who supports the important work carried out to ensure the urologic health of the population.
Getting Preventive Health Back on Track
In 2020, a focus on urology is more important than ever.
The last few months have seen hospitals place almost all of their time, attention and resources toward fighting the COVID-19 pandemic, and rightfully so. But we're also beginning to see what happens when elective surgeries get put off and patients delay "non-essential" care and checkups, including those related to urologic health.
Last week, Reuters came out with an article that looked at the very real impact this has had on wellbeing. As they put it, this is the beginning of its very own health crisis, as fears about going to the hospital are leading patients to neglect critical preventive care. This can lead to chronic conditions and even death, and this widespread and long-lasting trauma won't be noted in the COVID-19 death rates even as it takes its toll on the general population.
We believe one of the ways we can begin to draw patients back into the healthcare fold is by helping healthcare professionals in their awareness efforts. And urology is a perfect example of how we can do that.
Get Your Free Awareness Materials Now
Right now, you can order a variety of free resources to support your team and emphasize urologic health to the patients who most need to hear the message:
Urology Awareness Month Poster – Select your quantity and we'll ship these directly to you at no cost so you can display them in areas where staff and patients will be able to see the importance you've placed on urologic health.
Patient Educational Flier – Available to print directly from your computer, you can hand these out to patients or put them up in areas you know they'll congregate.
Word Search Activity – Take a short break to find a variety of terms related to urology.
Social Media Toolkit – We've created images optimized for social media platforms that you can use to spread the word about urologic health. Upload these, along with some of your own team photos, to Facebook and other platforms in order to spread awareness on digital channels. Plus: don't forget to tag Cassling so we can see the ways you celebrate Urology Awareness Month!
Plus, in a bid to further support education, we'll also be hosting a free webinar during Urology Awareness Week (September 23-27). This webinar will focus on urology education and, as with all of our events hosted through Cassling's Investing In You program, will be worth 1.0 CE credit from the American Society of Radiologic Technologists (ASRT).
Many of the tips we offer in our tip-sheet and social media toolkit may seem straightforward. People should be drinking plenty of water, refraining from smoking and exercising regularly. But they also need to be paying attention to their urologic health (frequency of urination, pain, changes in flow, etc.) and, even more importantly, be willing to speak to a doctor when something changes.
In the midst of the COVID-19 pandemic, it's all too easy to ignore that dull pain and let it fester, getting worse and worse and worse. Meanwhile, a condition that could have been caught and corrected early through a therapeutic or surgical option turns much more dangerous and potentially irreversible.
With this Urology Awareness Month campaign, we want to help you stress to patients how important it is to be aware of health and get checked out when something doesn't feel right. This is a message we're going to be focusing on this September and in the future. And as I stated before, we also want to make sure that the hard work being done by urologic professionals is recognized.
Please enjoy these free resources, and stay tuned for more information on the webinar and additional details related to urologic health. We remain committed to being here for you so you can be there for patients. Take care!