Mammography Positioning: Protect Your Body While Consistently Producing Quality Images
Lisa Beul, RT(R)(M), Senior Manager, Women's Health Education and Workforce Solutions; Siemens Healthineers
On Demand | Expires 7/1/2024
*Approved by the ASRT for 1 Category A continuing education credit.
Overview:
How long have you been a mammographer? Do you have any aches and pains from the daily creative positions you put yourself in to achieve the best possible images?
This occurs more frequently among mammographers, as our job is very taxing on our bodies. We are all able to perform that quick, efficient and precise mammogram, but are we truly getting the best possible images for our patients without causing injury to ourselves?
In mammography, time, efficiency and accuracy in positioning will help save lives. But while we focus on attention to detail, we also need to focus on the well-being and safety of our own bodies.
In this session, learn what the ACR requirements are for proper mammography positioning, what we can do as competent technologists to consistently achieve them, and learn ergonomic ways to protect ourselves.
Learning Objectives
List the ACR positioning requirements for CC, MLO, and ML views
Effectively position, using good body mechanics, while utilizing new positioning techniques to image an adequate amount of breast tissue
Identify new techniques for positioning patients
Communicate and effectively relax the patient for her upcoming mammography procedure
Utilize multiple techniques in order to position difficult patients in various patient positions
You will receive a confirmation email shortly after you complete the registration.
If you are unable to register online or do not receive your confirmation email after registering (don't forget to check your Junk email folder), please email us or send us a chat on our website.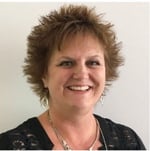 Lisa Beul, RT(R)(M)
Senior Manager, Women's Health Education and Workforce Solutions; Siemens Healthineers
Lisa Beul is the Senior Manager for the Women's Health Clinical Education Specialists from the Siemens Healthineers Education & Workforce Solutions organization.
Lisa has over 36 years of experience in the mammography field and joined Siemens in 2011 as a Clinical Education Specialist. Her past focus has been to provide training on Siemens MAMMOMAT Inspiration and MAMMOMAT Revelation systems. Her expertise includes Digital Mammography, Biopsy, Tomography and TiCEM. In addition, Lisa has also participated in customer-focused workshops. Mammography positioning and troubleshooting have always been a key focus and passion her entire career.
During her years at Siemens, she has taken on many leadership roles, such as mentoring her peers, being a Service Based Leadership Ambassador, and being nominated and selected for the Siemens Master's program, a group of select Clinical Education Specialists regarded as having the highest level of expertise in Women's Health.
Cassling Continuing Education Compliance Policy
Webinar attendees accept full responsibility for review and adherence to any applicable corporate compliance policy as it relates to their facility. Cassling is not authorized to and will not knowingly issue CE credits to any employed or contracted full- or part-time employee of a federally-run healthcare institution (VA, IHS, DHHS, etc.) or any other organization whose policies prohibit free distribution of continuing education credits.