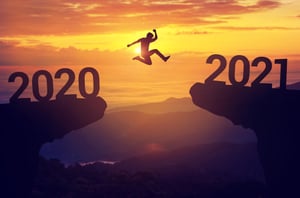 The year 2020 is behind us (cue the collective sigh of relief), but even in such trying times, the resilience of healthcare workers around the country has been truly inspiring.
Not only were technologists, sonographers, radiologists and all manner of radiology professionals working tirelessly to ensure imaging was available to aid in the fight against COVID, but so many of you also found the time to expand your skills and knowledge, keeping up with the latest trends in support of yourself and patients.
As we looked back on some of the most popular content on our website in 2020, a few key trends stuck out. The following are what you, the Cassling audience, viewed and interacted with the most last year.
COVID Puts Crisis Planning Front and Center
It probably comes as no surprise that people thought about crisis planning in a whole new way in 2020, as the reality of a crisis went from from theoretical to practical almost overnight.
As such, some of our most popular content revolved around COVID; specifically, planning for future crises. That includes webinars, planning documents and a slew of resources focused on helping imaging professionals navigate COVID in 2020 and beyond.
Six Elements of a Crisis Communication Plan
Healthcare Heroes Motivational Resources
Crisis Readying Against COVID-19 Webinar
Dr. Freel Brings the Heat
Even with all the concern surrounding COVID-19, those in the imaging field also recognized a need for their own professional development. And some of the most popular content came from Bellevue University's Dr. Mike Freel, whose direction of the Cassling Leadership Institute drew both current and aspiring executives and managers to learn the latest best practices in organizational leadership.
Whether it was a podcast, a blog post, or a webinar, Dr. Freel's insights were just the antidote that many needed in 2020.
Leadership and Professional Development in the Healthcare Field Podcast
Navigating the Stress of Organization Change Article
An Interest in New Equipment Investment…In A Landscape Like No Other
Even with many hospitals forced to cancel or draw down elective procedures, radiology leaders recognized the need to continue investing in systems that can improve patient outcomes not just during this crisis, but in a future healthcare landscape that's been dramatically changed by what we've all experienced this year.
Virtual Demos were a hit because of how they safely allowed radiology teams to get a socially distant yet still very informative look at innovative systems, while others who were at an earlier stage of their proposal process found value in an eBook highlighting how to get buy-in on a technological investment.
How to Sway Your Execs on a Hospital Tech Investment
Office Based Labs (And The Technoloy Behind Them) Take the Spotlight
With many hospitals unavailable for elective procedures, and patients somewhat concerned about even visiting unless an operation was absolutely necessary, we saw a large increase in traffic to content centered around office-based labs. Information around these, as well as ambulatory surgery centers, was incredibly popular, with visitors learning about the technology necessary to power this rapidly growing sector of the imaging world.
The Three Must-Haves of Any Office-Based Lab
Flat Panel Detector vs. Image Intensifier: What to Consider in a C-arm
CT Captures Attention…with Dual Source A Hot Topic
Although all sorts of imaging equipment saw increases in interest in 2020, nowhere was that more apparent than in pages related to CT systems. The mobile controls of the SOMATOM go family of systems sparked interest, but it was actually Dual Source CT that continued to draw the most attention from those curious about what this version of computed tomography can offer their facilities.
Ultrasound Innovation Continues to Impress
Our most consistently popular series of articles looks at the latest tech developments in the ultrasound space. In 2020, thousands of sonography professionals read this newest feature hoping to learn how the space would transform in 2021 and beyond.
What's New in Ultrasound Tech: 2021 Edition
Continuing Education and Rad Celebrations
So there you have it; a look at some of the top content of 2020.
In addition to what you see here, we saw record interest in our free celebration materials for Rad Tech Week and Medical Ultrasound Awareness Month. You can look forward to new free swag for the 2021 celebrations later this year.
And, of course, we would be remiss not to mention the immense popularity of our Cassling Investing In You Continuing Education series. Over the next year, we'll be posting our 2020 webinars on demand so you can watch them on your schedule; plus, every month we'll host a new live webinar with some of the top experts in radiology, healthcare, professional development and more. In fact, you can sign up right now for "Managing Stress in Dire Times: The Importance of Self-Care for Healthcare Workers," a topic I'm sure we could all learn something from.
Thank you for everything you did in 2020. We look forward to helping you with more expert insights, state-of-the-art imaging solutions and professional development opportunities in 2021.