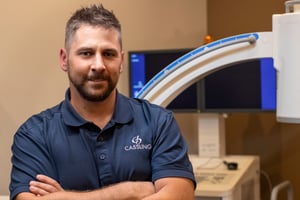 Cassling team members learn to expect the unexpected when they respond to service calls at customer facilities. But one service call pushed that old adage to its absolute limit when Field Service Engineer (FSE) Tyler Driever discovered a squirrel living inside the CT system he'd been called to service.
Just as this was no ordinary service call, Tyler is certainly no ordinary field service engineer. True to the Cassling spirit, he used his creativity, ingenuity and expansive knowledge to figure out just what kind of damage the bushy-tailed beast had done to the system ("He chewed through the exact cables that prevented the UDC 580V power from turning on. He would have been fried if that had turned on.")
Dedication and problem-solving (squirrel-based and otherwise) have made Tyler one of Cassling's most dependable team members for 20 years. As Tyler celebrates his anniversary and his birthday on the very same day, his colleagues who know him best chimed in to wish Tyler luck and explain why there's never a dull moment working with him.
"I first met Tyler at a training in Cleveland," said FSE Dan Zampogna. "I was with the University of Iowa and he was at Cassling. No way I thought he would make it 20 years. Obviously, my first impression was wrong because he is an excellent engineer and colleague. He's willing to help out even if he doesn't know the system. Whether it's finding his name written on my tools or finding a squirrel living in a CT, Tyler makes work fun! Congrats on 20 years, Tyler!"
"I think it's interesting how Tyler stated on my 35-year anniversary plaque that I took him under my wing to help him with the Toshiba X-ray products," said FSE Kevin Kraciun. "Because as I was training on X-ray for Siemens years after doing nuclear medicine, Tyler actually helped me out in the same way. That's what makes this company great! Tyler, it has truly been a pleasure working with you. Congratulations!"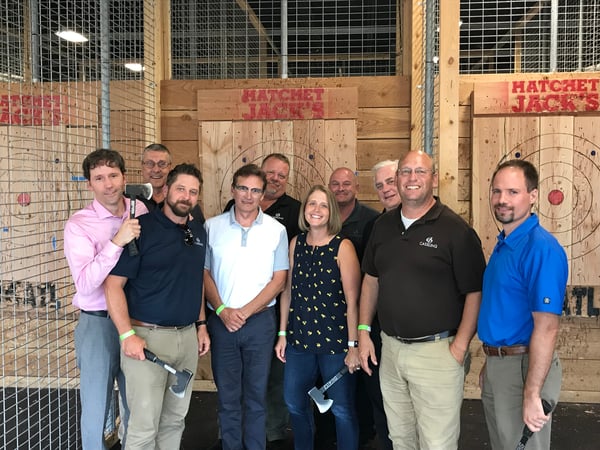 Indeed, anyone who's worked with Tyler can attest to his willingness to lend his expertise to his fellow FSEs.
"I don't get to run into Tyler that often since he found such good hiding places in those LINAC vaults," said FSE Terry Hingtgen. "Just kidding, Tyler. You've always been willing to put your hand in the pile to help us all out and I appreciate that very much. Congratulations on 20 years with Cassling, and Happy Birthday!"
"Tyler has always been great to work with," said FSE Jesse Davis. "He has gone above and beyond to help me. Congratulations!"
"Tyler once told me, 'Just tell me what you need and I will make it happen, I am here to be of service,'" said Joe Matthews, Vice President of Service. "I've always appreciated Tyler's positive attitude and work ethic.
"He is a foundational member of the eastern Iowa team and a valuable member of the Cassling service team! Congratulations, Tyler, on reaching your 20-year milestone anniversary with Cassling!"
"I never had the pleasure of working with Tyler before transitioning to the Regional Service Manager position in Eastern Iowa," said Regional Service Manager Chris Decker. "It's a shame too since I know how good he is across the board.
"Tyler is the primary Oncology FSE and takes care of two different systems. He takes such good care of these systems that the customers won't get rid of them even though they are both old and should have been retired long ago! Keeping an Oncor running smoothly is no easy task, and Tyler handles it like a pro while also handling many different types of X-Ray/Fluoro rooms all over our territory. He is also involved in several CT systems. Tyler is the master of juggling multiple challenges at once."
"It's pretty rare that he ever needs anything from me, so that makes my job easy. I always enjoy sharing stories with Tyler over a good beverage at our happy hour team gatherings, and I look forward to many more! Thanks for all your hard work and dedication to your team and customers, Tyler. You truly are world class. Congratulations!"
From all of us at Cassling, congratulations! For problems big, small, and even bushy-tailed, you're our go-to guy. And, of course, Happy Birthday!